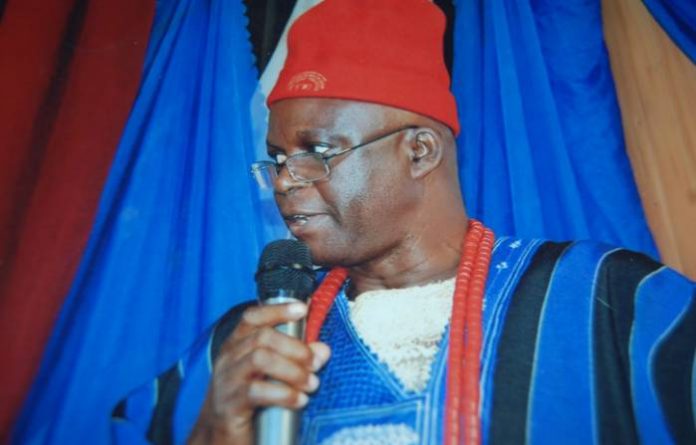 Chief Ochi Emmanuel Ode is the Chairman, Middle Belt Traditional Council (MBTC)in the South-West and the Oji Kpururu 1 of Ibilla. In this interview with SIMPLE IKEM, he spoke on the forth-coming Edo and Ondo governorship elections, and touched on the likely shape of 2023 elections.
TNE: Some personalities like Olisa Agbakoba, Pat Utomi, Shehu Sani, and Oby Ezekwesili recently formed the National Consultative Forum, ostensibly to save the nation as Nigeria marches towards 2023 elections. How do you see the development?
All these groups or forums that are springing up, be it Third Force or any other Force, I consider them as afterthought by self seeking people who look at things and wake up to blame others, but find themselves in confusion. In no time, they will disagree among themselves. I therefore see nothing coming out of that.
TNE: With politicians strategising over the next general elections, from which region do you feel President Muhammadu Buhari's successor should come from?
To me, people are talking about 2023 because what they thought they would see or the development that would have come with the current dispensation could not be seen. So, they now think 'Let this cup pass over us'. If not, 2023 is still far. If there is development, people will not be thinking of 2023 and fighting as if it is tomorrow. If the expected development has been going on, people will not be talking of 2023 because it is still very early.
In developed democracies, which I think after over 20 years of uninterrupted democracy in Nigeria, the country should be, the issue of succession should not be an issue. There are political parties in existence. By their judgement, they have rotation of key offices. If they have zoning in their constitutions, they should follow their constitutions, which will guide them on where the next leader will come from. They should follow their rules.
TNE: With the APC crisis leading to the emergence of a National Caretaker Committee to manage the affairs of the party, what do you think are the chances of the party come 2023?
It has been the view of several Nigerians that after President Muhammadu Buhari, APC will disintegrate and may disappear. What is playing out is evidential. APC from the onset is the bed mating of strange fellows. Day after day, and year after year, they are getting to know themselves better. In no time, they are finding out that they are very, very incompatible and cannot stay together. That is why the likes of Adams Oshiomhole, who had lived a struggling life, cannot fit into a political set up where it is a matter of give and take, under lobbying. You can see that sooner than later, he found himself alone in the struggle now. He is now a political orphan, no father, no mother, no brother, no sister.
READ ALSO: Edo Does Not Belong To APC, PDP Alone – Omoragbon
TNE: As the Edo governorship election is by the corner, between Governor Godwin Obaseki who is flying the PDP flag, and Osagie Ize-Iyamu of APC, who do you think will carry the day? Do you think Edo people will vote for another party?
As at now, Ize-Iyamu knows that he has stepped on some toes in Edo State. Although he is desperate to become governor of Edo State, I doubt if he is genuinely interested in the betterment of Edo people. I blame him for jumping ship from PDP to APC. By doing so, he has torn into pieces his political career in Edo State. Edo people are not fools. He has been scheming, thinking that the federal might will work for him in Edo State. Unfortunately, the man behind him, Adams Oshiomhole, is now an orphan. I hope Oshiomhole should be able to advise himself not to meddle into the electioneering campaigns in Edo State. I fear for him, if he does. I am afraid the Edo election may be very violent. But, my prayer for Edo people is that God will help them so that they will not be sacrificed on the altar of politics. From what is happening and what people say, Edo people are favourably disposed towards Godwin Obaseki. The Edo people have more confidence in Obaseki than Ize-Iyamu, who already has a corruption case in court. The people supporting Ize-Iyamu are Abuja politicians. The grassroots in Edo are behind Obaseki. If Ize-Iyamu had stayed in PDP, he would have beaten Obaseki hands down if the governor ran under APC. He cannot achieve that now under APC.
TNE: With the rift between the Ondo State governor, Oluwarotimi Akinredolu of APC and the defection of his deputy, Agboola Ajayi, to the PDP with the possibility of carrying the flag of the opposition party against the governor, how do you think the election will go?
The Ondo political hemisphere has been very volatile from time past. If we go down memory lane, the ascension of Akeredolu as governor of Ondo State was a herculean task because of the volatile nature of Ondo politics. The powers-that-be were against him then. But, somehow, he emerged as gubernatorial candidate of APC and eventually won, with the help of Agboola Ajayi, formerly a PDP chieftain who he brought in as his running mate. During his inaugural speech, he conspicuously omitted some powerful names in APC to slight them because of what transpired prior to the election. These powers-that-be in APC are still entrenched and are bent on stopping his second term bid. Now, with Agoola Ajayi's return to PDP, and the array of APC chieftains who may face him at the primaries, Akeredolu is no longer finding it funny. Thus, even if he emerges the party's flag bearer, it will be very difficult for him and APC to win because of the internal wrangling that has already divided the party.
Ondo used to be a PDP state. Mimiko left for the Labour Party, not because he was a committed member of the Labour Party. He only wanted a platform with which to actualise his vision since the crisis in PDP at that time prevented him then. Ondo people are still PDP in spirit. I am foreseeing a PDP victory in Ondo if APC refuses to put its house in order.
TNE: Some forces within the PDP want the party to give its 2023 ticket to Atiku Abubakar. What is your take on that?
To me, Atiku in the 2019 presidential election did very well. He would have beaten President Muhammadu Buhari hands down. But, he was rigged out. Now, I have not seen anybody in APC that can outsmart Atiku in Nigeria's political arena of today. But, the Eastern Region of this country has many strong points regarding the emergence of a presidential candidate from that zone. But, if we consider the emergence of a candidate without taking into consideration whether that emergence will be in line with the Eastern Region's aspiration and the winning power of the candidate, then it will be too bad.
PDP should consider favourable options for it. If major political parties zone their presidential candidates to the South-East, the options will be open. If one of the major political parties picks a candidate from the North, the South-East candidate may not win. It is unlike when Falae contested against Obasanjo because whoever won was a Yoruba.
TNE: Between Atiku Abubakar of PDP and Asiwaju Bola Tinubu of APC, who do you think will carry the day in a free and fair presidential election if they are pitched against each other?
Atiku will beat Tinubu hands down in a free and fair election. Atiku gave Buhari a tough time in the 2019 election. It is believed that Buhari won due to manipulations. Tinubu is not as popular in the North as he is in the South-West. Even in the South-West, he has many enemies. He is not popular in the South-East and South-South. So, he cannot win the presidency of this country no matter what.