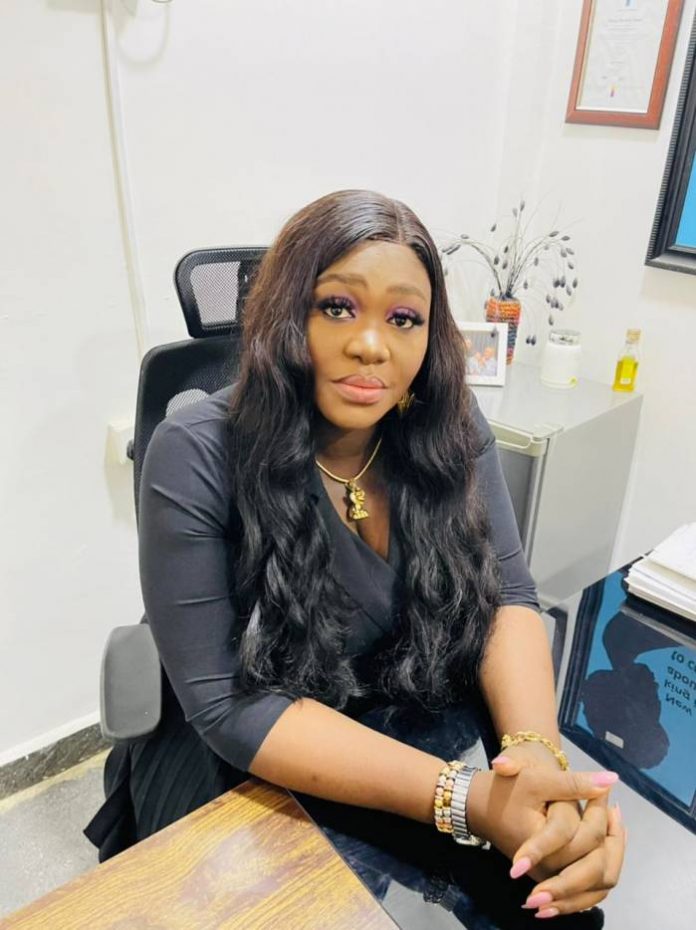 *Aided  2,990 Pregnancies Using Alternative Medicine
Dr. Ekinyi Ochete, a Fertility Specialist, is the CEO of EEK Fertility Herbal Limited. In this interview with the Correspondent of The Next Edition, Dooshima Hir, Dr. Ochete spoke so passionately about pressures of childbirth due to infertility in marriages. Her advocacy is in the area of conventional and the alternative medicines. According to her, both should be combined to achieve desired results. She spoke about her journey and achievements using natural medicine.
Background information
My name is Dr. Ekinyi Destiny Ochete, the Chief Executive Officer of EEK group of companies and under EEK group of companies we have EEK Fertility Herbal Limited, we have EEK Olohi Thrift Credit Society, EK Automobiles, EEK Logistics, EEK Eden super Market and Babies. I am from Benue State, Idoma from Otukpo local government area. I am a natural and alternative medicine specialist and also a business expert. I hold a certificate in Food as medicine for fertility and pregnancy, certificate in Natural medicines, certificate in Risk management, certificate in management skills all at International and business institute Berlin, Germany. I also hold a certificate in communication from the international business management Institute, Berlin Germany. I am a professional skin therapists, rendering and expanding the study and treatment. I have also been developing business concepts in industries in the financial institution and logistics.
TNE: How did you come about alternative medicine and when did you start?
Coming about alternative medicine was more of a divine arrangement. It was more of a spiritual thing than a normal thing actually. I was married and then I had just one son who was about three years and the pressure to have another child came in and while in my depressed state, I had a dream and in my dream a recipe was given to me and when I combined this physically it worked for me and after that, I started using it on people and they were getting results. I decided to do more research and study about them and saw that the leaves were even more fruitful than I thought and we then decided to diversify using laboratory findings on leaves. I can say coming about alternative medicine is more like a spiritual gift and a combination of physical effort. That is how I came about alternative medicine and we started in 2018.
TNE: What is the relationship between natural and alternative medicine?
You cannot over emphasise the importance of both natural medicine and alternative medicine. Natural medicine is a medicine you use food to prepare. It is a medicine you go to the bush to plug bitter leaf, water leave, wash and prepare. They are leaves that are fresh, leaves that come direct from nature. Now alternative medicine is a more refined version of natural medicine. It is medicine that we use our hands to produce and process before we are able to have access to their benefits. But natural medicines such as bitter leave, spinach are medicines that we can get their benefits directly as they come.
TNE: Some medical doctors advise against alternative medicine, what is your take on this?
Yes, medical doctors do advise against alternative medicine because they don't want people to spoil their work. I know a lot of medical doctors that take my treatment and still advise their patients against it. I know of medical doctors that have tried normal medicine but it has failed then and right now they are relying on alternative medicine. So when medical doctors advise patients against alternative medicine, it is more like a professional thing. It is not as if there is anything wrong with alternative medicine because a lot of them rely on alternative medicine and that is the truth. As a neuropathic expert, I know very well a lot of medical doctors rely on alternative medicines to function.
For instance, I was talking to a Turkish doctor some months ago and she said "sometimes orthodox medicine fails us and what we fall back on is alternative medicine. Any doctor that does not know the importance of alternative medicine, I think, is still an amateur. Gone are days when doctors queried alternative medicine. Gone are days when doctors spoke against alternative medicine. I think right now there is a place for alternative medicine in the market and doctors are very very aware of it.
TNE: Can one rely on alternative medicine for fertility?
Waoooo! As I speak to you right now, we are in the 9th month of 2021 (interview conducted in September) and complementary medicine has been able to give 2,900 women the results of pregnancy through EEK fertility herbals. You can rely on 101 percent of complementary medicine to achieve fertility and one thing I want people to know is that complementary medicine is without side effects; they don't have any form of side effects known that can be harmful to human bodies. I speak for EEK fertility though, I don't know of any other person but none that can be harmful to the human body. Complementary medicine helps people even faster than the orthodox method. I know a lot of people that have gone through IVF procedures and still come back to complementary medicine and get their results.
TNE: At 31 years, you have a very rich profile but specifically, what areas do you specialize as a medical doctor?
I am a neuropathic expert as I said earlier and neuropathic experts are people that use natural plants to achieve medicine. I'm a doctor of fertility and food as medicine. This is fertility and food as medicine through alternative means. I would say that I am a doctor using alternative medicine to cure infertility.
TNE: Africans and Nigerians especially, are known for bleaching/toning. What are the adverse effects to the body?
Bleaching items have a lot of adverse effects on the human skin. Trying to change nature is not good. The moment something is artificial, we should all know that the reaction on your skin and the system can never be the same. Bleaching, especially for Africans, is something that damages our natural gifts. I am dark in complexion and I am very comfortable with my skin. A lot of people in this generation are toning everywhere and people wonder why I am still remaining the same. It is because that is the only identity I have as an African and I am not ready to change it.
TNE: In our society when a woman has delayed pregnancy after marriage, they blame her. Are women actually to be blamed?
You cannot say women are the ones at fault for infertility. A woman cannot be generally at fault for infertility. I said this because going through my profile you should know that if I have not dealt with women over my short period of practice, at least, I have dealt with over 10,000 couples and I can tell you with all sense of knowledge that most times, both couples are even very okay. If there is a delay in pregnancy in a marriage, it is advisable for both couples to go for a test. For example the couple, I am treating in Turkey, the woman has been on my treatment for a long time and the husband has been fighting her and you know when they are outside there, they really find it difficult in getting medical attention. What happened was that when they were able to get access to their doctor to carry out a fertility test on them, it was discovered that the woman was okay but the man was suffering oligospermia which is low sperm count. Sometimes, it is not generally the fault of the woman when things such as infertility happen. I must advise that those couples get tested for us to be sure and at times when there are issues of unexplained infertility, there is no reason why this person should not be pregnant. With such cases, we begin to use our premium treatment on them and they are able to conceive. The belief that women are the cause of infertility in marriage is a 100 percent lie. On the scale of 1-100, it's a 50-50 between the men and the women. You cannot say the man is the major problem and you cannot say the woman is the major problem. Sometimes, the problem comes from both sides.
READ ALSO  19 Traders Gunned Down As Bandits Invade Sokoto Market
TNE: What will you prescribe for your patients, conventional or complementary treatment?
Complementary medicine cannot work without conventional medicine. For instance a patient comes to me at EEK Fertility Herbals to prescribe my herbs for them. I will not be able to prescribe my herbs for them without them going for a medical examination. So, we cannot work without the help of conventional medicine. So, for us in alternative medicine, you must be willing to go through the process of conventional checkups for us to administer the alternative medicine. So, at the end of the day, I think it is even a misconception that makes people think that we are going left, that makes people think conventional medicine is different from alternative medicine.
TNE: With all you have said, are you confident that with a combination of conventional and alternative medicine, no woman should be childless in marriage?
Yes, I am confident. Natural medicine is and will continue to be the mother of all conventional medicines. So combining conventional treatment and natural treatments especially our ogbonge eekfertility products, we should be able to say goodbye to infertility forever.