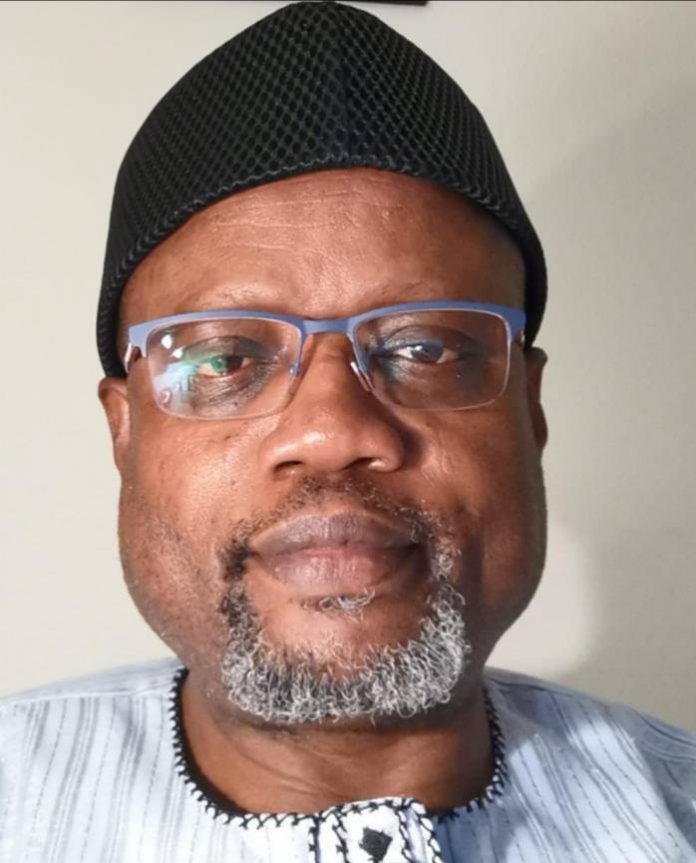 Pastor Peters Osawaru Omoragbon, South-South Deputy National Chairman of the National Conscience Party (NCP), is the Part's governorship candidate in the forth-coming election in Edo State. In this interview with SIMPLE IKEM, Omoragbon, who contested the governorship with Obaseki and Ize-Iyamu in 2016, spoke on his chances in the election and the current state of his party. Excerpt:
TNE: How do you see your emergence as the NCP governorship candidate in Edo State?
My emergence as the flag bearer for the National Conscience Party as its governorship candidate is a wake-up call for all well-meaning people of Edo state to 'open their eyes to the opportunity God is providing through the NCP for the best alternative for Edo State in the person through me. We are all witnesses to the current show of shame by the two actors in the opposing parties, APC and PDP, in Edo State as they continue to recycle themselves from their parties interchangeably. What this goes to prove is that there is no difference between the APC and PDP in Nigeria. They are two sides of a coin.
Therefore, my emergence is to restore hope and confidence in governance in the people of Edo State with the assurance of an accountable and transparent government. It is to provide the genuine change missing from the rule of PDP and APC since 1999 in Edo State.
My emergence is to transform the living standards of the people of Edo State above their current below poverty level by implementing our party's '10-Care Plus One Programme' that will abolish poverty from Edo State.
TNE: Your party was among the 79 deregistered by the Independent National Electoral Commission (INEC). How far has it gone to ensure that it is enlisted again?
It must be recalled that the NCP was a product of the efficacy of the Rule of Law in any egalitarian society, when in 2002, by a landmark judgement, the Supreme Court affirmed the rights of all Nigerians as enshrined in Section 40 of the 1999 Constitution to form and belong to any political party of our choice, by overruling INEC's refusal to register the NCP under the then late Abel Guobadia.
As a result, and as law abiding citizens, we have gone to court to challenge the unconstitutionality of the action of INEC under the current dispensation. By a suit filed at the Federal High Court in Lagos, with Suit Number FHC/L/CS/544/20, we have challenged INEC's current decision to omit our party's name from the political parties fielding candidates for the election in September in Edo State. Defendants in the current case are, The Attorney General of the Federation and The Independent National Electoral Commission (INEC).
One of our reliefs being sought is a declaration that the action of the defendants without an order of a court of competent jurisdiction, is unlawful, arbitrary, oppressive, repressive, partisan, undemocratic, an abuse of power and office, and a breach of the plaintiffs' right to fair hearing guaranteed in Section 36 of the 1999 Constitution of the Federal Republic of Nigeria (as amended, hereinafter referred to, as 'the Constitution), and Articles 2, 3, 4 & 7 of the African Charter on Human and Peoples' Rights, and is accordingly, null and void and of no legal consequences whatsoever.
READ ALSO: Wike To Ganduje: Your Dollars Won't Work In Edo
TNE: Your name was omitted by INEC in the 'Provisional' list for the Edo governorship election. Are you and your party not bothered about the development? What are you doing to ensure that it is included in the final list?
We are not bothered because we are already in court and no matter how long it takes for us to get justice, any outcome of the September 19, 2020 Edo State governorship election without me and the NCP will be a nullity.
Remember, Adams Oshiomhole, became governor well after Osunbor was sworn in as governor almost a year in 2008 by the ruling of the law court. If we are in agreement that INEC's action by their reliance on Section 225 negates our fundamental rights of Freedom of Association enshrined even in the amended Constitution of Nigeria, and is currently in court, then what better way to test the last 'hope' of the common man, which is the judiciary by putting political action to our legal action?
TNE: Why do you think you will have upper hand in the election over the candidates of APC and PDP?
As at today as far as Edo state is concerned, the APC candidate, Mr. Obaseki, and the PDP candidate, Pastor Ize-Iyamu, have lost their credibility before the good people of Edo State. In 2007, Pastor Ize-Iyamu defected from PDP to join the APC until 2016, when he defected again to PDP when he felt he could actualise his governorship under the APC. Mr. Obaseki was chosen above him by their political godfather, Comrade Adams Oshiomhole. Now in 2020, Mr. Obaseki was denied his ticket for second term by the godfather and Pastor Ize-Iyamu was now the preferred candidate by leaving the PDP to APC. What did Obaseki do? He too defected to PDP using the resources of the Edo State to buy his way and that of his deputy, Mr. Shuaibu.
Here is the Catch-22: Legally, Obaseki will be disqualified even if he wins because by the recent ruling of the Supreme Court, you cannot contest for nomination in two different political parties in the same election. Secondly, the entire social media are awash with the confessions of the three dramatis personae, Oshomhole, Obaseki and Ize-Iyamu, on their corruption. Edo State is not made for only PDP and APC, nor is it the birthright of Obaseki, Ize-Iyamu or Oshiomhole.
Another reason why I will be better off is the implementation of our party's '10-Care Plus One Programme'. Finally, my experience in the civil service and the grassroots as leaders within the civil society movement, both nationally and globally, as well as my experience in the Diaspora puts me in a better position than the APC and PDP candidates. I intend to transfer my knowledge and experience of the best practices to Edo State. By the end of my eight years as governor, Edo State would become the role model for every state in Nigeria.
TNE: Would you say the defection of Governor Godwin Obaseki to PDP has really ended godfatherism in Edo State?
The answer is NO. Do you know what will end godfatherism in Edo State? Pastor Peters Osawaru Omoragbon will end godfatherism in Edo because by the moment I am sworn in as governor, my godfathers and godmothers will be the people in Edo State. My emergence would have been the repudiation of the status quo under the PDP and APC by the people in Edo State with their votes, not with the amount of money I am able to share because I have none stolen from the collective wealth of the state, or from illegal sharing to party faithful by every ruling party in Nigeria.
TNE: What are your agenda for Edo people?
Our agenda for Edo State is based on my party's '10-Care Plus One Programme'. For the people to appreciate how these programme will work, it is good for them to understand how we got to where we are today. The experience of the masses since 1999 has not brought about any fundamental change. Governance has remained for the interest of a few individuals in the state. The people are justifiably shocked at the utter contradiction of abundance and poverty. Whereas the rulers swim in abundance and engage in ostentatious living, the citizens wallow in abject poverty. It is not only poverty that torments Nigerians. It is the fact of poverty amid plenty and natural bounty. This is a source of internal sadness to many. As a result, we have wrapped our agenda under a carefully crafted '10-Care Plus One Programme' as follows: Employment Care, Food Care, Health Care, Housing Care, Education Care, Water Care, Electricity Care, Transportation Care, Telecommunications Care, Security Care. 'Plus One' is the Ecological Care. This will take care of the environmental degradation as a result of erosion and climate change. That is our '11th Care Programme'.
TNE: What are the things that Governor Godwin Obaseki did not do well, which you will change or improve upon if you win the election?
The problems confronting the Edo people did not start with Mr. Obaseki. As such, it is not what he did not do well or did, but what the government of both PDP and APC failed to do since 1999. One major problem these political parties have foisted on Edo people is the rising debt profile from 1999 to date. According to the 2019 report of the National Bureau of Statistics, Edo State domestic debt was N86,820,254,212.61 in stocks and N69,904,633,299.09 as loans. While the external (foreign) debt was $279,029,896.21 that is at the rate of N450/$ or N125,563,453,294.50 billion! Cumulatively in Naira, if you add the three, it will amount to N282,288,340,805.20. Can you imagine that? That is the total debt incurred on behalf of the state by both PDP and APC. Tell me, what have the people to show for it? Nothing! Instead, you have people in government building bullet proof houses, ridding on bullet proof cars, spending billions of naira to purchase ticket to run for public office, someone owing private jet, private universities, building estates that they barely live in, maybe once or twice a month. No good roads. Erosion has destroyed half of the state. All health institutions remain mere consulting clinics. There is no programme of engagement for the youth after school, other than employing them as party thugs. How can we suffer in the midst of plenty?
With our '10-Care Plus One Programme', the NCP government under my watch shall address these inequalities and inequitable distribution of our collective wealth. The details will be made public and distributed and promoted through the mass and social media in all languages in Edo State. I shall restore the people's confidence again in the government by making public in my first 30 days in office the entire income and debt profile of Edo State from 1999 to 2020. I will lay bare to the people of Edo State what the PDP and APC have done to our collective psyche.
I can assure you that under my watch, we shall set up a Judicial Panel of Enquiry to recover all ill gotten wealth by any public officer from this state. That is one sure way of ending godfatherism and godmotherism in Edo.
TNE: NCP and African Action Party (AAC) have a working understanding in Lagos. Do you see that possibility in Edo State during this coming election?
We are prepared to work with everybody in Edo State, irrespective of party affiliation, except PDP and APC. Any member of the APC and PDP who defects and embraces our programme as a party will be welcome. But, we will never work with the parties' structures as organs.
TNE: What are your antecedents politically and professionally?
My political life started when I was in secondary school and continued when I was in nursing school. After my secondary education, I went to the School of Psychiatric Nursing, Aro Abeakuta. Six months into my studies, I contested for the position of the Assistant Social Secretary and I won. My goal was to build my political structure and visibility till when I would be in my second year to contest for the Students Union Presidency. But, due to my activities cost me my presidential ambition. I did not give up. I contested for the regional association of Nigerian Nurses Students in Ogun State as General Secretary and won.
As GS we were overseeing all the students' unions of Schools of Nursing, including Aro in Ogun State. It was during our tenures, especially as GS that student nurses began to earn respect from both lecturers and clinicians. Before then, student nurses were treated as mere secondary school students. Imagine asking a student nurse to kneel or cut grasses while in school as punishment. I fought against that as unprofessional.
When I qualified, I continued with the National Association of Nigerian Nurses and Midwives and rose to the position of Vice Chairman at Yaba Psychiatric Hospital. Our tenure was tumultuous. The Medical Director then will never forget Peters Omoragbon. I was a torn in his flesh. It was during our era in 1992 that there was the national strike by Nigerian nurses throughout the federations among the Federal Health Institutions that lasted for almost six months. The crisis started from our unit at Yaba when we went on strike because the management failed to pay us our hazard allowances. As a result, about six new staff nurses who were just barely six months in employment were sacked because their employment was not confirmed then. We went back on strike requesting for them to be reinstated.
When I retired from service in 1994, I started Nurses Across the Borders Humanitarian Initiative. That is now an NGO in Special Consultative Relationship with the Economic and Social Council of the United Nations and the became the first NGO to be admitted as an Observer in the United Nations Framework Convention on Climate Change (UNFCCC). I was the first Nigerian NGO leader to be accorded the Designated Person for the UNFCCC in Nigeria. In November of 1994, I joined the National Conscience, then it was just a movement, in defiance of Gen. Sani Abacha, who decreed that there would be no political activity when he took over. Chief Gani Fawehinmi (SAM, SAN) defied him because that decree was inconsistent with the Freedom of Association.
In NCP, I rose from a Ward Chairman in Kosofe Federal Constituency in Lagos, to the National Financial Secretary with Chief Gani Fawehinmi and Barrister Femi Aborisade as Chairman and General Secretary, respectively. I was later to add the National Organising Secretary to my portfolio. I was instrumental to the setting up of the branches of NCP in the whole of South-South, South East and parts of the North West. Gani Fawehinmi was so impressed with my commitments that he gave me my first car in life.
When we were to contest the 2002 election, Chief Gani Fawehinmi drafted every NEC member to contest. We fielded candidates in all offices and in every states of the federation. I contested for the House of Representatives in 2003 in Kosofe and came third with more than 12,000 votes and AD won, with PDP coming second. That began my voyage into politics, and I never looked back.
In 2011, I contested for the Oredo Federal Constituency for the House of Representatives. In 2016, I contested with Obaseki and Izei-Iyamu for the governorship elections.
Beyond the shores of Nigeria, I am the President of the Diaspora Nurses Association of Nigeria and also the Director, International Liaison, for the Nigeran Nurses Charitable Association in the United Kingdom. My activities and roles made it possible for me to interact with the Nigerian government as it relates to healthcare delivery services with other Diaspora Healthcare professionals. We have been coming home to organise series of medical missions in Nigeria.
At the UN, I was elected into the Board of the Conference of NGOS in Consultative Relationship with the UN-CONGO from 2011 to 2017. I acted as Gen Secretary of the Regional Committee for Africa in CONGO. In 2013-2015, I was Treasurer of the Central Association of Nigerians in the UK-CANUK, a body coordinating all the groups of Nigerians in the UK. In 2015-2015, I was elected as Financial Secretary. I am an Ordained Servant of the Most High and happily married to Helen with children and a granddaughter.