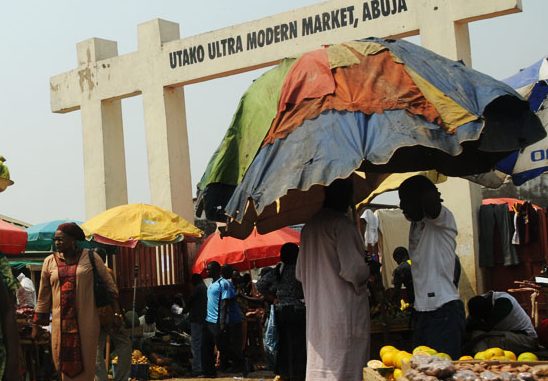 The National Bureau of Statistics declared the Nigerian economy was in a recession after experiencing negative growth in the first two-quarters of 2016.
Ever since, the average Nigerians have not found it easy with increasing inflation rates, fluctuating foreign exchange rates, shrinking consumer spending among other economic factors bedeviling the country.
A Development Economist and Research Associate with the Centre for the Study of the Economies of Africa (CSEAFRICA), Joseph Ishaku, said the rescission has had a tremendous effect on small and medium scale businesses.
"Being heavily affected by the fall in aggregate demand in the economy, small and medium enterprises involved in manufacturing and large-scale retailing may have been exposed to the hostile foreign exchange market if their businesses depend on imported raw materials," Mr. Ishaku said.
He said economic activities in urban areas seemed to have been hit harder by the recession while rural areas were thriving through an increase in agricultural activities and a nationwide refocus on agriculture.
In the bustling capital city of Abuja, the negative economic situation has enormously impacted on small and medium scale businesses beginning from the third quarter of 2016.
A wine shop owner in Garki, Obinna Okafor, said the harsh economic condition is crushing business as he now finds it difficult to sell.
"Business has been very boring since last year. I used to have booming days with bumper wine and hot drinks sales. People are no longer ready to throw parties and have outings as they used to before," Mr. Okafor complained.
"Drinks aren't selling much and even the customers who used to purchase in high volumes aren't doing so, now citing recession. The foreign exchange rate is clearly affecting my business as most of the drinks I sell are imported and the scarcity of foreign exchange really affects the bulk purchases."
But it is not Mr. Obinna alone who has been experiencing low sales. A video game and
luxury gadgets dealer at the ever-busy Banex Plaza in Wuse II, Abuja who gave his name as Jeffery lamented his business has been in a slow mode for months.
"Since January last year when the recession hit us, sales have slowed down incredibly. In fact, there was a duration of about two to three months where I made no sale," he told our correspondent.
"But with the availability of foreign exchange and the naira appreciating on the dollar, sales have picked up."
With the scarcity of foreign exchange which greatly affected retailers, it was not surprising to hear the frustrating tales from small and medium business owners.
Many could not sell and therefore, profit was far from being made while operational cost remained high.
However, it was not all gray for the small and medium businesses in Abuja as The Next Edition found out how some Nigerians had found solace in sports betting and lottery and were already getting addicted.
Without a doubt, betting centres, across the country are said to be experiencing a massive boom in profits and customer base.
At a Bet Naija parlor in Kubwa, a bustling suburb of Abuja, scores of young men and old ones were busy exchanging notes on the team they thought would win the week's games.
The operator of the parlour would not give his name but agreed there has been massive patronage of the betting business since the recession started.
 "Ever since the recession hit us, surprisingly our business has improved remarkably.
In fact, income from the business has increased by at least 5 percent every month since November last year," he said.
"Our customer base has also gone bigger. We think it is because of the seething need to make quick money especially as the heat of the economic situation has hit them. People don't even care about the risk."
While this is quite revealing as to why many have taken to sports betting since the economy went into recession, it also shows instead of engaging in productive initiatives, more Nigerians are looking for quick fix.
An investigation by NEXT EDITION shows cultural retail shops are enjoying massive boom and patronage, especially in Abuja.
A traditional Hausa cap seller, Yunusa Kadir, said although many businesses were going through hard times, he was making sells and consistently too.
Olalekan Olatunji, a visiting businessman and politician from Oyo State, told our correspondent the fluctuating rate of the US dollar to the naira was affecting the prices of goods.
"Prices have been unstable due to the fluctuating naira to dollar rates and thus affecting purchases at my supermarket. In my agriculture business, farm supplements have become seriously expensive and scarce to get," he said.
However, it was not all gloom for Mr Olatunji as he said the recession has resulted in a positive twist in the nation's economy.
According to him, with the high cost of foreign products, the demand for locally grown food has resulted in increasing profit margins for farmers.
"The recession is somewhat good for the agricultural sector," he said.
He said astronomic losses have been recorded in the consumer goods retail business since the economy started experiencing negative growth.
At the Cherish Supermarket located at the bustling Area One Shopping Centre in Garki Abuja, a young trader who gave her name as Amaka said sales have been at the lowest ebb for months.
"Sales used to be very high because people had money to buy basic household items, food, and beverages but now since the recession, sales have gone down dramatically," she said.
"Customers no longer buy in bulk. Sales have roughly been down by 20 percent since Nigeria's economy went to a recession early last year."
Amaka's story clearly shows how drastic the negative effects of the recession on small and medium enterprises are. For one shop owner to record such losses and sales drop in a space of one year shows an urgent need to address the dire economic situation in the country.
To Mr Iyke, a small-scale shoe and sportswear dealer at the Area One Shopping Centre, the gloom of the economy is the worst he has ever seen since his birth.
He said he has never witnessed an economic situation as bad as the one the country is going through presently.
Having been in business for seven years, he said things are getting worse by the day and every attempt to diversify his business has ended up in failure.
The Director at the National Youth Council of Nigeria, Alex Arogundade, who also doubles as an entrepreneur, shared the frustration expressed by Mr. Iyke.
Mr. Arogundade, who deals on smartphones, said the scarcity of forex has negatively affected his business.
"The scarcity of forex has absolutely affected smartphone sales over the last year. Consumer spending has reduced and most customers hardly have the disposable income to buy our smartphones," he said.
"As a youth leader and activist, I believe the recession is a great opportunity for youths to take advantage and maximize the situation to the fullest. With the diversification drive borne out of the economic recession, youths getting involved in technology, agriculture, consumer goods manufacturing amongst other."
Mr Arogundade, however, implored the government to support young people by taking cues from India and China where the expansion of the science and technology sector has helped grow their economies over the decades.