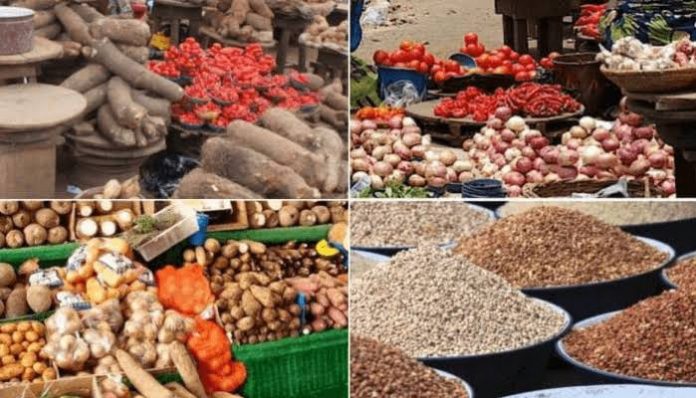 Nigerians, including workers and traders, on Wednesday, expressed concern over the rising prices of foodstuffs, especially as the 2022 Christmas celebration approaches.
The respondents, who spoke with the News Agency of Nigeria (NAN) in Abeokuta, Ibadan, Ado-Ekiti, Ilorin, Osogbo and Akure, said if the situation was not urgently addressed, the celebration would be robbed of its usual enthusiasm and fanfare.
A survey by NAN on some major markets indicated that prices of almost all the major food items had soared, compared with what they used to be few months back.
Staples like rice, beans, potatoes, yam, cassava and other foodstuffs, including onion, maize, millet, sorghum, tomato, pepper and palm oil, were not spared.
At Kuto market in Abeokuta, NAN discovered that a bag of short-grain rice, which sold for N27,000 in August, is now N35,000.
The survey revealed that a 25-litre keg of groundnut oil sold for N33,000, against N27,000, while a 5-litre keg now goes for N7,000, as against N5,000 in September.
The price of palm oil also witnessed an increase, as a 25-litre keg now sells for N33,000, as against N22,000 few months back.
At Omida market, there was, however, a downward turn in the price of beans, with a bag, which used to be between N65,000 and N70,000, now selling at between N35,000 and N40,000, depending on the type.
A basket of tomatoes at the market, which was sold for N1,500 around September, has increased to N3,500, while a basket of red pepper, now being sold at N4,000, was sold at N1,500 in September.
At the popular Lafenwa market, a 50kg bag of long-grain rice went for N43,000, while a 5kg bag of Ofada rice was sold at N18,500, as against their respective prices of N33, 000 and N12,000 in September.
NAN discovered that frozen food items were also affected, as the price of a carton of turkey, which was N20,000 in October, has gone up to N31,000, while that of chicken now sells for N22,000, against N17,500 in October.
Alhaji Yusuf Aliu, a yam seller at Olomore market, said that six big tubers of yam could not go less than N10,000, while he was ready to sell 10 small tubers for N8,000.
Aliu explained that the prices of same sizes and quantities in August were about half of the current prices.
Meanwhile, wholesale and retail traders at the various markets had started to stock up essential food items and goods in readiness for Christmas celebration.
Mrs Adejoke Ogunsanya, a trader at Kuto market, however, lamented what she described as "low patronage."
According to Ogunsanya, this is the period that many people go to the market to shop, ahead of Christmas, adding, however, that things are no longer the same.
She attributed the low patronage to high cost of food items and low disposable income of the people.
Mr. Moses Akindele, a civil servant, said he had already been appealing to members of his family that this year's Christmas celebration would be low-key.
Akindele noted that while the prices of goods continued to soar, there was no corresponding increase in salaries of workers.
"I have told my wife and children not to expect the usual fanfare that normally accompanies Christmas, especially if situations do not change.
"We will just stay indoors, eat what we can afford, pray and appreciate God for the gift of life," he said.
The Iyaloja of Kuto market, Alhaja Semirat Ibrahim, who expressed concern over the steady rise in prices of foodstuffs, attributed the trend to flooding, insecurity and the general downward turn of the nation's economy.
"The economy is facing challenges and also, insecurity has driven away many farmers from the farm, while flooding has wiped away farm produce.
"It is not the fault of the traders. No trader will want to run at loss and so, the prices at which they sell the foodstuffs will reflect the amount they bought them," she said.
Ibrahim urged governments at all levels to find lasting solutions to the challenges of insecurity, flooding and inflation in the country.
National Deputy President of All Farmers' Association of Nigeria (AFAN), Mr Segun Dasaolu, ascribed the high prices of food items to the negative effects of climate change, high cost of agricultural inputs and poor credit facility arrangement for farmers.
Dasaolu urged government at all levels to fund agricultural research institutes so as to encourage modern methods of farming.
He also appealed to government to entice youths into the agricultural value chain through easy access to credit facilities.
In Ibadan, the situation was not different at markets like Bodija, Sasa and Bere, with respondents lamenting the hard times they were passing through in feeding their families.
Mr. Sunday Ajakaye, a private school teacher, said prices of food items had gone so high that he was almost spending his entire salary on buying food items for his family.
Ajakaye said: "As a private school teacher, I am struggling with my take home to make ends meet.
"With one 'kongo' (10 milk tins) of rice now selling for between N1,300 and N1,400, what are we saying here? Yet, food is so vital that nobody can do without it."
According to Alhaja Bola Alubarika, a rice merchant at Bodija market, a 50kg bag of rice is now selling at between N37,500 and N40,000, as against N34,500 it sold in September.
READ ALSO: Nigerian Singer Shot Dead In Anambra
"We cannot say a particular reason caused the hike in food prices, as there is a small difference between the price of local rice and the imported ones.
"Those who benefitted from the Anchor Borrowers Loan from the Federal Government, with one digit interest, are now selling rice with slight difference in price.
"A bag of beans is now selling for N30,000, while a kongo sells for between N900 and N950.
"I hope the price remains the same before Christmas," Alubarika said.
According to Mr Akinsola Abiodun, a vegetable oil trader, said a 25kg-litre keg of Kings oil now sells for N32,000 from N27, 000, while five litres of it goes for N7, 200, adding, however, that the price varies with other brands.
A civil servant, Mrs Munirat Kazeem, noted that salaries should either be increased or the inflation stemmed, as the current salaries could no longer meet their needs.
"My current salary can no longer meet up with my needs. I'm, therefore, imploring the government to consider paying 13thmonth salary to cushion the effects of inflation on the people," she said.
NAN observed that prices of beverages and milk had soared, even without the factories closing down yet for the year.
In Ado-Ekiti, the survey revealed that a 50kg bag of rice had jumped to between N48,000 and N50,000, as between N30,000 and N32,000 sold five months earlier.
A businessman at Ojumose market, Mr. Anayo Okoli, lamented the hike in prices of goods, saying it had reduced patronage in recent times.
"Most of my customers now complain of not having much money and that they are only managing with the little they have to feed their families.
"This situation is really affecting even our colleagues, many of whom are selling clothes, shoes and bags, because people hardly buy those things again; all they care about now is food," he said.
According to him, the least pair of jean trousers in the market now is N12,000, against the former N5,000, which is still on the high side.
Another market woman at Oja-Oba market, Mrs Folashade Oladele, expressed worries at the rate at which prices of goods soared by the day.
"A kongo of beans is now between N900 and N1,050, as against the former price of between N600 and N700," she said, calling on governments at all levels to find ways of ameliorating the hardship.
A trader, Mr. Oluwatoyin Solomon, bemoaned what he called the unbearable situation, saying that "even salt, which used to maintain a stable and lowest of prices, is now sold for as much as N4,300, as against the old price of N2,000."
Solomon said that all the prices of commodities had virtually increased, expressing worries that the prices kept increasing daily.
"Even maggi is not left out in the hike, as a carton that was sold for N12,800 is now N13,900.
"10kg of semovita that used to sell for N6,000 is now N6,900, and a bag of Nigerian rice, sold for N25,000 before, is now N36,000.
"A carton of turkey that was formerly sold for N21,000 is now N28,000, and a crate of egg that sold for N17,000, is now N24,000; while most surprisingly, a keg of palm oil is now N30,000, against the former price of N14,000," he said.
Mrs Susana Agbabielesn, who sells food items, lamented that a bag of gaari Ijebu, which was sold for N15,000 around June, had risen to N25,000.
"How much will I sell a rubber of garri, if I continue to venture into buying it?
It is only Ijebu Ponmo (dry ponmo) that has remained at the same price since the beginning of this year. The prices of all other food items keep increasing every time. I am fed up," she said.
A foodstuff seller at Oja Bisi (Bisi market) in Ado-Ekiti, Mr. Muyiwa Adewumi, affirmed the daily increase in prices of foodstuffs.
"The price of honey beans, popularly known as 'Ewa Oloyin', which hitherto sold for N55,000, is now N65,000," he said.
According to him, the prices of local rice vary because of its different qualities.
He attributed the increase in prices to the state of insecurity in the country, saying that the fear of being kidnapped had reduced the number of farmers going to the farm.
"In addition, the flood that happened in some parts of the country has contributed to the increase in prices of foodstuff in the market, as erosion washed away their food crops," he said.
Another foodstuffs seller at Oja Oba market, Mrs Monisola Ajayi, said she was surprised by the daily increase in prices of foodstuffs, especially in Ado-Ekiti.
She attributed this to scarcity of fuel from the northern part of the country and other states producing the food items.
"Insecurity in the country is also a factor, as farmers cannot produce in large quantities over fear of being kidnapped on their farmlands.
Meanwhile, Mrs Bosede Daramola, a trader at Mojere market, said she found it difficult to point at the main cause behind the soaring prices of goods.
She, however, said that the recent flooding across the country might have made it difficult for the transportation of foodstuffs from one state to another.
A public servant, Mr Taiwo Owoeye, submitted that incessant kidnapping and other security challenges led to increase in prices of foodstuffs.
He called on government to intervene by controlling the prices of foodstuffs and other goods and services in the country before the situation got out of hands.
The situation is the same in Ilorin, with traders complaining of low patronage of their goods, owing to high prices.
They claimed that their sales had reduced by 50 per cent, as customers now paid double of what they used to pay, making them to buy less.
A foodstuffs seller at Ipata market, simply known as Mummy Aisha, said that the most affected of her goods were rice and groundnut oil, both of which were indispensable in almost all homes.
"I can never imagine that we will sell rice at N45,000 per bag and groundnut oil for N40,000 per gallon.
"Spaghetti that many people use as supplement for rice is also a no-go area, as it now sells for between N400 and N500, depending on the maker," she said.
Mrs Hannah Oderinu, a seller at Oja Oba market, said she used to sell semovita and packaged wheat in wholesales, but with the upsurge in prices, the sales had reduced drastically.
"People now prefer to blend maize and cassava flour (lafun) together to replace semo, and they now buy raw wheat and grind them instead of buying the packaged ones.
"So, it's like we now come to the market to sleep all day, compared with the situation before that we hardly rested from patronage," Oderinu said.
Mallam Abdullah Zayanu, who sells vegetables at Yoruba road market, said suppliers attributed the high cost to inability to assess their farms due to insecurity.
Osogbo residents also joined their counterparts across the country in expressing their worries at the increasing cost of food items, especially with the approach of the yuletide.
For instance, the cost of a bag of rice is between N36,000 and N40,000, depending on preference.
According to Alhaja Abebi Ajisefini, a rice seller in Alekuwodo market, the price of a bag of Nigeria rice is N39,000.
Similarly, Mrs Adebisi Ayoade, another rice seller in Igbonna market, said foreign rice sold for between N37,000 and N40,000.
Mr. Awolola Babtunde, a civil servant, said his salary could hardly sustain him and his family on monthly basis.
"Now, we have to reduce or remove some food items from what we buy, so as to be able to manage till the end of the month.
"We are in the month of November and Christmas is fast approaching when prices of most food items will double or triple. I just don't know how a common man will survive with this kind of a situation," he said.
Also, Mrs Rachel Akanni, a trader, says that as long as the naira keeps losing its value, inflation will continue to increase.
Akanni said it was becoming more difficult to adjust to the rising prices of food commodities and other items, as the salary earned was too meager to cover living expenses.
"Imagine the situation where salary is not increasing and every other thing/item is increasing in price; definitely, living condition will be drastically affected.
"Lots of people have had to substitute rice with some other food commodities, because it is way beyond what they can afford with their salaries; same goes for vegetable oil.
"I just pray there will be an economic turnaround that will ease the cost of living for Nigerians," she said.
Meanwhile, in Akure, Mrs Christiana Joshua, a rice seller in Shasha Market, said that a 50kg bag of Nigerian rice was N28,000 before it recently jumped to N39,000, while foreign rice, of the same quantity, which was N32, 000, had jumped to N49,000.
She said that rumour had it that politicians had purchased large quantities of rice to be used for the 2023 general elections.
This, she said, had created artificial scarcity, thus causing a huge demand for the product and pushing the price up.
According to her, there is every possibility for the price of the product to further increase during Christmas period, since it is a festive season.
Joshua advised governments at all levels to ensure giving Nigerians access to affordable food, noting that the situation, if allowed to continue unchecked, could cause many to starve. (NAN)