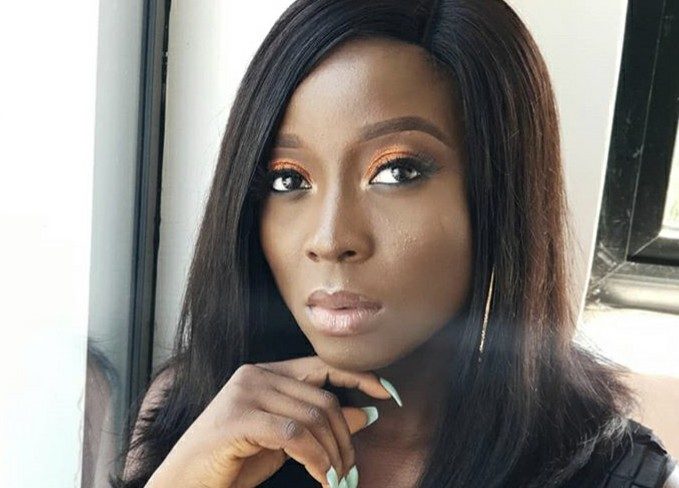 Olive Emodi is an Award winning Television host, a Radio Personality, Writer, Actress, and a trained Lawyer.
Emodi started building her career as an entertainer while in Delta State University where she anchored shows and performed on stage.
In 2011, she won the Delta Talent Quest Acting show, which eventually opened up opportunities for her in the entertainment industry. However, she started her career in the Entertainment industry as a TV presenter. She has won an array of awards in that field to show for it.
In November 2016, she won the ELOY (Exquisite Lady of the year) Award for Television Presenter of the year and in December of the same year, she won the 19 Role Model Awards for TV Presenter of the year.
Miss Emodi made her debut into Nollywood scene in 2017 with a movie titled "Put a Ring on It."
The Next Edition spoke to the bubbly presenter about the Entertainment industry in Nigeria and how she navigates through it all.
TNE: From studying Law, you went on to anchor events in school, modeling and performing on stage. Have you always had a flair for the Arts?
Yes, I have always had a flair for the Arts right from when I was a little girl. I was the drama queen of the house. My sister would always invite me to the living room when her friends came over and I would be the entertainment. She would tell me to dance, I would dance and perform for them. I didn't know I was going to make a career out of it; I was just doing it then because it was effortless and I loved it. But I would say it started when I was a young girl and I grew up with that knowing that I loved to express myself. I'm an extrovert, I love to be the life of the party, have fun. So yes, my love for the Arts started way way back.
TNE: You knew you had that flair and you ended up studying Law, how did that happen?
The thing is I always wanted to be an entertainer but I also always wanted to be a Lawyer. I didn't know how I was going to marry both of them. I remember as a little girl my father used to call me 'Lawyer ikpama' that means the Lawyer that can never go wrong or something like that. I knew I wanted to be a Lawyer however, I wanted to be broadcaster. I would pretend that I was in front of the news desk, I would have newspapers in front of me, read paragraphs and memorize them, then I didn't know there were teleprompters. I would try to start reciting it from my head and pretend I was in front of the camera casting the news. I just didn't know how to do both of them and my mum said to me since you already can do these things without training, a lot of rehearsals and you would be a fantastic broadcaster or an actor. She said why not go to school and study the one that you can't rehearse to be? She said study Law and when you come out if you decide you don't want to practice Law you can pursue a career in entertainment, do a few courses here and there and that's eventually what happened.
TNE: Do you think the Delta Talent Quest you won in 2011 opened up more opportunities for you and your career? What was that experience like?
Going for Delta Talent Quest was a life changing experience. Before then I hated going for auditions, I had gone for a few like Amstel Malta Box office, made it to the second stage. I had gone for a few auditions and never liked it, I still don't. It makes me nervous and I feel like I may not be at my best at auditions. I'm a bit of a control freak and the fact that I can't control the situation puts me under a lot of pressure. The Delta auditions I didn't even want to go but my sister figured you're always the one pushing other people to go. She was Miss DELSU at a time and I was the one that pushed her and I was her manager at a time. She said I kept pushing people to do things that I should do this one for myself. I just went there to fulfill all righteousness, I didn't think I was going to get picked. I got there and I was no 400 and something on the queue, I didn't get auditioned till 4:00 p.m. After passing the first stage I didn't get auditioned for the second stage till 11:00p.m. in the night. I just figured it would not work. When they called me to tell me I had gotten into the house I was overjoyed but then I was in my final year in the University. So how do I leave school for 21 days was a dilemma because that was the most crucial part of my schooling. I left and I remembered that my mates were talked about me. I remembered one particular boy said that my village people had followed me and they didn't want me to graduate, but I'm glad that I went. While I was there my consciousness of the outside world ended, I didn't remember the outside world that's why I can understand a lot of nonsense that goes on in reality shows. After like a week you forget there's a world outside and you are so immersed in the game. For me, I went there with a mindset that you came here to learn but you came here to win and I'm glad that I won. I won and what it did for me is that it opened my eyes to the fact that I had a chance in the entertainment industry. That was the first tangible proof for me that I had a career in entertainment.
TNE: You have many job titles, which would you say you love the most? Which one gets your creative juices flowing the most?
I can't choose. Each of them has its loving side. I'm in a foul mood but I get in front of the camera and I hear 3,2,1 you're live! And it's a different Olive. I love the camera, I feel like I'm in a relationship with the camera be it for photos, videos, I love the camera so much. I love hosting events as well because I feed off the energy I get from the audience. Now it's a different ball game in the studio when you are presenting on TV, it's just you and your camera nobody is there with you. But on stage, I'm feeding off the energy I get from the audience. Please don't make me choose, hosting events pays a lot of money and acting too. Acting is beautiful, I feel like with acting I get to be anybody. Today, I can be a cook, tomorrow I'm a pilot, all the things I've imagined I want to do and even the things I never imagined. It pushes me out of my comfort zone.
READ ALSO: Joke Silva, Olu Jacobs Welcome First Grandchild
TNE: You co-hosted Miss Nigeria with Ebuka Obi-Uchendu, who is seen as a master of his craft, was that experience in any way intimidating?
Not at all. It was a beautiful thing. I co-hosted with Ebuka, Lala and Bovi. It was a beautiful event for me. I'm yet to see the event that I will host that will outrightly intimidate me. I had one that I was nervous for last year and that was because I was hosting a legal conference for the first time. It felt to be like I was coming home, there was pressure to impress because at the end of the day it would be like 'Aunty, this is why you left our career.' There was a little bit of pressure because I was going to be hosting a segment in front of the Vice President and in front of all my learned seniors and my colleagues. It was beautiful, at the end, I found my groove. I hosted another legal event, end of year party Nigerian Bar Association, NBA, Lagos chapter and by then I had gotten into the game. I wasn't as nervous but hosting Miss Nigeria was not nerve wrecking at all.
TNE: Do you ever see yourself practicing Law?
I'm practicing Law as far as I'm concerned. When I'm hosting their events, when they are having the NBA conferences and I'm hosting it, that is me expressing my law in one way. For me, that's a meeting point. I'm still going to be involved in the NBA conferences. I look forward to being that person they think of when they think of a Lawyer in media. I never threw away my career as a Lawyer, I may not be going to court but in Law there are different ways to express yourself. Some go to court, some are solicitors, there are different angles to it. Going to court though is not for me.
TNE: We have seen incidences especially in the music industry where artists and managers, record label owners, etc, didn't go into proper agreements before working together and when they fall out, all comes out. As someone who is in the industry and a Lawyer, what is your advice?
It's very important before we get into ANYTHING, any sort of work relationship, you put down the dos and don'ts in fine print. It's a temptation to want to just go ahead because at the start of your career you are desperate, any and every opportunity you want to grab at it. But that's where a lot of people end up tying themselves, binding themselves to contracts that when they now realize in one year they have "blown" they now find that they have tied themselves to things that would affect them or their careers negatively. What I say to people is never go into a career or business without an agreement, it is important. Even if I'm doing a business, my friend, sister, a contract will save you. Even if you are given a contract and you don't understand, give it to a Lawyer to look through it to be sure if there is anything that needs to be modified so you don't tie yourself in years of legal battle that you can't get out of.
TNE: Last year, you won the Future Awards in the same category as your friend Ayo, won two years before. How important is it to you having friends in the same industry? Do you compete with each other in a good way?
My friend won the On-Air Personality for radio, while I won for TV. However, it is important to have people that you can share your ideas and platform with. I don't consider it competition in a way. Like my relationship with Ayo, I find that it's one where it is mutually beneficial. We don't feel threatened, the sky is large enough for us to fly. It's interesting that some people would even contact both of us for the same job and I call her and we discuss, 'Ok, how much did you charge?' 'Can you do it?' and it would be like 'The Money is too low.' or 'No, I can't, I'm too busy, I have things to do, you go ahead and do the job.' There is no way we feel threatened by that.
There's a narrative being thrown around that women don't support other women in this business, pulling each other down. Unfortunately, we still see it happen. We saw the recent Kizz Daniel challenge and all the outburst and I was really heartbroken by it. Then truth is when you are busy tending to your own grass you won't notice someone else's grass. Also, jealousy and envy are emotions that can be dealt with so if you in the slightest way feel competition let it spur you to working harder, let it inspire you. Learn to conquer prejudice, conquer pride and subdue prejudice. At the end of the day, you might not be able to get rid of it but you can decide to work on these emotions and translate to using them positively.
For me, I'll say the sky is wide enough for us to fly, the more the merrier, let us all be succeeding. If I'm the only one that's a success, I'm a failure because at the end of the day, I will have people pulling me down from all angles. But let me see that my friend is doing this, Ayo helped me when it came to charging for events. At some point, I used to short-change myself and she said 'No, you can't be doing this. This is how much I charge, you can't be charging less than this.' I found that it helped me with negotiating with clients because that's not really my strength. She is better at it than I am. So it helped me, there's always something to benefit from each other really.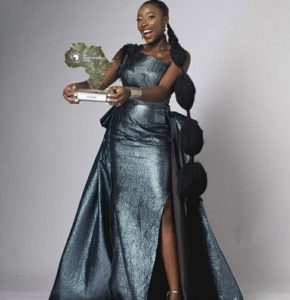 TNE: Just three days ago, you won an award for TV Personality of the Year for the Nigeria Women Achievers Awards. In the industry, are awards something you need to have? Is there any sense of validation it gives you or credibility within the industry?
Awards are not a determinant of how amazing you are. However, awards are encouraging for the recipient. It makes you feel like someone sees your work and someone notices your work, so I'd be a liar to come and say it doesn't feel good to win these awards, it does feel good. I came to a point in my career where I said whether or not I get an award, I know that I am the best thing before fried rice and sliced bread. We all need to get to a point of contentment with ourselves, by ourselves to know that nothing can be added to or taken from you to affect your validation. As much as they are important and nice, it's nice to send your profile and they are seeing award upon award, but it's also important for you to be confident in yourself and know that regardless of whether someone decides to honour you for your work you are doing the best that you know you can do and that posterity will forever judge you positively for that.
TNE: What is your most memorable experience as an entertainer?
The most recent one would be hosting the NBA section on Business Law and that's because that's the first time I felt like my entertainment and law career were merging. I really loved that and I felt honoured by that. I find that entertainment has given me more mileage than Law would have because I now have older friends in the legal industry and they see me a lot differently. Meeting Richard Quest when he came on my show; this was another highlight because I was like this is a Lawyer that is a TV Presenter as well so I felt like it was a kindred spirit. The last would be interviewing Don Moen. I was star-struck but I had to strike a balance between comporting myself on TV and asking him all the questions and screaming 'Oh my God, I used to listen to all your songs.' I was so star struck. I have met a lot of celebrities in the course of my work because they all come on my show to sit down but I think Don Moen was one of my highlights, I will never forget that experience.
TNE: Your industry is centered around looking good especially at events. Do you feel the pressure to look good even above your budget?
I don't feel that pressure, it's not that deep. I didn't come to this life to impress anybody. The whole thing they say don't repeat your cloth, it's a lie. I try as much as possible not to repeat something I wore to host an event, except once where I had a wardrobe malfunction I had to look for the next available thing. I try to remind myself not to put that pressure on myself, I will repeat my sneakers if I want to. I will repeat my shoes and purse if I want to. I won't deny the fact that it's a very vain industry that people don't really care about seeing your 'I woke up like this' look, they want to see you slaying, looking slightly artificial. I always remind myself not to get soaked into that pressure. Thankfully, because of our work, we find a lot of people that collaborate with us so we get designers who say wear my cloth on the red carpet and give me credit. So people should not put themselves under the undue pressure of thinking, 'oh, I want to slay,' so you go and spend all your life savings to buy one dress.
A lot of these celebrities don't pay for these dresses. The most they do is pay a stylist to pull these clothes from the designers. Some other times, designers themselves will offer the clothes to be given credit. It's a lot of pressure but we don't have to allow ourselves be subdued by that pressure. Most especially the everyday young boy or girl trying to enter the industry, you feel you have to go over and beyond. Sometimes it's not even in how expensive the outfit is, it's how you combine it and how you carry yourself.
TNE: What does the future hold for you?
In the future, I look forward to going into content creation. I find that I'm a box of ideas and if I start listing the ideas I have some I haven't really done much with because I am a bit of a perfectionist. I want to wait until I have everything figured out, until I have the right cameras and sound. I've said no. Content is becoming the new thing, it is the new oil, it is selling so fast. I look forward to the time I can be anywhere and create content. I think in content. I'm having a conversation with someone and I'm thinking I can write a short story out of this. I could write something about this; I could bring out a TV conversation, so if that is something I do by default, why don't I just make it my life goal? I would feel fulfilled doing that.
I also look forward to being able to have a mentorship session for young girls because we find that we don't really have a lot of that. Beyond being successful, I feel like your success is incomplete if some people can't say 'Oh, I went to this person's conference.' Or 'this person has impacted my life.' I always say that I want to be remembered as the fire that set the forest ablaze. When I went into my career path I didn't have anybody to look up to, to say 'oh,she studied Law but she is a TV presenter and she is doing amazing. A lot of people told me I couldn't do it because the legal profession doesn't allow you do that. I had nobody telling me I could; nobody I could look up to and say 'oh, she did it therefore I would do it. I want to be that person for other younger girls. I get Lawyers everytime sending me Direct Mails, DMs, saying they want to come into the entertainment industry and sometimes I feel like I could wave a magic wand and they achieve their dreams but there's something I can do. I may not be able to give them fame but I can teach them what I know and help them with the platform I have. So yeah, I look forward to giving back as much as I can.