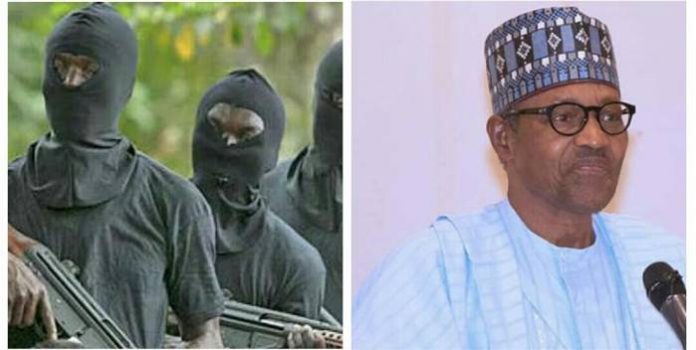 Insecurity has remained a major problem to the Nigerian Government.
From all indications, it appears that the government at the national level is overwhelmed by the level of insecurity in the country and is at a loss as to how to deal with it.
In the Northern part of the country the activities of the Boko Haram terrorists and others like it, have led to loss of many lives and destruction of properties running into billions of naira.
Some of these activities include bombing, shooting of unarmed and innocent citizens, burning of police stations, churches, kidnapping of school girls and women, etc. rape, armed robbery and political crises, murder, destruction of oil facilities by Niger Delta militants.
The Fulani Herdsmen are not exempted as they attack some communities in the North, South West and Middle Belt. Many lives and properties have been lost and a large number of citizens rendered homeless.
Families have lost their loved ones. Many women are now widows. Children have become fatherless with no hope of the future. This has implications for national development.
Senate Minority Leader, Senator Enyinnaya Abaribe, on Wednesday demanded that President Muhammadu Buhari and the ruling All Progressives Congress (APC) should resign over their inability to protect the lives and property of Nigerians.
The Next Edition sought the views of some Nigerians on whether indeed Buhari should go.
Onyekachukwu Vincent, Security Expert;
"Buhari should resign because he has not shown the desired will power in the handling of the security issues of the country. The level of insecurity is still very high; some new terrorist organisations are freely operating within our shores. Part of the campaign promises the President made was to deal with insecurity, and that has not been achieved till date."
Udo Ekpe, Political Analyst;
"Buhari is sick and not fit to rule the country, he has been visiting several hospitals due to health issues. Under the president's watch Nigeria now occupies number 3 in the world terror index after Afghanistan and Iraq no thanks to Buhari's failure on national security."
Abbey Giwa, IT Expert;
"Yes, I feel the security architecture of this country is falling apart; it's like he knows what to do but fails to practice it."
John Ogugua, Student;
"Let's look at the reasons he should resign, take a look at what is happening in North East of Nigeria which has virtually been place taken over by Boko Haram Militants and we have a sitting president and a retired Army General, yet he cant do anything.
"Look at the election problem in Imo State, where a sitting Governor was removed for nothing. People are protesting over it and the police are busy killing people thereby bringing more security problems to the nation.
"Yoruba states just formed their own security outfit called Amotekun if the president is in charge of the nation security situations, that wouldn't have come up. Now the South East Governors are preparing to launch theirs.
"Take a look at the Fulani Herdsmen in some states of Nigeria, killings everywhere and nobody is arresting them or bringing them to justice. It shows the man is not in control or should we allow Nigerians to die first before he should do the needful, which is for him to resign? Armed robbery is on the rise because of the Government's inability to protect the people; no jobs for the youths. So I support the call for him to resign."
Gift Udofia, Business woman;
"He should resign because he is not capable. It seems he knows what to do but has refused to take actions for example the case of Leah, it's said she put to birth…..Why can't the person that brought the news be caught because obviously they know where she is being kept."
Some Twitter users are also in support of Senator Abaribe's call on Buhari to resign.
@kessyl said: "Buhari should resign and give way to competent hand. We can't continue recording killings like this everyday."
@johnsonoffeideh: "Karma has a way of bringing it right back to you. . . . . Your excellency do the honorable thing and resign. And please take your security chiefs with you."
@Omo_Aleshiloye: "What goes around comes around.
Please President Buhari,resign now for tomorrow might be too late."