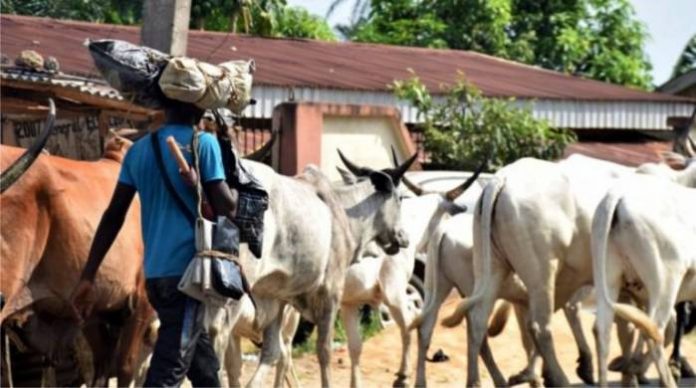 The proposed establishment of RUGA settlements in three local government areas of Benue State by the Federal Government has been a controversial issue for some reasons. The State government, for instance, is opposed to its establishment and had from the beginning rejected the proposal alongside stakeholders in the state.
Though the federal government has suspended the project due to pressure from several quarters, it is still raising dusts as many states and zones have warned it would not be accepted under any guise.
In this interview with our correspondent, DOOSHIMA HIR, the Benue state Chairman of All Farmers Association of Nigeria, AFAN, Aondongu Saaku, explained why RUGA will never be accepted in Benue.
TNE: What is AFAN's position on the proposed RUGA settlement even though it has been suspended?
First and foremost, I feel the federal government is not contented with the crisis going on in the country and wants to increase it. What we know in Benue state is Open Grazing Prohibition and Ranches Establishment. Things like colony, RUGA, whatever name they are called, are alien to us and none of us is interested to do that.
TNE: A lot of people say RUGA, colony and Open Grazing Prohibition law are the same. Do you share the same view?
No, they are not. I read Animal Science and I worked a lot with Fulanis. When you are going to a Fulani settlement, they tell you you're going to RUGA. So RUGA is a Fulani settlement, it's not a ranch.
I think what they are thinking about is different from what we are talking about.
Secondly, I agree totally with what former President Olusegun Obasanjo said – the aim of the Federal Government now is to Fulanise Nigeria. I'm close to 70 years now, but when I was young, I knew that Fulanis did come and go. They come in dry season because of the water and go in rainy season. They have all along been taken as visitors in Benue state. Forget that sometimes government will talk about indigenous Fulanis in the state, we don't have indigenous Fulanis in the state; they were always coming and going. Now they are talking of imposing them on us. That is, they are now going to make them permanent settlement in some areas which has never been the practice.
Please tell me, what has the federal government done for the Igbo that are in the North or in other towns, what has the federal government done for the Tiv people, because if you go to Kaduna you will see Tiv people there, what has the federal government done for them? Why the Fulanis; because the head of the government is a Fulani man? We are really not happy over that and we cannot allow that.
TNE: What effects will it have on farmers in Benue state if it is allowed?
The land they are going to take is a very vast land and at the end of the day, they and their cows are going to be part of this place and more and more Fulanis are going to be invited to come to this state. I tell you honestly, Benue has no land for such a project, we don't have even enough for our crops.
A Benue man does not eat meat and sleep rather, he believes in eating food without meat even for a month. So we have no land for such a project. For instance, an organization is here to help farmers in clusters to produce the crops we want, but we don't even have that land for clustering so, how then or where do we now get land for RUGA? There is no land for such project as far as farmers are concerned.
TNE: Somewhere in Otukpo, a contractor had erected a signpost at a site where work would commence for the settlement. If the federal government goes ahead to establish RUGA in Benue, what would happen?
Nigeria's Constitution has bestowed the land under the authority of the state government; not the federal government, not the local governments, but the state governments. So if our Governor, Dr. Samuel Ortom, is not informed and somebody has gone behind to give that kind of land you can see that the person might have taken that land from the peasant farmers and we shall not in any way agree to that. It is better to die and forget it than to sit and suffer or watch such happen and that is the position of farmers.
TNE: What programmes does AFAN have for farmers in the state in this cropping season?
Actually, we have aggregated over 2, 218 farmers for ginger which they may be doing in University of Agriculture, Makurdi. We have 300 hectares of land for farmers farming in University of Agriculture for maize, we have 540 farmers in Guma farming rice, in Agasha, we still have up to 400 farmers doing that, we have over a 1, 700 farming rice in Gwer West and my colleagues have aggregated 315 farmers for rice and I have aggregated 4,500 farmers for soya beans production in Obi and Oju and 530 farmers for soya bean production in Tarkaa, the area somebody is talking of, for RUGA.
So in all, we have over 6, 000 farmers that are going in for soya beans. I have not even talked of Ushongo, we have very many who are doing that in Gboko. Gboko alone has over 5, 000 farmers going in for soya beans and there are people who have not even gotten the land enough to do it talk less of the RUGA. If the Federal wills, they can starve Benue from cow meat, we will not be bothered. We are not interested in RUGA.
TNE: We see a lot of tractors in the government house that are yet to be commissioned. What is happening?
The contractors that brought the tractors caused some difficulties. They brought the tractors, but did not bring the other inputs that will be used with the tractor. So government is waiting for the others like ridgers, the harrows and the ploughers and the planters.
TNE: In the face of RUGA, what's your advice to farmers in Benue?
My advice is that everyone should stick to farm and continue farming. It is when you leave the farm for a long time that somebody will think it is empty, so we should continue cropping. Somebody who has been farming only maize should go into pepper and other diverse crops so that we make use of the land and that is our heritage. It was given to us by God, it's our birthright. We can never succumb to any pressure and we advise that our governor should continue because all farmers are behind him, we are ready to go with him.