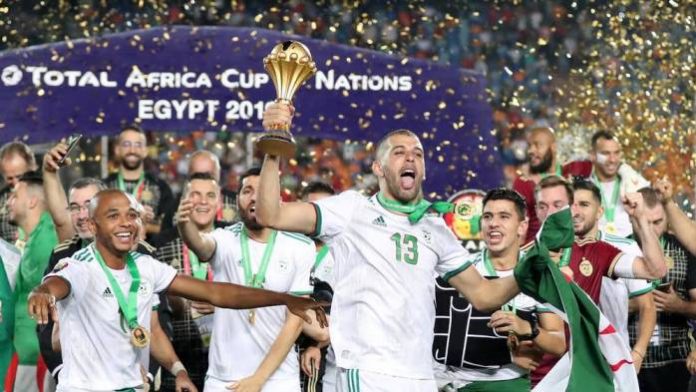 Algeria have become the winners of the 2019 Africa Cup of Nations (AFCON) after a 1-0 victory over Senegal on Friday.
A freak goal by Bounedjah in the 2nd minute of the game gave the Algerians the lead in the match in which Senegal lost several opportunities to score.
The two teams showed much talent and skills throughout the fiercely contested game, but Senegal lost the match after Algerians scored one of the strangest goals in just two minutes into the game and fought on through the rest of the game to win the trophy for the second time since 1990.
Senegal, however played without their suspended star defender Kalidou Koulibaly, making one wonder if his presence could have stopped the quality run by Baghdad Bounedjah, which put Algeria in the lead in the opening moment.
Bounedjah's shot hit off a defender's leg, looked headed over the goal post, but dropped down into the goal.
Algeria's winning goal was their only shot of the game, as Senegal dominated possession but lacked good finishing.
Senegal had 32 free kicks, but none came very close to finding the Algerian net.
Algeria managed to stay strong and withstood the pressure to clinch the trophy, sending their fans into a hysteria inside the stadium.
Algeria's winning goal happened to be the first goal Senegal conceded in 403 minutes at the tournament after four straight shootouts.
Senegal are however, yet to win an AFCON title.