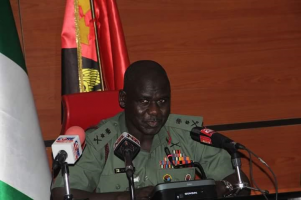 The terrorists group, Boko Haram, struck in Adamawa State on Thursday, killing no fewer than two people in a bomb blast.
The police spokesperson in the state, Othman Abubakar, confirmed the explosion.
The killing is coming barely hours after the one in Maiduguri which left no fewer than 15 people dead on Wednesday.
A driver of a Toyota Starlet was said to have come out of his car as though in need of help and handed over a polythene bag to one of the boys playing.
Telling him that the bag was full of money and other valuables, he instructed the boy to take it home to his father.
However, on getting home, the bag exploded killing two children immediately.
The police spokesperson in the state, Othman Abubakar, confirming the incident revealed that three other people, including a passerby were injured.
The incident happened at about 7 O'clock in the evening when muslims had just broken their fast for the day.
The injured, he said, had been taken to a hospital.
His words:  "Two children were confirmed dead instantly as three others including a passerby injured and were rushed to hospital in Hong".
He explained how the incident happened:
"It was one unknown starlet driver that approached some children at Fadaman Rake holding a polythene bag which he delivered it to one of the kids with the pretence that it was money and other valuables meant for their father.
"Unknowingly the children collected it and while in the process of taking it to their home, the bomb exploded".
It would be recalled that on Wednesday, Boko Haram launched an attack in Maiduguri killing about 15 people.
Speaking with journalists on Thursday, the Chairman, Medical Advisory Committee (CMAC) of the University of Maiduguri Teaching Hospital, Mr. Bashir Tahir, said 30 people were brought to the hospital.
The attack, it was gathered, occurred at Muna area, Maiduguri.