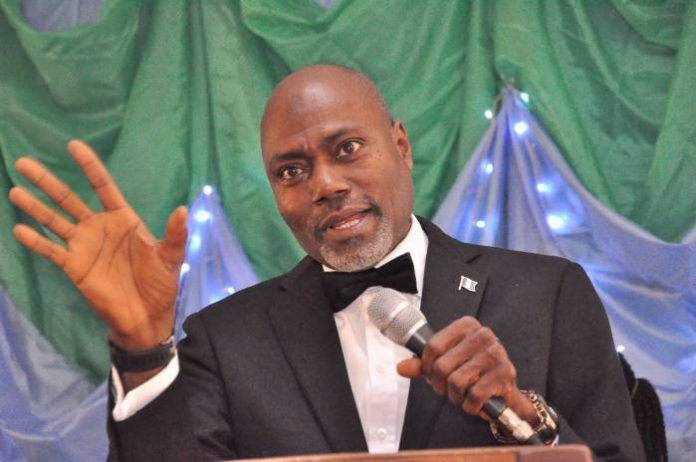 Education stakeholders under the auspices of Concerned Parents and Educators (CPE), met in Lagos on Wednesday, February 26, 2020 to find solutions to problems in the education sector.
Tagged 'Save Education In Nigeria Dialogue' the event attracted hundreds of participants, including teachers, parents, students in both primary, secondary and tertiary institutions, as well as several other education stakeholders in the country.
Topics discussed included: 'How do we reposition the Teaching Profession and the mindset of Teachers?' How do we encourage parents to work hand in hand with schools to nurture and educate the Nigerian child? How do we create a curriculum that serves the need of the society? How will our children love to learn? An interactive session with students in primary, secondary and tertiary institutions; and 'How do we change the attitude of young Nigerians towards organised knowledge as against immediate pecuniary gains?'
Delivering a keynote address, Princess (Mrs) Sarah Sosan, former Deputy Governor of Lagos State, who doubled as Commissioner of Education during her tenure, urged participants not to focus on problems of the sector, but on providing solutions. She stressed that without education there would be no development. She added that if Nigerians are education, the problems would be minimal, where there would be peace and progress.
Princess Sosan maintained that education transforms lives, makes one to get to the top, and makes the society check the problems of school drop-outs. She stated that stakeholders should be more concerned about poor parenting, even as counseled child hawking. She also urged people to come together to help students who cannot go to school because their parents are poor.
Mrs Sosan also stressed the need for political will by the people in governance, insisting that budgetary allocation to education to education at all tiers of government should be improved upon, while international donors should be appealed to do more in supporting education in the country.
She called for the creation of Specialised Learning Areas everywhere to ensure that Physical Challenged Children have access to education, even as he called on stakeholders to take advantage of Technology to improve on what has been in existence. Sosan also called for more support on the Home Grown Feeding Policy and encouraged to ensure that it does not stop. Teachers, she maintained, need to be supported and encouraged as well to ensure quality education, while unqualified teachers should not be employed, even as she said that sexual molestations of students should be discouraged.
Mr. Rotimi Eyitayo, a development strategist, who handled 'How to reposition the teaching profession and the mindset of teachers' called on teachers to carve a new identity and bridge the exposure divides and differences in the states. He also stressed the need to showcase and export the experts, while continued education should be encouraged.
READ ALSO: Lagos, Netherlands to Collaborate on Health, Education, Water Transportation
Also, he spoke on the need to drive policy based education, rather than politics-based education, while teachers should adopt a class code, as well as the appearance of the teacher. He called on teachers to develop the right message, while there should be a score card for education development.
Praise Fawowe, who handled 'How to encourage parents to work hand in hand with schools to nurture and educate the Nigerian Child, maintained that many lack perception goals, even as he said there is need to define who a Nigerian Child is and what Discipline should entail. He also said that the Nigerian child needs to be understood to be able to draw the right curriculum. To have the right curriculum, he stressed the need to elect the right leadership who will appoint the right Minister of Education, if Nigeria will have the right education curriculum. He also called on parents t discover their children by being more actively involved in the education of their children and their performance in schools.
He appealed to parents not to be intimidating teachers, while the teachers too should not be intimidating students, advi`sing that people should understand what parenting entails and support it. He also called for a new national re-orientation by all, while the school management needs to be properly trained to be able to deliver, even as there should programmes to train the trainer.
Dr. Ifueko Thomas, who examined 'How to create a curriculum that serves the need of the society', stressed that a society is as good as its school curriculum. According to her, the nation does not have a Nigerian curriculum, but a list of subjects. She insists that a curriculum must be relevant and worthwhile.
She therefore called for a Nigerian curriculum, which would be drawn up through feedbacks from relevant stakeholders, including medical doctors, engineers, lawyers, etc. according to her, all stakeholders must be invited in changing the curriculum of the country, stressing that that is the way the emerging curriculum will be relevant to the society.
The last issue of the day, which was handled by Johnson Abbaly, was 'How do we change the attitude of young Nigerians towards organised knowledge as against immediate pecuniary gains'. He stressed that there is a thin line of demarcation between the rich and the poor as they are neighbours to each other and live side by side as well as share borders. He therefore stressed the need for people to pay attention to the culture that raises people on the streets and see how their attitude could be changed.
He stressed that there is need to address cultural differences in society, even as he maintained that the nation's culture put more emphasis on richness and wealth. He also said there is the need to change such culture, even as he said that  there is need to teach people wealth creation.
The Concerned Parents and Educators (CPE), was established five years ago as a Facebook group, has gone physical and worldwide, attracting over 130,000 people across the globe. Within its period it has continued to impact on lives, supporting many children who could not go to school due to the poor financial situation of their parents. Presently, the group is found in 21 states of the federation.