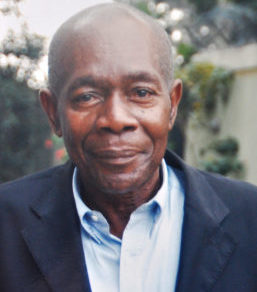 Excerpt: Septuagenarian photographer, filmmaker and writer, Uncle Tam Fiofori, has been in the business for over five decades. In this interview, he speaks about his latest book on Sun Ra, documentary films on three artists as well as plans for an exhibition.
It is 40 years of your photo book, '1979' about the 1979 presidential campaign, do you have any nostalgia in the light of the recent presidential election?
1979 was a significant and iconic year for me as a photojournalist. I covered the coronation of Oba Erediauwa as the 38th Oba of Benin in March. Then, I covered the campaigns for the presidential election that featured founding fathers like Chief Obafemi Awolowo, Dr. Nnamdi Azikiwe, and then people like Shehu Shagari. I did not go up to the North to cover Aminu Kano and the apostle of politics without bitterness, Ibrahim Waziri.
The photograph I have of Chief Awolowo taken in July 1979, on the last day of campaign for the presidential election, shows him on the podium, with the slogan 'A man with a vision blessed with a mission'. Chief Awolowo is reading from a 12-page manifesto, and I also have photographs of the crowd responding to him with the famous V- sign of the Unity Party of Nigeria every time he made a point. In other words, he carried out a norm in political campaigning; he presented a manifesto to the electorate. It was not just sloganeering. This was a political icon who read a 12-page manifesto that covered what he intended to do if elected. He had enough respect for the electorate to present a programme.
In that same year, I documented Chief Nnamdi Azikiwe who had a challenge when the electoral body accused him of not paying tax, and he was on the verge of being disqualified. He gave a World Press conference where he read out a prepared statement defending himself. He talked about the tax he paid on even his shares. What I'm saying is that politicians had a sense of responsibility. So, 40 years after, we just had an election filled with sheer sloganeering.
Those photographs for me in reflection – because photos give you a sense of history and culture-prove that we have retrogressed in terms of political campaigning, the responsibility of so-called people who want to lead us and the fact that the electorate is not aware of what campaigning should be.  I'm very proud of those photographs, and they are like in your face to remind you of what you have lost.
So, are you planning to re-issue the book or have another exhibition?
I plan, with the help of sponsorship and other means, to hold another exhibition which I am tentatively addressing as '40 Years: Before and After'. Also, in that series, there's a photograph showing Shagari sitting at the old domestic airport. What those photographs show is the intimate connection between the politician and the people.
Click to view >Sun Ra new cover 
I could go and photograph the Great Awo, the Great Zik very closely. There were no people with koboko whipping me, and so-called security men smashing cameras. I remember very vividly when I went to photograph Shehu Shagari, he was sitting on an old chair outside the local airport, smoking a cigarette. When I approached him, Umaru Dikko who was sitting next to him was not too friendly. I looked at Shagari, he just nodded, and I took a photograph of him. The politicians of those days had a connect with the people.
Not only is it bad enough that they don't have a programme, but they have also isolated themselves. At the end of the day, what do they have to offer? Forty years after, UPN had a programme. Awo was there propagating their programme. NPN had a plan; what programme do these people have? What's the difference between APC and PDP? Politics has become a game of power-hungry people congregating. Those are the things I think those photographs remind us of.
READ ALSO: INTERVIEW: Why I Quit My High Profile Job for Fashion – Toyosi Jonah
You mentioned you have a new book about Sun Ra, tell me about it?
Sun Ra, I believe, is one of the most influential musicians of the 20th and 21st  centuries. In a sense, he was a contemporary of Black American ideologues like Elijah Mohammed. They both came out of Chicago. These were African-Americans searching for old wisdom from Africa to incorporate into the future of the African-American. Elijah Mohammed went to Mecca, and he decided it was the salvation. He formed The Nation of Islam which spawned Malcolm X and the great boxer, Cassius Clay that changed his name to Muhammed Ali.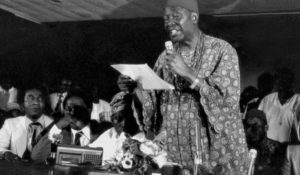 So, while Elijah Mohammed went to Mecca, he went to ancient Egypt to look for wisdom; studied hieroglyphics, came back and decided to play what he called 'space music'. His philosophy was that the world was approaching the space age. No matter who you are, no matter where you come from, you must prepare yourself for the space age. He deliberately was trying to get the black people in the ghettos in Chicago to prepare themselves for the space age. The beauty of Sun-Ra was that he was a precursor of what you might call world music.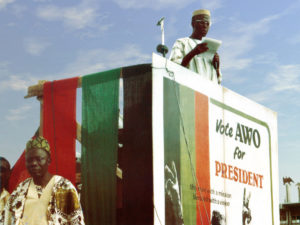 He incorporated instruments from Africa, China and all that to create textural music based on the philosophy that every age should have music that represents its space. We are going to the space age so the music must have that electronic aspect.  I was his manager for seven years; I took him around Europe and then introduced him to Robert Moog who was a professor of physics at the University of Cornell and inventor of the Moog synthesiser. Today, Sun Ra's ideas about space and Africa have been incorporated into a new philosophy called Afro-futurism. I have written a book on him ready for publication, and it will be out next month.
Are you working on any documentary film?
Right now, I'm involved in three documentaries. One of them is called 'Igbu Oja'. Oja is the Igbo traditional flute, and there's this brilliant young man named Gerald Eze; a first- class graduate that has studied it for 15 years and has the mission to elevate it to the status of the saxophone and trumpet. I made a documentary film on him, and it was screened at IREP on March 25.
My second film is on the artist Juliet Ezenwa-Pearce, it is being edited and the third which will be ready next year is on Peter King whose real name is Peter Osobu. He's is the inventor of Afro-Jazz. He established the Peter King School of Music along Badagry Express Way. The school is now 35 years old, and he has trained more than 3, 000 Nigerians who are musically literate; they can read and write music. Among his students are Asa who studied with him for one year. I'm making a documentary film about him because he has to be celebrated.
Tam Fiofori's interview was first published by the Nigerian Tribune on Sunday, May 12, 2019.