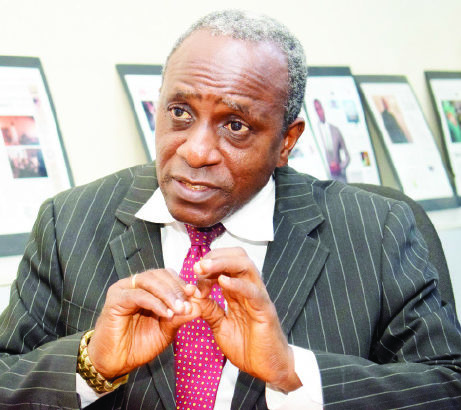 Chuks Nwachukwu, a lawyer and the candidate of All Grassroots Alliance, AGA, in the last Presidential Poll, has described the removal of Chief Justice of Nigeria, Walter Onnoghen, as a costly mistake and a grand plan to subvert the wishes of Nigerians.
In this interview with Senior Political Correspondent, INNOCENT OKONKWO, he speaks on the implication of President Muhammadu Buhari's second term to the nation and other issues. He says: "Now he is taking us backward almost on a every policy, going to the street sharing money, which they call "Traders Money," is not a good policy."
TNE: As one of the candidates in the 2019 Presidential Poll, are you satisfied with the conduct and outcome of that exercise?
Well, what I witnessed in the election was a determined effort by Nigerians, those who fully understood the history to bring a change on the leadership of the country.
We have seen some upsets here and there and those upsets further boost my opinion that there was a determined effort by Nigerians to produce upsets but it was conspired against and that's the unfortunate thing about 2019 elections.
But at the same time, going forward, I want all those who were part of the determined efforts not to give up.
We should remain together because I see that the votes that came the way of Atiku Abubakar were more informed votes; these are votes that came from enlightenment more than the votes that went to President Buhari. I think that we should remain together because those votes cut across religion and ethnicity.
Those votes cut across the normal divide of this nation, so I see that as a part of that process. Even though I was a presidential candidate, I did step down two weeks to the time to support Atiku.
I did this for the purpose of a coalition of Nigerians who are informed and enlightened, who really cared about this country more than they cared about other issues.
So those of us that supported Atiku care more about the country and its future. We care about our pride as Nigeria to produce a country that we can be proud of and which Africa can be proud of.
I want us to sustain our efforts of being together and be part of the vote sharing with those who feel they have won. No matter to what extent we are deprived. I want us to stay together because our time will come and it is something that has to be done.
TNE: The elections had come and gone and winners declared, don't you see the process as a victory for democracy and the country?
I don't see it that way at all. Nigeria was defeated in the election. Nigeria was pushed back down. Nigeria was defeated in the election because I participated as a presidential candidate. Nigeria was defeated by the enemies of Nigeria, those who care only about their own game; those who deceived the people. But Nigeria will rise again that's why I am urging those of us who were part of it not to see it as the end. We should continue and our time will come that's what I believe.
TNE: Did you congratulate Buhari on his victory?
I have not written him personally but I have on my own blog, in my own platform on social media, congratulated him you. I congratulated him that he won in the opinion of the Independent National Electoral Commission, INEC, but that winning is being questioned in the court as we speak now.
But I congratulated Buhari because I don't have anything personally against him but I see him benefitting from ignorance, I see him benefitting from deceit, and I see that he doesn't have anything good for the nation. In some respect, I believe that he is malicious against the nation, in respect of the herdsmen crisis.
I don't see him acting as a Nigerian. I made it clear during the campaign that this Fulani nationality transcends Nigeria. It is only about one third of Fulani in Africa that live in Nigeria but Buhari is a Fulani nationalist.
I see him as a sectional leader who feels that you should take all the resources of government into your custody and begin to administer and share out to people because of your distrust, everybody is a thief, and you are the only person who is not a thief.
Buhari doesn't have a mind that he is trained and broadened by education, interaction has also not helped him because everybody that talks about Buhari says one thing about him, and he never broadened the base of interaction; he remains isolated in the Fulani cultural world.
Now he is taking us backward almost on every policy; going to the streets sharing money which they called "Traders' Money" is not a good policy.
We saw under Goodluck Jonathan, he had different programmes but they were backed up by legislature in order to be sustainable. But now, what you are having as your intervention are not tied to any larger philosophy or a larger plan for the nation because you think you are solving problems when you can just share money.
If the problems were money, why don't you just print money and then share the money. You recovered $223million from Abacha loot, you said you were going to share N5, 000 each to poor people, if that was an economic programme and a viable thing why don't we just share the national budgets, let us share the money and give every Nigerian a share and then let us have a good country.
But it is not the way to go, sharing money out to people doesn't make sense. You need to create structures that will ensure that people get jobs and that people get finance to run their business with gains so that they can become employers of labours and at least sustain themselves.
You have to run programmes to see that the farmers get the finance and the support they need. You have to run the programmes to see that what is produced is taken from all the farmers at a price that will keep them in business whether the weather is good or not good, it will not stop them from going out to farm.
You have to set up a structure to see that there are industries that make use of those things that are farmed. You have to look at the things you quietly do and they are to be done by the private sector.
The days of holding a magic wand or thinking that government hold a magic wand are over, government now encourages an enabling environment and make sure that the taxes come. It is the taxes that are re-invested into the programmes that help the poor.
Saying that resources of the States are to be shared, like I said, is because of lack of the training of the mind which is what is affecting the President, and those around him are not telling him the truth, because those things are helping them get votes from ignorance as long as people are kept poor and ignorant, the vote will keep coming.
I said that it is ignorance and poverty that gives him vote, he is not going to dispute that, I can see the population in the North; I don't have to suspect to know they are not going to have any development in the next four years because they voted for poverty. They were not doing well and they voted for the same people, so who is going to disturb that situation.
Why would you want to educate the people, why would you want them to know the truth, when you can give them N10, 000 and they vote for you. The President wouldn't want to do that, you have to concentrate on that system where N10, 000 will be sufficient for somebody to vote. I know where the country is going; we are never going to have prosperity in the next four years because prosperity is outside the government.
It will destroy the basic of which the government of the day was 're-elected' if we become prosperous and the private sector becomes vibrant and the people are independent, they can do their things and get their money and damn the government. The government should just make laws; they will obey the laws and pay taxes.
If we have that kind of atmosphere, that kind of country, nobody is going to vote Buhari next time.
Nobody is going to vote so they are not going to do that instead they are going to take over all means of business starting with NNPC. They are going to try and crush the private sector so that they have more power and can say more things, they can say, 'I have done this for you, I gave you N5, 000, I gave you this, I did that, I did that' and so the people will begin to celebrate that as kindness.
READ ALSO: ANALYSIS: Bulkachuwa's Resignation And Nation's Judiciary
TNE: Many people did express disappointment over INEC's, performance in the last general elections; do you have contrary views on this?
On one side, one could say that INEC is a failure but you don't blame INEC within the context of a President that said that nobody will unseat him. Just as you saw when Olusegun Obasanjo said that election was a do-and-die for him.
The election that got Umaru Yar'Adua elected, was acknowledged by himself that the process in which he was produced was fraud. Obasanjo took the election as a do or die affair to produce a kind of result but this one was more sinister.
So when you have a President that is willing to unleash the apparatus of State on INEC to see that a particular result is produced; in that context, I would say that INEC's Chairman has done well. If you look at the whole thing, I don't know the kind of pressure that the man has been into but I can just imagine what it will be like.
We even had elections at all; it was because of the bravery of that man. Look at Rivers, we saw soldiers snatching ballot boxes and shooting people, storming collation centres, what is their business there. We all saw it and then you are INEC Chairman in that kind of situation. Nigerians should be grateful that we even came up with something.
The INEC's job that the Chairman can do for us is to help on documentation. Let him give us the documentation of INEC concerning this election and assist the course in the court. Let him do that, that's the next thing that he can do.
When I look at him, I don't see a malicious fellow, I don't see an actor, I see a man who was determine to do his best but who was faced with all you know that are far beyond him.
TNE: What are your expectations now that Atiku has approached the tribunal with his petition?
You have to realize that the court process is not about one man. Indeed, they made a terrible mistake in removing Justice Walter Onnoghen. It is difficult for any public Judiciary to upturn a Presidential election.
Of course, that was why Buhari removed Onnoghen, he knew what he was going to do and he knew that Atiku was a very experienced politician who will spend his time gathering information. Why he was doing what he was doing, he knew that Atiku will be gathering information, he went and rig the Judiciary process ahead of time by so unlawfully removing Onnoghen and shamelessly putting him to trial when he was to be on trial himself and all the people who conspired to bring this man down.
The judges themselves are wise people but it takes the mind of the average judge who is skilled in the judicial process to upturn an election especially on the ground of electoral malpractices. It is a matter of adding and subtracting.
Ordinarily, with what had happened with the removal of Onnoghen, and having subjected him to that degree of humiliation, there will be judges that would swear, even if it is the last thing they would do as judges, they will upturn the election if they find evidence against Buhari.
We are talking about seven Justices, there are people who will play fake intent and go along with you, whose mind are made up because they have had enough from you because you have driven them to the wall, they won't say anything now, there will be nothing on their appearance that will betray their stand.