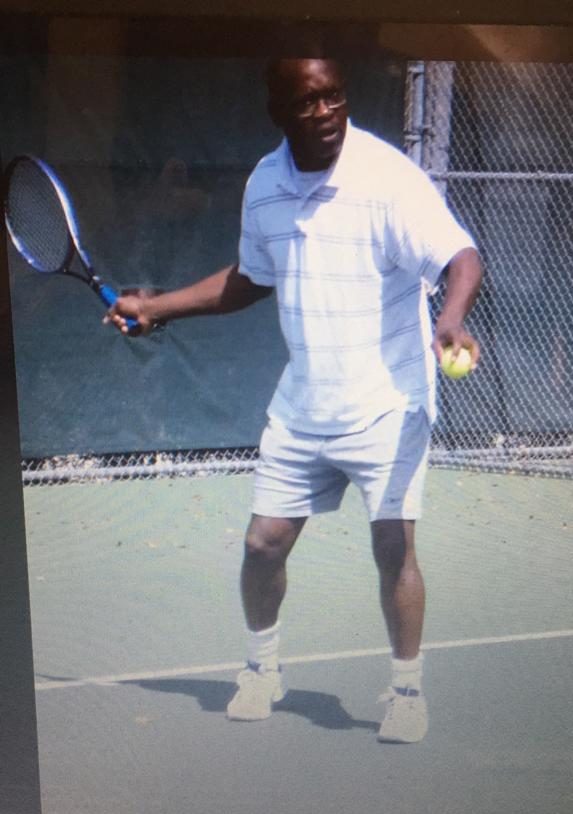 Veteran tennis player, Sadiq Abdullahi, recalls his first meeting with tennis legend, Arthur Ashe, in Lagos 44 years ago. The assassination of Gen. Murtala Mohammed forced the American out of Nigeria but he defended the country afterwards. Abdullahi and Ashe would later work together in the United States before the former passed on. The Nigerian who is presently an adjunct professor at the University of Florida, Miami, bares it all in this interview with EMEKA OBASI.
TNE: How did the journey begin, where you influenced by any member of your family?
My journey of tennis began at the age of 10 at the State House, Marina, Lagos, where my father worked as a servant/ messenger to Ambassador Hamza Ahmadu, who was the Principal Secretary to the Head of State, Gen. Yakubu Gowon. Lagos Lawn Tennis Club was a climb over the fence. I started picking balls to make some money.
My father did not approve my picking up ball because it kept me outside into the night and this affected my early education.
TNE: Where were you born? Tell me about the schools you attended, including Kufena which also produced ex-Eagle, Chukwuma Igweonu. 
I was born in Jos in 1960 and moved to Lagos to join my father before the Civil War started. The war was an eye-opener as members of my family and their relatives were involved. I attended Holy Cross Catholic School, near Campos Square in  Lagos from 1967 to 1972 before proceeding to Premier College, Yaba, Lagos, from 1972-1975. From there, I changed to St. Paul's /Kufena College, Zaria, Kaduna State until 1977. I repeated Form Five and passed out in 1978 with over five credits.
I remember, Skipper Mathew Onyeama who played for Leventis United and Green Eagles, was my senior at the school. I am not sure if Igweonu attended too. [ Igweonu did and captained the school to win the Davis Cup soccer tournament for Secondary schools in the Northern Region in 1958]. Kufena College laid the foundation for my academic success and changed my life.
TNE: In 1988, you got to the semi finals of the Okada tennis tournament. Which was your favourite among the tennis classics?
Before my semi final appearance at the Okada ATP Challenger, I had won the National Championships three times in a row [1986, 1987, 1988]. I had defeated Tony Mmoh, Nigeria's No.2 seed, at the Kenya Open ATP Challenger [7-6,7-6] in 1987. Mmoh was ranked in the 100s at the time.
Ogbe Hard Courts was my favourite because I played there severally and the tournament was well organised. The Lagos Classic was also well organised. The non ATP tournaments, that I played in and won included the Gulder Open, Kaduna Clay Courts, Enugu Open, Onitsha Open and many others. I dominated the local scene from 1985 to 1988. I retired in 1989 after the US Open.
TNE: Arthur Ashe was in Lagos in 1976 (even if the Bukar Dimka coup sent him away), Paul Haarhuis was at Okada in 1992, not for exhibition. Do you dream of the day Rafael Nadal will engage an upcoming Nigerian star at  Dala, for instance?
This question touches my heart. I was in attendance when the late Arthur Ashe gave tennis clinic and I saw Kehinde Ajayi, a former national champion, win a Head racket.
When I retired in 1989 and joined the Peter Burwash International, an international management firm, I was thrilled to be assigned to the famous Doral Resort and Country in Miami, where Ashe was the International Tennis Director. I was the head of coaching. We worked closely together until his death in 1993. I left coaching, pursued a new path to become a teacher and an educator.
TNE: What was Seoul '88 experience like? I remember you lost to Javier Sanchez, one of the best then having won the US Open Singles and Doubles in 1986 and was world's Junior No.1 same year.
Seoul Olympics capped my professional experience. It was a most fulfilling event. I interacted with athletes and even hit some balls with Steffi Graf, the top female player in the world at the time. I lost to Javier, Emilio Sanchez's younger  brother because he was mentally prepared and more physically fit than I was. He was also in the top 100 at the time.
TNE: You were ranked 262 in October 1985. Nigeria's best remains Nduka Odizor's No. 52 in June 1984. How do we move forward from there?
As I have indicated, 1985 to 1988 were my best years. Now, I understand why I did not reach my goal of top 100 ranking. I had everything- the skills and the talent. I failed to push myself beyond my ability. I was not hungry enough. Playing tennis came natural to me but the desire to win at all cost was not evident.
Odizor left the country at the age of 14 and went first to high school before attending University of Houston, one of the best universities in America. Hakeem Olajuwon also attended the university. I lost to Odizor in the semi finals at Okada.
To move forward, we must revamp our grassroots tennis programmes in the country. We have to design a schools' programme and provide incentives and equipment to tennis coaches. There is no comprehensive tennis development in the country and this is sad. We must help state tennis associations to function properly. We must develop a feeder and progressive development plan, from junior to elite ranks.
READ ALSO: Edo and Ondo Elections: AA Remains The Only Credible Option For Peace, Good Governance – Udeze
TNE: I have a feeling that Alhaji Lateef Adejumo was not happy with the state of tennis in the country. That caused him to relocate to the UK. What do you think went wrong with the game here?
Shortly before Alhaji Adejumo died, he called on all Nigerian ex-internationals, male and female tennis stars in America to revive the game. We were meeting in Houston in 2008 to discuss the state of tennis. I immediately set up a Nigerian Tennis Foundation. After several months, the Tennis Foundation died. We could not sustain the vision. Hopefully, the next generation of coaches and players will set machinery to address the problems facing tennis development, improvement and sustainability in Nigeria.
TNE: How do you rate the Lagos Open?
The Lagos Open is in the Futures category. It is designed to help aspiring players to earn ATP over a series of tournaments. It does compare to the ATP tournaments we participated in Nigeria.
TNE: In the past we had individuals like your namesake, Lord Rumens (Alhaji Abubakar Sadiq Alabi), Molade Okoya-Thomas, Mobolaji Bank-Anthony and Adejumo spending money on tennis. What can be done to attract some of the billionaires of today?
We have to reach out to them and gain their confidence. We have identified those who love and play the game. My grassroots programme through the Sadiq Abdullahi Sports Enterprises (SASE http://www.sadiqasports.com) will specifically focus on junior sports development in the country. The business will be launched in January 2021. We will work with all stakeholders especially coaches and the private sector.
TNE: Odizor once tried to contest elections to run tennis in Nigeria. In what ways are former stars trying to support the game?
The time is ripe for former athletes, those interested in Sports administration, to run for elective office. Odizor and Godwin Kienka have opened up the doors. For me, I will be ready in a couple of years; say 2025. I am encouraging others to begin with the state tennis associations. I certainly will offer support.
TNE: Your most memorable game and your worst?
The defeat of Tony Mmoh and the defeat from Odizor. All my Davis Cup matches were memorable. All my matches with David Imonitie. The most memorable was in 1985. I lost to Imonitie. He came back from one set down and match point to win the Gulder Cup at the Lagos Lawn Tennis Club. Segun Odegbami was in attendance. I cried and cried.
TNE: Do stars like Odizor, Mmoh, Elizabeth Ekong, Abdullahi, Nosa Imafidon, Stella Onyensoh Godwin Emeh, Sule Ladipo, and Rolake Olagbegi have a meeting channel?
I do not believe so. Many of the players mentioned have decided to isolate themselves from tennis and from Nigerian tennis.
Your family, how are madam and the children doing? Did you meet her as a player? Any of the kids following dad's footsteps?
I have four biological children (Rasheeda, 29, Fatimah 27, Sadiq Jr, 16 and Malik 14) and Madam Claudine. We are doing fine. The boys are into basketball and are doing well. I met Claudine in graduate school at Florida International University in 2001. I wish my boys will follow my steps combining education and sports. The conditions and situations are different. We all came from poverty and we had to struggle and sacrifice a lot in our days. My children do not have that experience. I wish them luck.
Finally, current events in sports in Nigeria interest me. Honourable Sports minister, Sunday Dare's vision  for sports development, improvement and sustainability is commendable. I continue to follow him in the social media. I have been involved with the Ministry of Sports and Youth Development since 2009; directly and indirectly and worked closely with Dr. Patrick Ekeji.
I met Dare in August 2020 at the Nigerian Economic Summit Group (NESG) Inter- ministerial session where I facilitated the Youth and Sports Development session. Dare's Four-Point agenda : Infrastructure, Grassroots, Athletes welfare and Sports as business stood out. His commitment to sports business is a new and uncharted territory. If done properly, it will change the face of sports. A lot of work is needed to lay a good foundation but he is definitely on the right track.
I am very impressed with the minister's performance in his first year in office. I rate his performance at 90% or A. He gave a powerful speech at the Annual General Meeting of the NFF on December 17, 2019, in which he challenged the  federation to rethink its affairs.
His handling of the COVID-19 pandemic was exceptional. The man's handling of  conflicts in some sports federations like the NBBF and the AFN is positive.
His most impressive action is the 202 Draft National Sports Policy document,which is under review by the public and other sports stakeholders.
To sustain the gains he has made, the minister should revisit all his declarations and decisions and identify individuals who will guide him through the next couple of years. The implementation of his projects will determine his legacy. I have made a commitment to Mr. minister to expect my support and contribution, going forward.