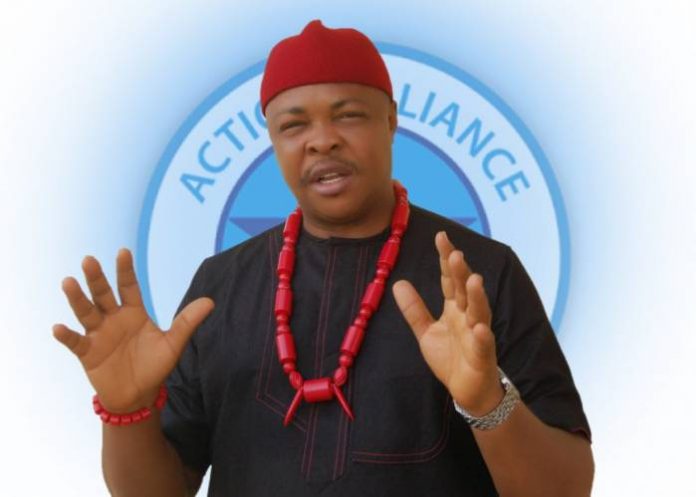 Barrister Kenneth Udeze, the National Chairman, Action Alliance (AA), is Secretary, Contact and Mobilisation Committee (CMC) of Coalition of United Political Parties (CUPP) as well as former Legal Adviser, Inter-Party Advisory Council of Nigeria (IPAC). In this interview with SIMPLE IKEM, he speaks on the coming Edo and Ondo governorship elections, among other crucial issues. Excerpts:
TNE: You have been silent for some time now. Why is it so? What is the situation in your party now?
It can hardly be said that I have been silent. I have been involved in a lot of subterranean activities politically, as it is natural at this point where re-stratification and the protection of our democracy from the crass abuse of its values and institutions and every other form of undermining activities by the current leadership. We have also done our best to defend the promoters of good governance, like Ikenga Ugochinyere. We also engage our members in all our chapters to ensure that we strengthen our internal structures, while we also position our candidates for the forthcoming Edo and Ondo states' elections.
TNE: Is Action Alliance (AA) taking part in the Edo and Ondo governorship elections? If so, what are the arrangements so far? Will it be going into alliance with other parties?
In every election henceforth, our party will not be considered to be underdogs, especially if you consider what we were able to record in the last general elections, and our attempts in the recent elections in Bayelsa and Kogi states respectively.
We have quality contenders for the forthcoming governorship elections in Edo and Ondo States. Our alliance last time was only in the presidential election of 2019, when we nominated Atiku Abubakar, and supported him. In the states, we fielded candidates for most of the elective positions in the spirit of the CUPP arrangement. AA never broke the rules of our engagement. When we lost to PDP in Imo State, the party decided to let go and ready to support the party that was declared winner by INEC. The rest is history. Let me use this opportunity to call on the electorate in Edo and Ondo to go out and vote for the AA gubernatorial candidates, as they are the only credible options you have for peace and good governance in those states. I also wish to call on all the political stakeholders in the two states to consider the safety of the people and the state as they go about their campaigns. Politics of calumny will not do us any good. Let's respect God and consider the people, please.
TNE: Would you say that any other political party can defeat either the APC or PDP in both Edo and Ondo States in the coming elections?
Outcome of an election in a democratic system is always acceptable if it is credibly conducted. But, it is full of despair and untoward back clashes, if it is improperly handled. The focus of most Nigerians as far as the two elections are concerned are on what INEC will do before, during and after the elections to ensure that the outcome doesn't lead to avoidable bloodshed. I will say that it is not about what our party can come out of the election with, but on the overall outcome as it pertains to the distribution of the election materials, performance of the electoral officers, security of the electorates and the imperativeness of declaring an unencumbered election result.
READ ALSO: SPECIAL INTERVIEW: I Will Succeed Obiano As Anambra Governor – Nwokafor
At the moment, PDP and APC are up against each other. No doubt, the two parties are the favourites. But, we have not lost sight of what the Supreme Court can do when we decide to approach the Supreme Court, if we discover some irregularities. So, if you ask me, we have hope of doing well and eventually emerging victorious in the elections considering the loopholes we are seeing as a party.
TNE: How do you see the current jostling for political leadership as the nation marches towards the 2023 elections?
The 2023 presidential election shall be an open race, as the incumbent president is not contesting (at least based on our current constitution). It will produce a lot of surprises. I'm sure that so many people in Nigeria never knew that the late Abba Kyari was interested in the 2023 presidential race. Even so, so much will still take place by or before 2023. So, wait for it. Most of the names making the round now will not be there by 2021, because certain government activities have sidelined them through their deliberate policies and blackmail to hold them off the part of their favoured candidates.
TNE: How do you see the recent formation of the National Consultative Forum by people like Olisa Agbakoba, Pat Utomi, Shehu Sani, Femi Falana and Oby Ezekwesili, ostensibly to save the nation?
It is not a new thing. They have the right to do that. In a political system, individuals form alliances to alleviate fears of domination and other minority problems, especially those that consider themselves irrelevant to the scheme of things. I don't know what these guys can do for now, if they weren't able to break-in inside the government they brought in. Well, only time can tell.
TNE: From which region or zone do you feel President Muhammadu Buhari's successor should come from?
It has been my view that the next president of this country must come from either the South East, which is my preference, or North East. The fact is that after Sir Abubakar Tafawa Belewa, the North East is yet to produce any President. In the case of the South East, I cannot even remember the last time someone from the current South Eastern extraction has served Nigeria as their President. In this current era, it is not just overdue, it will be unjust to overlook the region.
TNE: Some caucuses within PDP want to give its 2023 ticket to Atiku Abubakar. What is your take on that?
Though my party is AA, we supported this PDP presidential candidate in 2019. In fact, it was AA that moved the motion to adopt Atiku as the CUPP candidate. My suggestion for PDP may not count as far as who they should consider giving their ticket to in 2023, because we cannot contribute in framing their electoral guideline in any way. As an active participant in that selection then, if the same condition presents itself again, all things being equal, we will most likely choose the Atiku/Obi ticket again for our coalition. Though, this is my personal opinion and not that of CUPP.
TNE: Assuming that Atiku Abubakar of PDP squares up against Asiwaju Bola Tinubu of APC, who do you think would carry the day if there would be a free and fair presidential election?
Presidential election results in Nigeria have never been based on any political party, but on the exigencies of the time. It is common knowledge that it was only during Abiola's time that a Southern presidential candidate was able to defeat Tofa of the North. But, ask yourself: Did it stand? The way our constitution and political structure are arranged, I can assure you that Tinubu can never stand any chance in 2023 if Atiku, who all of us know that he really defeated Buhari, should stand for election against him (Tinubu).
A lot of factors are against Tinubu, which include the following: His lack of support to previous Presidents from the Southern extraction, his divisive and monopolistic political style, 60 percent of the votes from the South will naturally go to Atiku, because Tinubu doesn't have any assailing influence in the South East and South South regions of Nigeria. If Tinubu pushes so hard for that office, he may not even be a free man during the 2023 elections, because most of his guys are being taken out of their place of relevance and some of them may be charged on some corruption issues.
TNE: You are the Legal Adviser of the CUPP, do you see the coalition remaining intact for the 2023 elections?
Sorry, I am not the Legal Adviser to the CUPP, but former National Legal Adviser to Inter-Party Advisory Council of Nigeria (IPAC). In the CUPP, I am the Secretary, Contact and Mobilisation Committee (CMC) and Head of a Sub-Committee in charge of Human Mobilisation. The coalition's main actors are still together. If everything continues this way, I can assure you that it will become stronger, and we may still maintain the status depending on interests.
TNE: What is your take on the corruption allegations against the suspended EFCC Acting Chairman, Ibrahim Magu?
So much is involved there. It will not be easy for him. Let him face it. If you look at the larger picture, you will know that it is not all about Magu, but some people behind him. But, it is his turn, let him enjoy it.