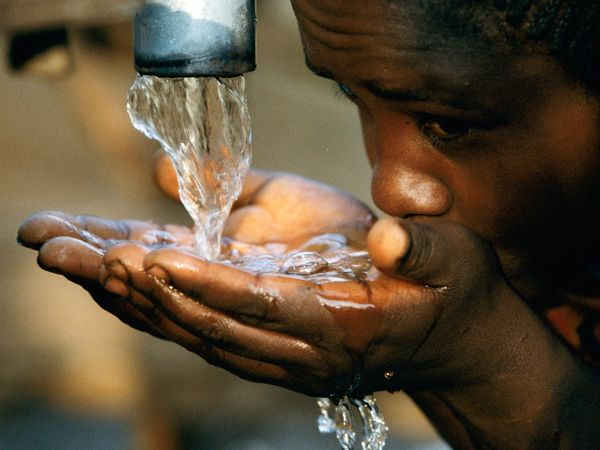 Several communities in Nigeria do not have access to potable water. People living in these communities practice open defecation. The outbreak of various communicable diseases is a direct link to compromised water quality, poor sanitation and hygiene.
According to experts, water can be contaminated when mixed with human faeces, and when  ingested, could  lead  to  typhoid fever, cholera, hepatitis, polio, pneumonia, fatal worm infestation, trachoma, stunted physical development and impaired cognitive function.
United Nations Children Fund (UNICEF), has said that unsafe water, poor sanitation and hygiene globally account for approximately 1.9 million deaths annually and 4.2 per cent of global disease.
The global body also says that the burden of diseases attributable to unsafe water and poor sanitation and hygiene is largely borne by the poorer members of society and the resulting health effects, including retarded child growth and reduction in work capacity.
Research shows that 63 million Nigerians lack access to improved water supply; 113 million Nigerians lack access to improved sanitation and 113 million of the population defecate in the open.
Similarly, a 2012 joint report of UNICEF and World Health Organization (WHO) estimates that 34 million Nigerians practice open defecation. The figure means that Nigeria is amongst top five countries in the world with largest number of people defecating in the open. 
Mr. Saaondo Anom, UNICEF Water, Sanitation and Hygiene (WASH) Specialist, in a recent interview, said that lack of safe water, sanitation and hygiene has a deadly impact on children MDG 4.
Anom described diarrhea as the highest killer of under five children and added that it is responsible for 18 per cent of the deaths of children; that is about 194,000 children every year (meaning 22 deaths per hour).
"Unsafe water, inadequate sanitation and poor hygiene aggravate the occurrence of diseases like pneumonia (responsible for 15 per cent of under-five deaths) and polio", he added.
Stakeholders in the water sector also express concern over inadequate water, sanitation and hygiene (WASH) facilities across the country, attributing many sicknesses to the absence of these essential services. They particularly blame the prevalence of water-related diseases such as diarrhea, cholera, typhoid fever and dysentery in the country on inadequate access o clean water.
They, however, insisted that the provision of WASH facilities can go a long way to curbing certain sicknesses, while promoting healthy living and reducing poverty in the country.
Affirming this, Dr Michael Ojo, Country Director, WaterAid Nigeria, said that the provision of WASH services as well as free access to them would promote healthy living and reduce poverty among the people.
Ojo noted that diseases resulting from lack of these facilities are preventable, adding that money spent in treating sicknesses would be saved for other purposes, particularly if the WASH facilities are accessible and affordable too.
He bemoaned the large amount of money and time people spend on searching for potable water in spite of the fact that it is an essential commodity in day-to-day life.

Ojo, however, noted that the situation is not just a rural problem alone, saying that there are increasingly large numbers of poor people in urban centers like Abuja and Lagos who also lack access to WASH facilities.


Sharing similar sentiments, Dr Christian Onyema, a medical doctor, urged the authorities to quickly address water problems across the country so as to prevent the outbreak of water-borne diseases.
Nevertheless, observers bemoan lack of potable water in many parts of the country 56 years after independence.
For instance, Mr. Stephen Umoren, a businessman, insisted that the situation is graver in the rural areas and urged the government to make urgent efforts to provide clean water for the residents of rural areas in order to prevent the outbreak of diseases.
"I think the rural areas need special attention in terms of water provision; if you come to cities like Abuja, Lagos and the rest, you see that government tries to provide water to some extent.
"But people in the rural areas rely on streams and other sources of water that are not really hygienic. 
"If you have access to potable water, it is like taking medicine that can prevent certain illnesses.
"So, we prevail on government to give special attention to the provision of essential amenities like water for people in the rural areas so that the menace of water-borne diseases can be reduced there,'' Umoren noted.
Mr. Lawrence Ekanem, a civil servant, observed that the water supply challenges facing several communities are now serious.
He recalled that in the olden days, majority of Nigerians used to fetch water from public taps that were erected in strategic areas of the communities by the government. 
"Nowadays, it is very hard for you to see public taps in the streets and the people's access to potable water has been significantly abridged. 
"Unless the government revisits the age of public taps, access to filtered water will continue to be limited, '' Ekanem added.
Mr. Victor Eko, another civil servant, also said that the high prevalence of water-related diseases such as diarrhea, cholera, typhoid and dysentery, is due to inadequate access to clean water.
He believed that water-borne diseases such as gastro-enteritis, hookworm, guinea worm and other parasitic infections are preventable if the people can have regular access to potable water.

Eko said that in spite of the fact that Nigeria is blessed with abundant water resources, these resources are yet to be fully tapped.


"In spite of the abundant water resources, government at all levels has not been able to successfully harness them to ensure sustainable and adequate, improved and affordable water supply to the citizens.

"Shortage of water has, in numerous ways, hampered development in the country,'' he adds.


On her own, Mrs. Esther Usoh, a housewife, said that efforts to eliminate poverty, hunger and promote healthy living can only be successful if there is equitable and fair access to basic needs, including water.


Echoing the same viewpoint, Prof. Lekan Oyebande, a water specialist, insisted that "food, sanitation, energy, transport, production of goods and provision of potable water ensure not only mere survival of humans but also their social well-being and economic growth.

"Hence, we must put all measures in place to improve access to water for all Nigerians," he adds.


He further said that only a fraction of Nigerians has access to water from public waterworks, adding that a large section of the population is, therefore, forced to find alternative sources of drinking water.


"In every sector, the demand for water is expected to increase, as water lies at the heart of everything that is important to human life.

"Therefore, stakeholders, particularly the government, should put in place policies that will improve water supply to all Nigerians,'' he says.


Oyebande noted that in the FCT, for example, only a fraction of its residents enjoys pipe-borne water, while others depend on water from boreholes and alternative sources like `Mairuwa' (water vendors), which is usually not suitable for human consumption.

 For proper management of water resources in Nigeria, UNESCO urged stakeholders in the country to adopt a more comprehensive and integrated approach to handling water management issues.
Prof. Hassan Aliduo, Director, UNESCO Regional Office in Abuja, said that if all the actors involved in water resources management fail to cooperate, there would be dire consequences on the citizens' lives and the economy.
According to him, if Nigeria's water resources are well-managed, the country will experience peace, prosperity and sustainable development.

In all, analysts are of the view that global access to safe water, adequate sanitation and proper hygienic education can reduce illness and death from disease, leading to improved health, poverty reduction, and socio-economic development.