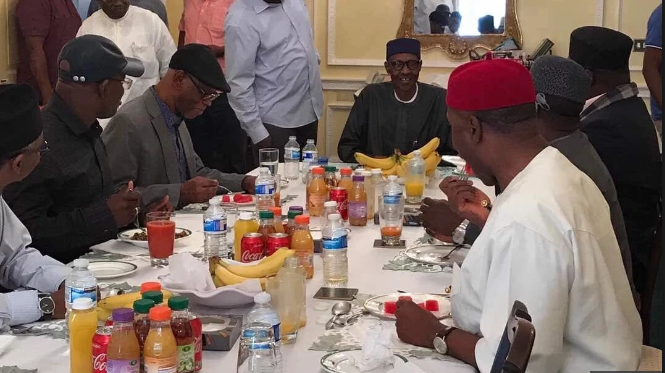 President Muhammadu Buhari played host to some governors from the All Progressives Congress in London on Sunday.
Led by Imo State governor, Rochas Okorocha, the governors were governors Umaru Tanko Al-Makura of Nasarawa Nasir El-Rufai of Kaduna and Yahaya Bello of Kogi.
Also at the meeting was the APC National Chairman, Chief John Oyegun.
Speaking on the meeting with the president, Okorocha in a statement by the spokesman of the president, Femi Adesina, said Buhari was in a good condition and was his very cheerful self.
According to Okorocha, Buhari had not lost any bit of his sense of humour.
The governor who spoke on telephone said the party delegation spent more than an hour with him over lunch, and it was very clear from the discussions that he followed developments at home very closely.
Okorocha was quoted as saying the president was delighted to receive the delegation and asked each governor about affairs in his state.
The governor said the president also asked the Minister of Transportation, Rotimi Amaechi, about the state of the railways.
He said when asked to react to all the negative things being said about him, the president just laughed, describing such negative reports as lies.
Okorocha said President Buhari was completely unperturbed by the cocktail of lies.
Instead, he sent his best wishes to Nigerians.
According to the governor, Nigerians didn't have to worry at all, adding that Buhari would be back as soon as the doctors gave him the green light.
"By our visit to London today, the merchants of lies have been put out of business and Nigerians will not buy the garbage they have been selling. All those who look up to fake news can find better use for their time," Governor Okorocha noted.