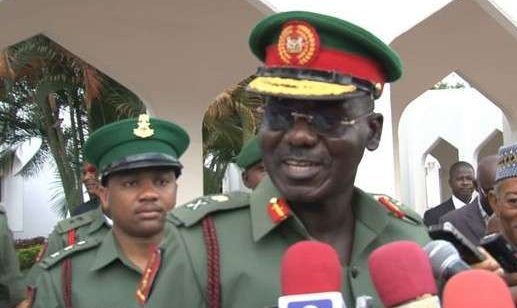 The Chief of Army Staff, Lt.-Gen. Tukur Buratai on Thursday, hinted that some of the newly promoted senior officers will be moved to the North East to strengthen the ongoing counter terrorism operations.
Buratai gave the hint on Thursday in Abuja, after he decorated the 29 newly promoted Major Generals and some of the Brigadier General with their new ranks.
"Some of you that have been promoted and, decorated today; we are only waiting for today and by tomorrow I expect you to pick your bags and start heading towards the North East.
"Some of you have no option than to move in straight there – North East.
"The posting is already out,'' he said, and directed the Military Secretary to read it to the affected officers.
Buratai, therefore, appealed to the wives of the officers due to deployed to the theatre of operation to keep the home front well while their husbands would be there.
He described the promotion as well deserved; adding that that it was a journey they begun several years and had culminated current enviable ranks of major generals and brigadier generals.
"The promotion is strictly on merit, there was no any influence from outside.
"We must ensure that we get the right people at the right time.
"You must be committed; your loyalty should remain unshakable,'' he added and charged the officers to be responsive and professional in the discharge of their duties.
Recall that the Army Council on Monday approved the promotion of 231 senior officers to the next ranks.
READ ALSO: Doctor suspects wounds on lawyer accused of killing husband self-inflicted
The breakdown shows that 29 Brigadier-Generals were elevated to Major-Generals, 95 Colonels to Brigadier-Generals, 106 Lieutenant Colonels to Colonels and one Major to Lieutenant Colonel.
The army had the promotion was to re-energise the beneficiaries toward the discharge of their tasks and responsibilities.
Recall also that the Chief of Army Staff, had been mandated by the Minister of Defence, Mamsur Dan-Ali to relocate to the North East until there is improved security in the area.
The zone in recent times has been a hot bed for Boko Haram activities with many soldiers and civilians alike losing their lives to the terrorists.