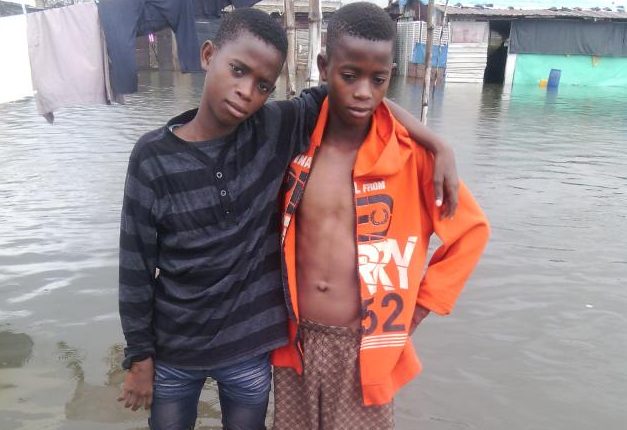 Many Lagos residents still count the cost of recent heavy rainfalls that have submerged parts of the mega-city and triggered controversy regarding the role of nemesis in the disaster.
In fact, those residing on the island are considering options to prevent a recurrence of the disaster that brought sorrow to many families in terms of damage to property estimated at billions of naira.
From the mainland to as far as Ajah and beyond the island, most roads in Lagos were submerged by water. But the magnitude of the disaster in high-brow Victoria Island that was a peculiar story of devastation by the deluge.
From Victoria Island, Ikoyi, Ajah and Badore to Banana Island, which is home to billionaires, many residents couldn't come out of their homes due to the flood.
The situation was so terrible that residents of the island became jittery whenever it threatened to rain.
Barely a week after the flood that could have supported the biblical Noah's Ark, The Next Edition visited some of the worst affected areas on the island to ascertain from victims, including residents and shop owners, how the deluge affected their lives.
"It was a terrible experience, my brother," lamented Madam Grace, who runs a restaurant and beer parlour at Agungi on the Lekki Peninsula.
"The flood prevented me from opening my shop to sell anything. I lost a lot of money that day. I know how much I make on a daily basis. For four days I couldn't open my shop because I had to wait for the water to dry up. The road leading to my shop is uneven, so it took time for the water to clear." She said.

The story was not different for Mr. Tunde Ibikunle, a resident of Lekki Phase II. Unfortunately for him, he moved into the area about two months ago. Speaking with The Next Edition, he narrated his ordeal: "I just moved into this place. Initially when I moved in, I was very happy. My friends warned me against the move because of the flood, but I was carried away by the serene environment. See the ordeal I am facing now. Almost all my electronics were damaged by the rain."
Mr. Ali Bature who lives in Jakande area of Ajah and works as a chef in a hotel in Ikoyi told The Next Edition that after it got over-soaked by the flood water, he wasn't able to use his mattress for many days after. Also, his electronics were destroyed in the disaster.
"The lucky ones were those whose television sets were set on a high table. My television set was on the floor so it got completely destroyed. Up till now, people are still packing water from their living rooms. We are pleading with the government to do something so that this would never happen again. Both rich and poor people were affected so I believe government will respond fast," he said.
What is the cause of flood in Lagos, especially in areas where the rich and mighty live?
An urban and regional planning expert, Mr. Kayode Komolafe, blamed the flood on over-population in Lagos which has led many people to build houses in wrong places. He said that because you can't cheat nature, building houses everywhere on the island should be considered a gamble with a cost.
"This sand-filling matter is getting out of hand. Most of the structures that have been erected are in the wrong places. They are built on top of water. Everyone cannot leave on the island. There are many places on the mainland in need of urgent attention.  There is space in some areas that can be developed to the taste of big men. What happened to Badagry? How about Ikotun, Iyana Ipaja, Mowe or Ibafo? The more these places are neglected in preference for congestion on the island, which is meant for water, the foolhardy it becomes not to expect more flooding in the future," he said.
Mr. Wasiu Kamoru, who also lives in Ajah, said "What goes round comes around. The big men who are in influential positions thought they were smart by moving into estates and abandoning the masses in high-density areas with poor drainages. Look at the gutters! They are clogged with all manner of plastic wastes. Blocked drainages facilitated the disaster.
"There is nothing smart in failing to recognize that an estate dominated by the rich and powerful cannot prevent a flood disaster triggered by poor drainage in outlying neglected areas. Like nemesis, what the rich ignored caught up with them. While it is poor people living around the estates that suffered more, the rich were not spared either. They are in it together,." Kamoru said smiling.

Meanwhile, the Commissioner for Environment, Dr. Samuel Adejare, in a statement, advised residents in flood-prone areas to guard against staying outside unnecessarily whenever it rains heavily.
 Dr. Adejare

also reiterated the warning for them to leave the area. "You are implored, as much as possible, to stay indoors unless it is essential to your safety and livelihood. However, we strongly advise those who live in lowland or close to water bodies to move upland," he said.