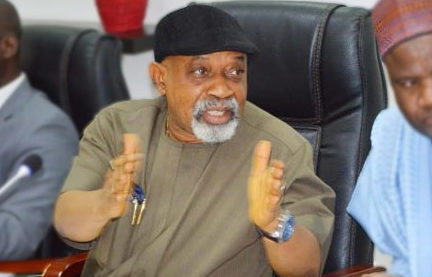 The Federal Government says it will meet with the Academic Staff Union of Nigerian Universities (ASUU) on Monday Dec.10, over the ongoing nationwide strike.
ASUU has been on strike since November 4, 2018.
The Minister of Labour and Employment, Chris Ngige, made this known in a statement signed by the Director of Press in the Ministry, Samuel Olowookere, in Abuja.
According to the statement, "all further discussions between the Ministry of Education and ASUU would now reconvene at 4 p.m.at the Federal Ministry of Labour and Employment."
Both parties have had several meetings which have failed to conclusively address the issues that led to the strike. The last, being on Tuesday, Dec. 4.
In the statement, the Minister condemned a statement credited to a Human Rights Lawyer, Femi Falana allegedly describing as illegal the enforcement of section 43:1 of the Trade Dispute Act 2004 on the'' No Work No Pay''
Falana was also said to have asked the federal government to immediately withdraw what he termed an "illegal order."
Recall that the federal government had last week directed vice-chancellors of striking universities to apply the 'no-work-no-pay' principle.
The minister, however, said that the law of ''No Work, No Pay,'' was a fundamental axiom in labour and industrial relations all over the world.
He declared that the ministry would investigate the media report credited to Falana to ascertain whether he actually quoted the Supreme Court judgments.
"That is knowing that they are tangential and that they neither anchor nor dwell on provisions of section 43 of Trade Dispute Act T8(LFN 2004) before it will take further necessary action, " he said.
Speaking with journalists at the end of the Dec. 4 meeting, Prof. Biodun Ogunyemi, ASUU National President, had noted that negotiations were still ongoing. He said both parties were yet to reach a concrete decision.
READ ALSO: Don't Divert N121bn Social Investments Funds for 2019 Polls- Action Aid to Buhari
"For now, we have started to discuss. We are yet to reach any concrete decision. Once we have more information, we will make ourselves available to the press.
"The union will reconvene very soon to continue negotiations," he said.
Part of the reason for the indefinite strike embarked on by ASUU is the poor funding of Nigerian universities and non-implementation of previous agreements by government.
Meanwhile, the President, National Association of Nigerian Students, NANS, Danielson Akpan has urged both parties to have a common ground so that the universities can reopen.