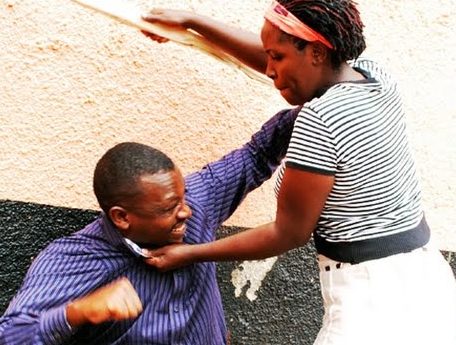 Men now report being beaten by their wives!  Surprised?  But that is the truth.
No fewer than 57 men have reported to the government that they suffer battering from their wives in Lagos State this year.
This is as opposed to only ten such cases reported last year.
The Coordinator, Lagos State Domestic and Sexual Violence Response Team, Mrs. Titilola Vivour-Adeniyi, made this known in an exclusive interview with The Next
Edition.
She said that the increase in the reporting of cases stemmed from the fact that many were conscious of their rights.
She added that many had also realised that there were places they could go and get justice.
Vivour-Adeniyi disclosed too that there had been increase in the reporting of other cases like sexual abuse and domestic violence on the part of women and children.
According to her, while only 400 cases of child abuse were reported last year, over one thousand had been recorded this year.
Cases of general domestic violence including wife battery reported increased from 400 to 900 this year.
Her words:  "Last year we had a total of 400 cases, so far this year; we've had over 900 cases. Again, last year we had 10 cases of men coming forward to report violence against them. This year we've had about 57 cases.
"Also, last year we received about 400 cases of child abuse, this year, we've received over a thousand cases."
Speaking generally on the cases of domestic violence and sexual abuse in the society, she said the noticeable thing was that there had been an increase in the reporting.
READ ALSO: What (not) to do on a first date
"What is on the increase is the reportage. From the statistics, you can see that we have over a 100% increase in reporting.
"These issues have always been there and this increase in reporting does not even scratch the surface of what is truly happening and we are very much aware of that."
Mrs. Vivour Adeniyi disclosed that though it may not be possible to totally eradicate domestic violence and sexual abuse in the society, her team was working on reducing the incidences to the barest minimum.
She further disclosed:  "For all the rape and defilement cases, the perpetrators have been caught and charged to court; for the domestic violence cases, we have obtained about 15 restraining orders on behalf of survivors, and we have four convictions so far – two for rape and two for child abuse."
She, however, lamented that the team still encountered resistance from certain members of the society who thought the issues were not serious.
"There are people who just want to 'settle' cases of rape, defilement and child abuse," she said.
The legal practitioner advised that individuals should look out for signs that would suggest an individual will likely be violent before they settle into marriage.
She stated that such signs included jealousy, stalking, isolation and harassment.
According to Vivour-Adeniyi, "it is easier to call off an engagement than to walk out on a marriage."
The Lagos State Domestic and Sexual Violence Response Team was established in September 2014 to provide a holistic response to the issues of rape, domestic violence and child abuse in the state.
It is made up of representatives of different organisations, ministries, NGOs and the media.