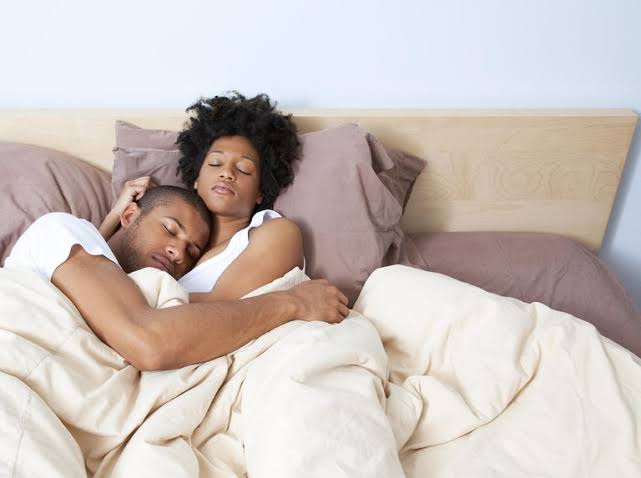 There was a time when living together with your intended partner before you tied the knot was heavily frowned upon.
Nowadays, however, people rarely bat an eyelid when boyfriends and girlfriends live together how much more an engaged couple.
Some people believe cohabiting even while they are just casual is a sure way to know their partner better and others think otherwise, believing that living together brings in 'see finish', a slang that basically means that anyone who knows you too much at a point begins to take you for granted.
The Next Edition sampled some opinions on the issue.
"Cohabitation before marriage is honestly the one thing I don't subscribe to. I mean, I'm all for an intending couple spending as much time as they possibly can together so that they get used to each other's company. It's a necessity. But living together? I don't think so.
The "see-finish" it can cause! And we all know how things cool off a bit after marriage so why would I want to fast forward that even before the marriage has happened? Stay in your house, I'll stay in mine. Let's preserve the love. Before engagement will break because someone no longer feels the need to buy the cow when the milk is free."
Ama Eminue, Educator
"Living together encourages 'see finish,' in my views. It makes the man relaxed. He won't think of getting to do the right thing fast because he already has you in his house attending his basic needs."
Sifon Amah, Civil Servant
"Personally, I am totally against living together though it's supposed to aid compatibility. I just feel it takes away a whole lot of personal space, being taken for granted, etc. Just live together after marriage. Surprise yourselves then and work on yourselves together."
Uduak Usen-Abasi, Chef
"You can never know anyone entirely because, the only constant thing in life is change. Besides, we all can be actors just to get what we truly want/desire. See finish will always come into play whether you live together while dating or not. Though I will not advise anyone to move in with their significant other before they get married, except in cases where they have accommodation issues and do not have any other option. The few holidays and weekends spent together at each other's places should be enough to know if the person keeps the toilet seat down, squeezes the paste from the middle, makes the bed, or even let the dirty dishes sit in the sink for hours or days. People often believe that moving in while engaged will bring them bliss during marriage, well I say it won't change anything because, they will still get to discover things after they say "I do". The essesntial thing is just to be willing to forgive, understand, care and communicate under any given situation."
Rita Ennang, Procurement Specialist
"Living together? Hmm. I think living together for a few months at any stage of the relationship is a great dress rehearsals towards marriage. I mean there's a lot of things you can only find out about someone if you are roommates, including hygiene. Yeah, there's the risk of "see finish" but that's what marriage is after all. So better to see finish and decide if you want to continue, before the race even begins."
READ ALSO: 10 Things Men Want From Their Partners
Ubok Akpan, Filmmaker
"I lived with my wife for years before we got married. I'll say this, if the two of you have visions that are at par, living together before marriage will be the best thing that happened to your marriage. Women tend to be more focused in a relationship and hence by living together, the focus rubs off on you too and you see yourself doing better than you ever imagined."
Norell Nwoko, Business man
"I don't really subscribe to living together before marriage. We can have weekends together or weeks together or even months. But living together as a whole is a no-no to me. I need my space. I love you and all that but I love my space too. I want to miss you. I want to long for you. Seeing you daily won't make me love you less but I like my space. That may not make sense to every one but that's my opinion."
Ed Stark, Civil Servant
"I don't believe courtship / living together will lead to see finish if both parties involved are mature.
"It only helps to bring to light the pros and cons that may be useful in the nearest future. Speaking from experience I would strongly encourage living together whilst applying wisdom."
Jane Eyibo, Nursing Mother
"Living together before marriage has it Pros and Cons.
Pros: It does help you discover a little more about who you're going to marry, eg: personal care, sexual compatibility, temper etc.
Cons: The "see finish" syndrome where you're taken for granted and marriage rites are not done for years because you're acting like a wife already.
I personally will not encourage moving in before marriage but I recommend spending quality time, like having a gateaway. Traveling for a week or two together. Doing stuff together but not moving in."
Imaobong Idung, Customer Service Representative
"Some people tend to hide their ugly side or would I say not so good side when they are around the people they're dating. This can go well until they get married or which ever one but if they are staying together, at some point that side would surface. Remember we said the same thing for BBNaija housemates, gradually their real selves came forth."
Rowland Chiazor, Artist / Real Estate Consultant
"I strongly subscribe to living together during courtship. It gives you an insight and prepares you for what's to come. If you've both been getting the cookies already, then I believe "see finish" is only an issue if you've got something (behavior) to hide."
Ofili Chidubem, Analyst
What do you think? Would you move in with your fiancé or fiancée? Let us know in the comments.