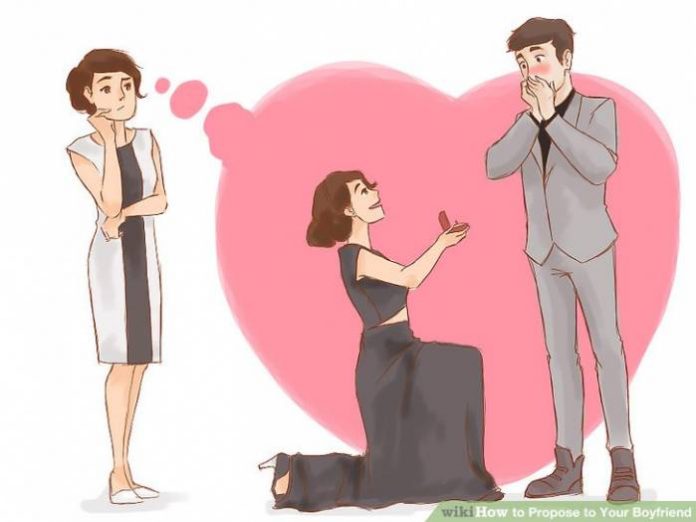 Have you been waiting for your boyfriend to take your relationship to the next step?
If he's foot-dragging, can you and should you take the bull by the horn and pop the question?
Your motivation for proposing to your boyfriend shouldn't be to force him into something he's not ready for. If you've talked about marriage and it's clear you're both on board—then proposing as a female can be an exciting and modern way to kick traditional gender roles to the curb and catch him completely off guard.
However, if he's a little more uncertain when it comes to tying the knot, proposing doesn't just catch him off guard—it puts him in a terrible position and lays a shaky foundation for your "forever" together.
Asking your partner's hand in marriage is one of the most monumental things you would do in your life.
As a Nigerian lady, can you propose to your boyfriend?
Ope Alabi (Caterer)
"Well as for me, I don't think I can propose. It is not our thing in this part of the country for a lady to propose, people will see you as being desperate."
READ ALSO: 8 reasons why kissing is important in relationships
Yinka Babalola (Makeup Artist)
"I can propose to my boyfriend if I see that he is really serious about the relationship. Some men can be really funny at times, you'll think they really love you, but they are just playing games with you.
"So for me to propose I must make sure he's really serious about me and ready to settle down with me."
Evelyn Nwosu (Fashion Designer)
"The way I see it, she's down on her knees and is wanting to beg the man to marry her. It should be the other way round. A man should say this is the woman I love and want to spend the rest of my life with, not the girl coming on her knees and saying please will you marry me? I think that is unacceptable."
Emmy Nelson (Youth Corper)
"For me personally, it depends on my partner. If he is open minded, I can propose. I know someone who proposed to her boyfriend and they got married. If the man doesn't feel anything wrong with it, I can go ahead.
Bima Ekpri (Lab Scientist)
"NO! NO!!NO!!! When he starts acting up, you should not complain because you chose for him to treat you that way, you asked him to marry you.
He didn't ask you to marry him.
"If he starts misbehaving tomorrow, he'll say you are the one that proposed, that he never wanted to be with you so I wouldn't even think of proposing."
Chioma Vincent
"No, I just can't. I know people think we are equal but we are not at all. It's not in my culture. It's not really appropriate."