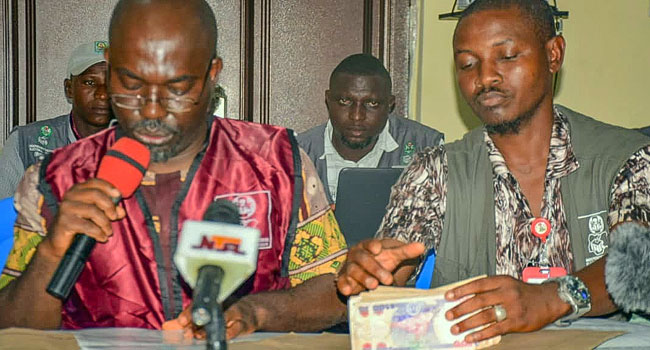 Prof. Evans Asigwuike, the Collation Officer for Igalamela/Odolu Local Government Area, LGA in the Kogi governorship election has said he was offered N50, 000 by a political party to change the result of the election.
Asigwuike of the Dept. Electrical electronics, University of Abuja, disclosed this on Sunday while speaking with newsmen in Lokoja.
According to him, the money was handed over to the Assistant Presiding Officer who in turn handed over the money to him.
He, however, did not give details of the giver and his political party.
READ ALSO: Kogi Election: Police Confirm 3 Dead, Say Casualty List still Being Compiled
Recall that the Centre for Democracy and Development, CDD, in its preliminary report on the Kogi election, said the participation of anti-graft agencies in the election did not check vote buying.
Part of the report read: "Notwithstanding that INEC enlisted the EFCC and the ICPC to assist in curtailing vote-buying, vote-buying was very rampant across the state," it said in its report.
"CDD observers reported that party agents in several polling units engaged in the financial inducement of voters to influence them to vote for the parties. The cost of a vote ranges between N500 and N3,000.
"Voters were also intimidated, followed into the voting cubicles and forcefully coerced, to vote for candidates against their wishes. The coordinated disruption of the electoral process by hoodlums mobilised by the political parties undermines the integrity of the electoral process."