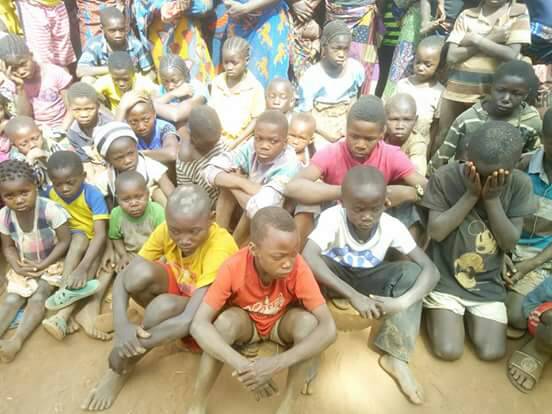 At an age when most children sleep beside their parents on a well cushioned bed, enjoying their comfort, 10 year old Chiahemba (not real names), has no parents. He has also lost the comfort of sleeping on a bed. He lays wide awake, full of worries and strategizing where to head to as soon as day breaks. He does not go to school like other kids and hardly knows where the next meal will come from.
"My mother is dead. My father is also dead. I live with my uncle and he is not always around," Chiahemba managed to say when he spoke to this reporter.
According to him, his father and some of his relatives were killed in one of the numerous attacks on his community in Guma local government Area of Benue state in 2018.
His mother, having been displaced, decided she will run back to his kinsmen with her children. "But while we were in my mother's village, they killed my mother when she went to the farm," teary Chiahemba said with his head bowed down.
He was, however, given out to come live with one of his uncles in Makurdi with a promise that he will be sent to school; a promise that was never kept after all.
Back in Makurdi, the uncle hardly stayed at home to watch over him as he left home as early as 5:30a.m for his "okada" riding business and returned late, sometimes, at 10p.m when young Chiahemba would have gone to bed.
He began to skip meals doing 1-0-1 and later 1-0-0. "When I came, my uncle will give me money for morning food. I go wait for him to come for night before I go eat again, sometimes, before he go return from work I don sleep and I dey sleep hungry sometimes," he managed to say in pidgin English.
Chia, as his friends call him, looks naive but has become street smart after staying for some time and making a couple of friends, some who went about picking plastic bottles for sale. Chia had heard stories of his mates making money from picking plastics or doing other menial jobs in markets and other places and decided to try his luck.
As the day is breaking and marketers begin to throng the market for the day's business, Chiahemba is already by the market. It became a routine and from day to day he helped marketers clean their stall, pack and throw out the dirt from their shops. He earned very little from it as his employers could pay him as low as N20 to N50 depending on the size of the dirt. "When I enter market I go beg them to allow me throway their dust bin. Sometimes they give me N20, N50. The highest is N100. Sometimes I earn between N300 and N350," he said.
The 10 year old is one of the numerous Benue children who have been displaced, orphaned following herdsmen attacks on communities in the state. Investigations carried out by The Next Edition reveals that while thousands of households were displaced during the attacks, among them children, a good number of the children have been orphaned.
The investigation also revealed that most of the children have taken to labour; house cleaning, refuse clearing, fetching of water, wood hewing. among others, to provide for themselves and/or cater for their younger siblings, a development many described as worrisome.
According to data from the Benue State Emergency Management Agency (SEMA), Makurdi, cumulative data of Internally Displaced Persons (IDPs), living in official, unofficial camps and host communities in the state for 2018, 2019, 2020 and up to September 2021 is 1,597,000. The record shows that out of this number, a total of 649,109 are children (193,243 aged 0-5years and 455,866 between ages 6-17years).
In a breakdown, SEMA recorded the while 249,070 children (85,626 aged 0-5 years and 159,444 aged 6-17years) were displaced by the end of 2019, by June 2020, 43,761 children (11,087 of 0-5years and 32,674 of 6-17years) were further displaced in renewed attacks in Kwande, Obi and Guma LGAs. By December, 2020, the agency, in an update, further reported that as a result of sustained attacks in Guma, logo and Makurdi LGAs, 51,775 other children, (17,254 children of 0-5years and 34,521 children of 6-17years) got displaced. The report also stated that between May and September 2021, 308,503 displaced children (79,276 of 0-5 years and 229,227 children of 6-17years) are living in host communities in the state. The report, however, did not state the numbers that have lost both parents.
Describing the situation as alarming, a member of the Civil Society Organization in the state, Mrs Helen Teghtegh lamented that quite a large number of children has been displaced, majority of them orphans following herders' attack on communities in the state.
She said more worrisome is that most of the children are being forced into child labour for survival.
"With the current economic situation of the ordinary man on the street, survival is very critical especially for IDPs. For those who have children who are about 9-10-11 years, under 18, they are looking for alternatives just for survival. Most parents would gladly give out their children as house help. We are recording early child marriages, trafficking and child labour as a result of the hardship. So, I am confirming that it is happening. More children are orphaned and child labour is ongoing which is against the child rights law.
She described as unfortunate the fact that Benue, having passed the law, had not activated it. "Even if you catch these people, you can't prosecute them. They keep going free. It's heart breaking," she noted.
Teghtegh who is the Executive Director of Community Links and Human Empowerment Initiative, (CLHEI), a Non-Governmental Organization, said as a way out people should be aware of the provisions of the law that hiring children below the age of 18 is a crime.
She further noted that "People are also disguising to give help to the under privileged while they receive services. Why not take the services to the young adults, 18 and above and pay them for their services or do humanitarian service without that child returning any service to you. If you leave out everything, don't leave out this, that there is a clarion call for the government to activate the child rights law in the state."
She maintained that if the law is activated and one or two persons are prosecuted, it will send some signal to the people that the orphans and vulnerable people are not to be exploited.
Also speaking, President, Women Wing of the Jama'atu Nasril Islam, (JNI), Benue state Chapter, Hajia Hauwa Isah, said the herdsmen killings in Benue state have created much problems by leaving most children without parents.
"These are children who are supposed to be in school but now they are left to wander around looking for menial jobs for survival. I have seen children who come into town here to clear refuse dumps, farm, clean, clear grass, clean house and wash clothes for people just to find food to eat. We must find solutions to this and the government must take the lead.
Hauwa Isah called on the federal government to strengthen security in and around the communities and fulfill their promise to rebuild the communities to enable all displaced persons to go back to their homes. She also urged the society to deal passionately with displaced persons especially children and not to take advantage of them.
READ ALSO: Christmas: NDLEA Seizes 8.3m Tramadol Capsules, 56,782 Bottles Of Codeine
Meanwhile, Benue State Governor, Samuel Ortom expressed deep worry over the increasing number of orphans in the state, a development he blamed on the incessant attacks by herdsmen.
Speaking at an event recently, Governor Ortom stated that there are many orphans currently in orphanage homes and in internally displaced persons (IDP) camps who have no hope for the future.
"Some became orphans because terrorist Fulani herdsmen have killed their parents," the Governor said.
The Governor disclosed that three years ago, he and his wife picked up four orphans from Mama Abayol orphanage home and have been taking care of them; even as he urged well-meaning individuals to support orphans and vulnerable children stressing that God would honour such a gesture.
"I have orphans whom I have trained too. Some bear their parents' names and some who do not know their parents bear my name. There are many orphans in IDP camps and many of them don't even know their parents because Fulani Herdsmen came and killed them. You can make an impact in their lives and God will reward you.
"Those who are taking three square meals should remember the vulnerable people," he said.
Ortom who has called on President Muhammadu Buhari severally to find a lasting solution to the insecurity in the country, also recently advised the President to seek opinions of Nigerians with the aim of coming out with a common solution.