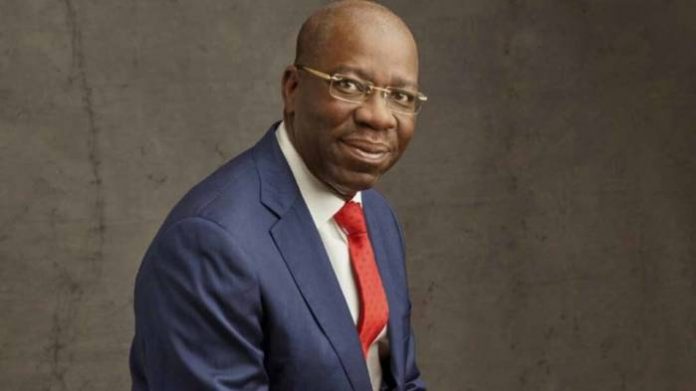 Reactions have continued to trickle in following the announcement of Gov. Godwin Obaseki as winner of the Edo governorship election held on Saturday, Sept.19.
He was declared winner by the Independent National Electoral Commission (INEC) after polling the highest number of votes in the election which had 13 other contenders.
Below are some of the reactions.
Dr. Ifeanyi Okowa; "I congratulate my brother, Governor Obaseki, on this historic and thorough victory that has shown Edo State and the entire Nigeria that the will of the people always stands on the side of those that have their best interest."
Henry Okelue; "Congratulations to Gov Godwin Obaseki and the PDP on a deserved victory. Congratulations to INEC on another successful electoral process."
Sen. Ben Bruce; "Deserving congratulations to my good friend and brother,Governor Obaseki. I also congratulate the great people of Edo State for their vigilance and resilience. Edo State has voted for continuity, and progress, and they can rest assured; Obaseki will deliver."
Brian Dennis; "The Cabal supported Obaseki.
An APC controlled Edo would be vital for Tinubu's APC Presidential ambition in less than 3 years.
Something the cabal doesn't want.
They're playing the long game. It's better to lose Edo to PDP than increase Tinubu's chances at the primaries."
Jason Sharkarho; "This is a win for the people. Given the mass resignation from the Government few months to this election none would have thought the Governor would be returned.
In the last 4 years he had brought industrialization to Edo, and they want more. Congrats to PDP!"
Olisa Osega; "Telling Edo people to vote out Obaseki was a wrong move. You see the Edo's and we the Igbo's have one thing in common, we hate been pushed around especially by strangers. You don't feed me, so you can't tell me what to do. Don't ever tell us what to do."
Sodiq Tade; "For the record, Obaseki defeated Tinubu, Oshiomhole, Ize Iyamu, Tony Kabaka, thugs, touts and other Democrats."
READ ALSO: INEC Official Shot In Edo, Hospitalised
Fisayo Soyombo; "Now that Obaseki has defeated Oshiomhole, sorry Ize-Iyamu, I hope the distraction of this long drawn out power tussle can for once be laid to rest so the long-suspended business of governance can resume."
Adam Muhammed; "Godwin Obaseki has brought an end to politics of Godfathers in Nigeria. Despite the Godfathers across the country, the Edo's have decided to go for Godwin. Indeed God always wins."
Kenny Bright; "You can command your people to follow your wish blindly in the West. But here in the South, we question our leaders. Edo no be Lagos. Obaseki is our governor. We voted against Godfathers.
Congrats to my Edo people. We won."
Princewill; "Obaseki might not really have done much in Edo state to get this massive support from the people of Edo state but it was majorly because of the Tinubu and oshiomole godfatherism that made edolite stand against APC. No Igbo man would want to be enslaved by his fellow man…
But tinubu did not know Edo is not Lagos. If a yoruba man will allow another man to put him under his armpit, An Igbo man will never allow that."