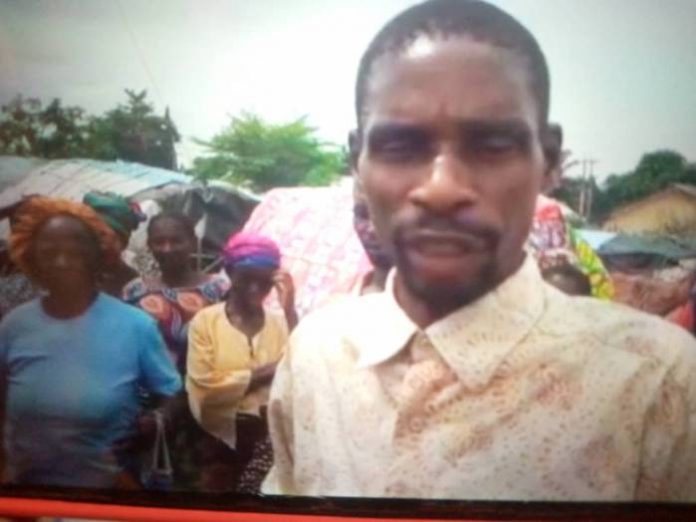 Pa Titus Aondona (not real names) 70, is a father of 14 children from two wives. On a daily basis, he sits in front of a shade at the Abagana Internally Displaced Persons (IDPs) Camp, gazing into the air and wondering what the future holds. He has not had access to his farmlands in the last three years. He has no trade to earn a living and hardly knows where the next meal will come from.
Since coming into the camp in 2018 after suspected herdsmen attacked his community, Kaseor, in Guma Local Government Area, life has never been the same for him and his family. In fact, he lost one of his wives and two children, his four large yam farms and a huge yam barn to the attacks.
Looking back to his life before the attack, the septuagenarian sheds uncontrollable tears sometimes thinking what his life had become. Most times, he sits with people of his age group, and their past times are preoccupied with words of lamentation about their predicaments.
"This is me who before 2018 could feed my family without batting an eye. See me now, I can't even boast of providing a good meal per day for my children. This is not the life I want for my family. When I look at them walking around the camp aimlessly, I shed tears. Sometimes, as a man the tears would refuse to drop but in my heart, only God knows how I feel."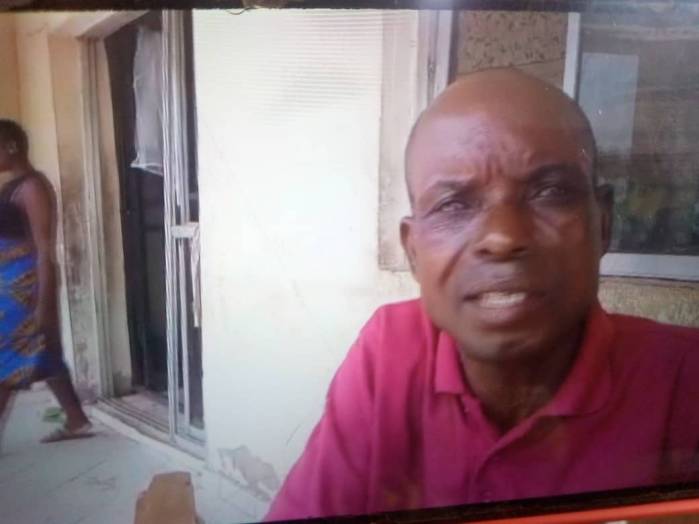 Pa Aondona who said they have been surviving by God's grace recalled, "Life was better in our communities. There we could grow our own food. We had our own houses. Our children could go to school and we had freedom and some sense of security to live our lives but now, our life has no meaning again because we have been reduced to a life of perpetual lack."
He expressed deep worry over their continuous stay in camp saying, "My biggest worry is that I am not growing any younger. Every day, I am growing closer to my grave. I don't want to die here in the camp. (shaking his head), I want to go home to my ancestral land where my father and fore-fathers were buried so that when I die, my children will bury me there and my spirit will rest well. It is better to die in my home than to die as an IDP here in the camp."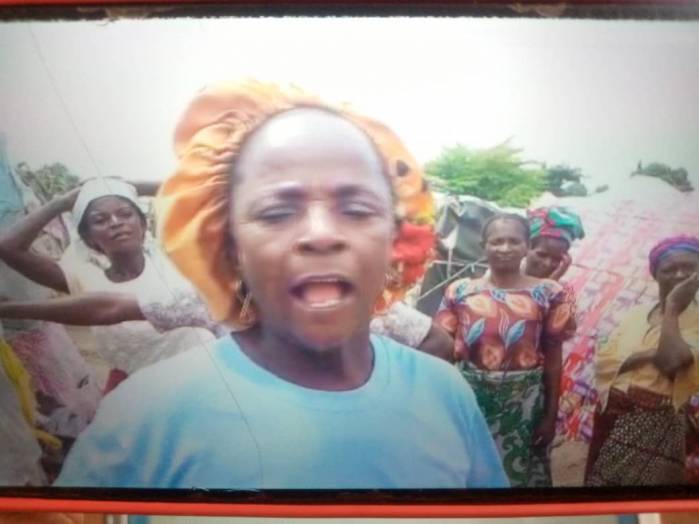 Pa Aondona's second wife was around at the time this reporter visited. She sat quietly with a baby of about three years tucked in between her thighs as she listened to the conversation. The wife, who simply identified herself as Msurshima, confirmed all her husband said.
She said aside hunger and poverty, they are also in dire need of medication and shelter as they are exposed to harsh weather conditions especially cold due to the rains. She said shelter was paramount because their makeshift tents cannot withstand the storm that usually comes with the rains. "Our children are also exposed to all kinds of bacteria and fungi diseases. We are appealing to the government to do what they can so that we will go home."
"The suffering is much. We cannot access our farms because the herders will not allow us. We live by just doing menial jobs in people's houses and sometimes, I am tempted to send my children to go live with people as helps so they can pay us some money to take care of the rest," Msurshima said.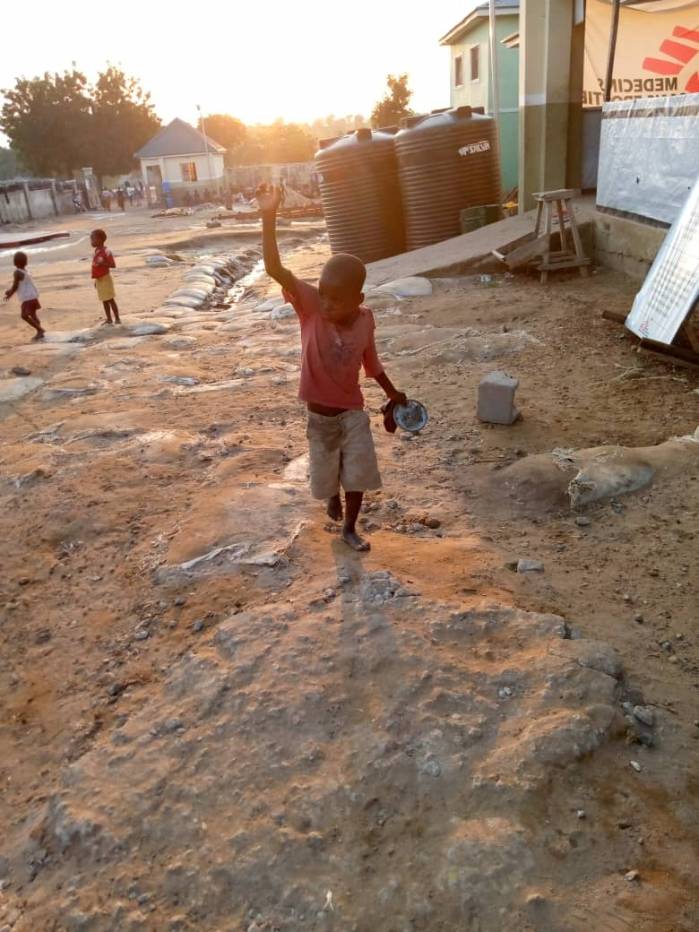 While this reporter was making to leave, Pa Aondona's daughter of about 15 years also beckoned, "Ma, I also want to talk to you. My mates are in school, I am worried that I will grow up and not be able to fulfil my dream of being a nurse. I see the way my father and my step mother struggle to cater for us and sometimes I used to go outside to look for menial jobs so I can assist my father.
"Sometimes, when I go out there, men will be talking to me and they will make me promises of money (looking down). Because of the hardship we are going through here, sometimes, I am tempted to give in to their advances."
The story of Pa Aondona and his family is not any different from the stories of many other families in Benue IDP camps. It is simply a story of one family, too many.
Benue state government say the state has eight official IDP camps which include a refugee camp in Kwande local government area, housing refugees from Cameroon. The camps are Gbajimba IDP camp, Uikpam Camp, UNHCR Daudu Camp1, Daudu Camp3, all in Guma LGA. Others are Abagana IDP Camp in Makurdi, IDP Camp Anyin of Logo LGA, IDP Camp Naka, Gwer West LG and the refugee camp in Kwande.
The state also has many unofficial camps housing displaced persons. An official of the State emergency Management Agency (SEMA) said the camps numbering over 30 are located at different places in the state; two after Daudu, one in Gbajimba, one in Agasha Guma LGA, Naka in Gwer West LGA, In Makurdi, there is one at the Federal Housing junction, one at Ishwa, one along 72 Battalion junction, one close to NASME Barracks, one at Agan toll gate primary school, one in Ugba Logo LGA as well as those displace during the recent crisis in Konshisha among so many others. In all, the camps have over 1.5 million IDPs sleeping there while the refugee camp has over 10,000 inmates from Cameroon.
When The Next Edition visited some of the camps, it was observed that most of the makeshift tents have been blown off by the wind while those still standing leaked heavily when it rains and not suitable for human habitation. Most of the inmates were seen trying to mend the tents with polythene bags to stop the leakages.
At the Federal Housing junction IDP camp in Makurdi, some of the inmates who spoke to our correspondent complained of hunger and near starvation, a situation which has compelled them to live from hand to mouth. They also complained of mosquitoes and called for donation of Insecticide treated nets.
Elder Samuel Ubete expressed sadness over their continuous stay in the camp saying "I am not happy staying in the camp here. I am a farmer but I'm forced to be dependent now. I have been here with my family since 2018. Every day, we leave here to as far as the rice mill to look for menial jobs so we can feed. But there is no job, no money. Our children are all at home, they can't go to school and we say they are the leaders of tomorrow. They can't even eat good food. If you don't have money, how do you train them?
"The Benue child has a bright future but that future is becoming bleak except those in authority will rise to their responsibility and address the problems facing the state," he said.
He called on the government to fulfil the promises of rebuilding their homes and providing security so that they can go back home and at least, work on their farms and produce their own food. "The 2021 cropping season is almost over and we are still here. In fact, we are thinking of what tomorrow will be," he said while appealing to the government to provide food more frequently. "Very importantly too, we need better structures to lay their heads, proper medication. Mosquitoes have been feasting on us."
In the camps also, our correspondent also gathered that diseases like fungi and bacteria infections as well as malaria are common among the inmates.
Another IDP, Mrs Bridget Anongo said "When it is raining, we don't know where to stay. We have been here for more than two years. We want government to assist us to go back home and take care of our children. Here, we don't have enough food to eat. We are exposed to cold and mosquitoes are eating us up. Every time, our children have malaria and all kinds of rashes. This is no home," she lamented.
Also speaking, Mr Aondo Shagba, while pointing at the only two building in the camp, said "when it is raining we usually run into that building and because the space is small, it will be too choked but we will all remain standing until the rain is over before we come out."
READ ALSO: Aminu Bayero's Tenure As Emir Will Usher Peace And Development In Kano – Akpabio
At the Abagana IDP camp, erosion is already threatening most of the structures as the rain has continued to wash off the soil surface. A camp official who doesn't want to be named said they had long resorted to self help where they fill sand into rice and cement bags to block the gullies caused by the erosion.
He also stated that the basic challenges in the camps are that of food. "From my experience in the camp, they lack adequate food. If anyone tells you otherwise, the person is being economical with the truth. Government is trying but when they bring food, they will eat it and it will finish. Food is something they need continuously. You see a father with two or more wives and children numbering 14 or more and the herdsmen are not allowing them to go to the bush and farm, he just sits there depending solely on when he is given food before they can eat. It is very pathetic.
"The IDPs also need shelter because in some camps, where they are staying is not conducive. The space is not enough. Many of the inmates are staying in makeshift huts covered with tampoline and now that it is raining, rain has destroyed some and they, most times, have to jampack in the few available structures to hide from the rain.
"They also need other things like mosquito nets but the major need is food. Government is trying their best but it is not enough because of the teeming population of IDPs in the state. They need help especially to enable them go home so that they can grow their own food.
Meanwhile, Benue State government said they have been taking deliberate steps in catering for Internally Displaced Persons (IDPs) in the state which includes the provision of food and non food reliefs to cushion the effects of hardship faced by the inmates.
The Executive Secretary, State Emergency Management Agency (SEMA), Mr. Emmanuel Shior, said government through his office has ensured continuous supply of food stuffs to the IDP camps, both official and unofficial ones, the last being last week.
The Executive Secretary who expressed government's concerns over the teeming population of IDPs in the state noted that a meeting of all humanitarian partners in the state were called and a committee was set up to develop a Humanitarian Response Plan (HRP), for Benue that will define various roles of humanitarian stakeholders in the state."
"The last time we shared data about IDPs in Benue, we said they were over I million. After that profiling, we have witnessed more attacks and we have witnessed more IDPs. We are still profiling them. The ones that have arrived newly, part of them are from Taraba State and the recent attacks in Gaambe council ward have put some of them in Agasha. We have some new camp in IDPs currently in Agatu, Otukpo and Ogbadibo.
"In addition to the huge burden of the IDPs in Benue, we are also grappling with the big burden of the Cameroonian refugees who are in Kwande. Their population is over 10,000. So the problem is huge. So we appeal to everyone to come to the support of IDPs, all peoples of concerns in Benue. I also want to draw the attention of the international community to the plights of the IDPs in Benue.
While he commended the efforts of the federal government through the office of National Emergency Management Agency (NEMA), and the Refugee Commission for assisting Benue IDPs from time to time, Shior said "but because the support is not frequent, the burden is still too high on the head of the state government," he said and called for more support to enable state government cater for the increasing number of displaced persons in the state.
Mr. Shior also said government is aware of reports of fungi diseases in the camps, adding that state government has received the report and has drawn the attention of the state ministry of health while some humanitarian partners working with state government; Doctors Without Borders, have started providing medical health support for the IDPs to address the challenge while the Water, Sanitation and Hygiene (WASH) component are also working hard to sanitize the camps.
He said government is committed and is working hard in tackling the ailments that breaks out among the IDPs.
"As a responsive and responsible government, Governor Samuel Ortom strongly feels that, no matter what the government is doing for the IDPs, be it at the state, federal or from the humanitarian partners, what is permanent and more enduring is a robust plan that ensures the return of the IDPs to their ancestral homes. So we are discussing with the federal government and all stakeholders to ensure they leave the camps back home," he said.