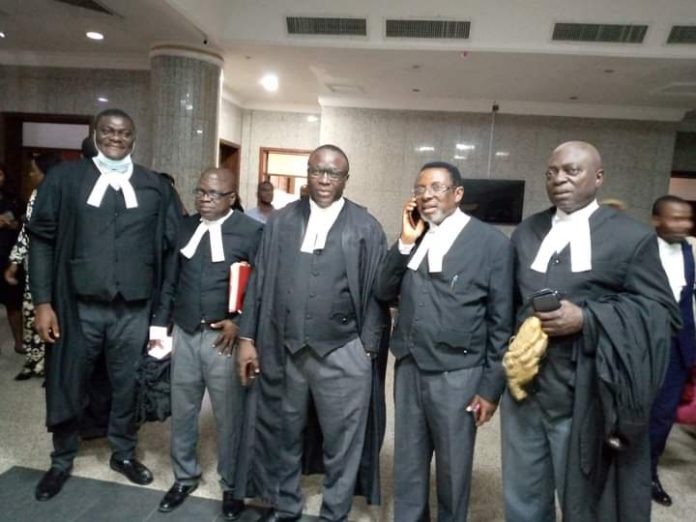 The All Progressives Congress, APC, has asked a Federal High Court sitting in Abuja for more time to enable it file processes in the suit by the Peoples Democratic Party, PDP, and its governorship candidate in Benue State, Mr. Titus Uba, seeking the nullification of the APC gubernatorial primaries in Benue State.
When the case came up on Tuesday, lead counsel to the PDP and Uba, Chief Sebastine Hon, SAN, informed the court that he was ready to proceed with the hearing of the case.
Counsel to the APC, Fidelis Mnyim, informed the court that he was not ready to go on with hearing as he was served nine processes Tuesday morning and he needs time to respond.
He particularly mentioned the reply of the plaintiffs to the preliminary objections of the APC, which he said was 17 pages.
He added that he was also representing the 7th defendant, Esv Godwin Tyoachimin and the 14th defendant, Dr. Sam Ode, but both Tyoachimin and Dr. Ode have debriefed him as their counsel, so he needs to rejig his processes for the APC before the court.
He pointed out that originally, the APC was out of time in filling its processes.
Mnyim asked the court for an adjournment to enable him respond to the processes served on him.
Counsel to Rev. Father Alia, Usman O Sule, SAN, informed the court that he has filed his opposition to the originating summon.
Counsel to Herman Hembe, Daniel Penda, counsel to Dr. Sam Ode, Adetunji Oso and that of Prof. Terhemba Shija, Kenneth Ikonne, were allowed to move their motions for extension for extension of time to allow them regularize their processes.
READ ALSO: Banditry: FG Releases N6.25bn For Establishment Of Cattle Ranches In Katsina
Cheif Hon, SAN moved an oral application to amend the originating summon.
He sought the permission of the court to delete the word "not" in line 9 of relief No.2 of the originating summon.
His application was granted.
After listening to the counsels, the Presiding Judge, Justice Ahmed Mohammed reminded parties in the suit that the matter is a pre-election matter which is time bound.
He warned that the court will no longer entertain any further application for adjournment to enable parties to file or react to processes because the suit is a pre-election matter which must be completed within 180 days.
Justice Mohammed adjourned the matter to September 20th for definite hearing of the substantive suit and ordered that hearing notice be served on Dr. Terlumun Ikya, Mr Barnard Yisa, Dr. Mathias Byuan, Chief Mike Kaase Aondoakaa, SAN, Mr Anyom Mlanga, Mr. Terwase Orbunde and Chief Stephen Lawani, who were absent in court.