The Federal Government has taken down its earlier tweet ordering all account holders to fill re-certfication forms.
The tweet had read in part: "This is to notify the general public that all account holders in Financial Institutions (Banks, Insurance Companies, etc) are required to obtain, complete and submit Self – Certification Forms to their respective Financial Institutions.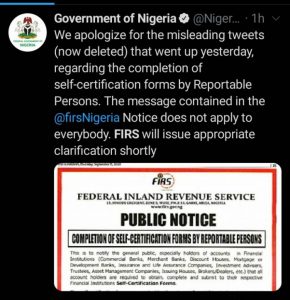 "Persons holding accounts in different financial institutions is required to complete & submit the form to each one of the institutions. The forms are required by the relevant financial institutions to carry out due diligence procedures in line with the Income Tax Regulations 2019."
READ ALSO: SPORTS FLAKES: DOMBRAYE, READY FOR NIGERIAN LEAGUE
The tweet has threatened sanctions against those who failed to comply with the directive.
However, the Federal Inland Revenue Service (FIRS) in another tweet noted that the message in the earlier tweet was not for everybody.
The tweet read: "We apologize for the misleading tweets (now deleted) that went up yesterday, regarding the completion of self-certification forms by Reportable Persons. The message contained in the @firsNigeria Notice does not apply to everybody. FIRS will issue appropriate clarification shortly."