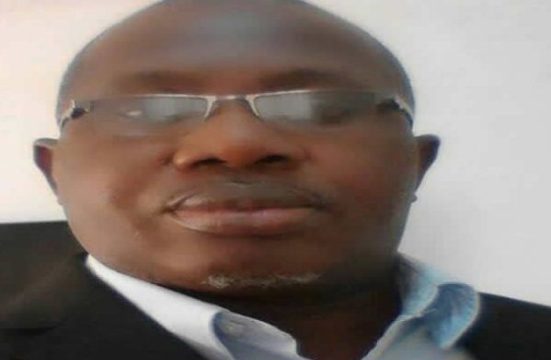 Eddy Dombraye left Nigeria on a high in 1998 leading the scorers chart with eleven goals, earning Eagles debut and landing a lucrative deal with Polish side LKS [Lodski Klub Sportowy] Lodz.He won the CAF and WAFU Cups respectively, with Insurance in 1994 and plans to come back home as a coach.
Sports minister Sunday Dare's surgery on the Premier League seems to be Dombraye's attraction and he has his credentials ready for a homeward journey to contribute to the development of the game.
" I am a UEFA licensed coach. I have my UEFA C, B and A licence. I worked with Fabrizio Ravanelli at Arsenal Kiev, as one of his assistants. Currently, I am planning to come to the Nigerian league," Dombraye told me from his base in Ukraine.
Arsenal Kiev had won the Ukrainian league in the 2017/2018 season before they hired Ravanelli. However things turned sour as the former Juventus and Middlesbrough Star who won UEFA Champions League gold in 1996 left after a few games.The Nigerian joined the Under -17 squad.
Before he moved to Poland in 1998, the young man really played his way into various clubs. It all started from Delta Stars, to Premier Breweries, Onitsha, Insurance, Heartland [Iwuanyanwu National] and Eagle Cement, Port Harcourt. There was also very brief time at Tunisian side, Esperance.
The trip to Lodz, his first time in Europe, began brightly with an invitation to the Super Eagles camp and Lodz officials were happy to release him seven days into his trial.
Dombraye said : " By the time the invitation came, I was in Poland for trials. A friend called me from Nigeria after watching the NTA 9 'o clock news. Lodz allowed me to go but sent a Nigerian business man based in Poland, Harold Okeke, to accompany me, just to discuss transfer details with Iwuanyanwu while i moved straight to Otta to join the national team."
On October 4, 1998, Dombraye earned his first cap for the Eagles. It was in Ouagadougou, in an African Nations Cup qualifier against Burkina Faso. I was at the stadium and excited as well, for I had followed the young man's progression from 'cradle'.
Dutchman, Thijs Libregts, from Rotterdam was Technical Adviser although Shuaibu Ahmodu was more visible as coach. Mutiu Adepoju led the team that comprised stars like Celestine Babayaro, Garba Lawal, Kingsley Obiekwu, keeper Willie Okpara, Jero Shakpoke and Gbenga Okunowo.
There were Duke Udi, Patrick Pascal, Ganiyu Ajide and green horn, Samuel Ayorinde, from Bangor City, Wales. Reserves included goalie Ndubuisi Egbo, Sunday Ilevbare, Uche Nwobi and Dombraye who came in for Ayorinde in the 60th minute. Mutiu was withdrawn for Ilevbare. Goalless, it ended.
I saw it as the beginning of a rosy future for Dombraye. He returned to Lodz and felt very much at home because there were two other Nigerians there. Darlington Omodiagbe and Austin Hamlet had arrived the previous year.
Nigeria was preparing to host the FIFA Under -20 Championships in 1999. Tunde Disu who led the Flying Eagles to silver at Saudi '89 and assisted Paul Hamilton when the team got a bronze at USSR '85, was recalled as manager.
Dombraye was hot and all attention went his way. The team could stand the best anywhere. Julius Agahowa, Joseph Yobo, Rabiu Afolabi, Chikelue Iloenyosi, Pius Ikedia, Hashim Garba, Ganiyu Shittu and keepers Sam Okoye and Dominic Oruma , all were in top shape.
It turned out to be a monumental disaster. Signs of things to come appeared in the opening game against Costa Rica. The Flying Eagles went ahead through Aghahowa in the 20th minute. Seven minutes to time, Captain Allan Melendez, killed it with an equaliser. A 1-1 draw was not good enough.
The Flying Eagles began to struggle. After defeating Germany 2-0 in the next match, they fell 2-1 to Paraguay but were lucky to qualify for the next round. Republic of Ireland, parading Robbie Keane, were running away with a lone goal victory before Ikedia equalized in the 70th.
Penalty kicks decided after full and overtime scores stood at one all. Nigeria won the shoot out 5-3. Dombraye scored one of the penalty goals.
No one reckoned with Mali until they battered Nigeria 3-1 in the quarter finals in Enugu. Nnamdi Azikiwe must have wept in his grave. The players were down cast. The nation was in mourning. That was the day we all got to respect Seydou Keita who eventually ended as the tournament's Best Player.
Nigeria '99 threw up future stars. Spain won for the first time and had Xavi, Iker Casillas, Gabri and top scorer with five goals, Coumago Pablo. Japan, under Philippe Troussier, the 'White witch doctor, sacked by Nigeria in 1996, finished with the silver medal. We saw Shinji Ono and Junichi Inamoto.
Mali held on to the bronze medal. Mahamadou Dissa was as good as Pablo, with five goals. It was Nigeria '99 that introduced Ronaldinho, Tiago Silva [Brazil], Ashley Cole, Peter Crouch [England], Carlos Kameni [Cameroon] and Laryea Kingston [Ghana].
Dombraye, the man on whose shoulders all responsibility hung, was broken. Nigeria finished in the eighth position. The striker has not recovered from it all.
" I did not live up to expectations. Much was expected from me especially from journalists who believed so much in me. I take 40 per cent of the blame for our failure and I apologize for this still.
" I honestly can't pinpoint what went wrong, we had a good team full of individual players who were equally good. We had a good coach, Tunde Disu, who was experienced. The NFA did well, there was no issue with allowance," he explained.
Dombraye tried to find a way out. " I think we were too confident. There was too much pressure to win. The Costa Ricans changed everything and other teams saw our weak point.The game with Costa Rica was my worst."
Nigeria '99 continued to haunt the player. Injury set in too. Things were not at ease in the Polish Ekstraklasa [Premier League]. Dombraye left Lodz for Stomil Olaztyn in 2000. In 2002 he moved to OFK Beograd, Serbia.
Another move to Ukraine's FC Volyn Lutsk came through his former coach in Poland. There were also loan spells at FC Ikva Mlyniv and Feniks-Illichovets Kalinine. However , injuries did not help. His hips were operated upon. Dombraye quit in 2009 at Zakarpattia Uzhhrod and went into coaching.
The boy who played for the Army Children's School, Effurun but did not play in secondary school at Ughoton,is son of a soldier who won volleyball gold at the Kaduna '77 National Sports Festival.
I asked about the Jossy Dombraye connection. " I don't know if Jossy Dombraye is a relation of mine. One thing for sure, my dad named me after him but I call him uncle anytime I see him", he responded.
READ ALSO: President Buhari Commiserates With Paul Unongo Over Wife's Death
Eddie Dombraye is married to Olga Boiko. Their 18 -year-old son, Wiktor, plays volley ball and was invited by Nigeria for the World Under-19 Championships in Dubai last year but was held back by club engagements. They have another boy, D' Angelo.
More memories. Dombraye remembers his best game. It was for Insurance against Gombe United as a frail teenager.
And this: "One Mr. Emeka Obasi, wrote the first story about me anywhere. It was in Champion newspapers. I can't forget that." Short story. That was in 1992. He was a dark horse, at Delta Stars.