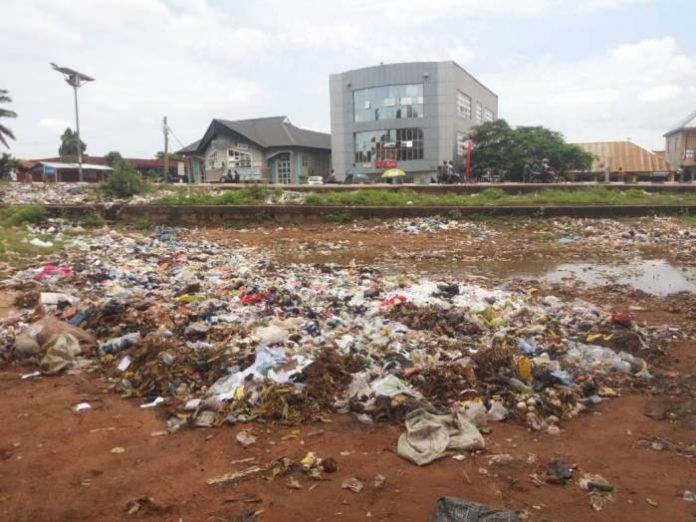 Residents and regular visitors to the Ken Ville Park, at the High Level area of Makurdi, the Benue State capital, have raised concerns that they may be at the risk of contracting various communicable diseases if nothing is done to clear the heap of refuse dumped at the park.
The Next Edition visited the park on Wednesday and observed that part of the park was being used for refuse dump. It was also observed that while the refuse heaps were growing higher by the day, men of the Benue State Environmental Sanitation Agency, BENSESA, had not visited the park in weeks to clear it.
Following the development coupled with days of rainfall, the stench which emanated from the pile of refuse was so choking that those who sat a few meters away were seen covering their noses with handkerchiefs while others had flies to contend with.
Our correspondent also observed that half a kilometre away from Ken Ville Park, which is opposite High Level market, there was also a huge refuse heap which has not been cleared.
Speaking to The Next Edition, a resident, Mr. Akahan Sule, lamented that the park which served as a bed for fun seekers was being used as a refuse dump, a development he said was detrimental to the health of visitors.
"People come here to relax. Others come to hold meetings, parties and rallies of all kinds. Citing a dump site here is not healthy," he said.
Another resident, Mrs Priscilla Ayom also expressed surprise that the state agency in charge of the environment would allow such and would also look the other way without coming to clear it from time to time.
She called the concerned authorities to rise up to their responsibility and clear the place before it becomes a disease breeding center.
The manager of the park, Mrs Ann Adegbe, said she had complained "when agents from BENSESA came to tell me they wanted to drop a trash can at the park."
"But they insisted that the order is from above and even said that the trash can will help me. Sometimes, we run from here because of the smell coming from there because it takes time before they come to clear it. So, I am just watching.
"Only God is saving us here. With the COVID-19, the place is not safe for anyone. It is not good to make a relaxation place near a dump site.
"Mrs Adegbe complained that the authorities, for a long time, have not come to clear the refuse saying "they will always complain that their vehicle is broken down and to make matters worse, this is the period we are running away from flood and now we have to contend with filth."
She, therefore, appealed to the state government to, as a matter of urgency, move the dump site completely away from the park saying "it is not only an eyesore, it will endanger the lives of people who come to relax here."
Meanwhile, health experts say allowing refuse to pile for so long especially in public places is bad practice that could lead to serious health issues.
A medical doctor in the department of Family Medicine, Benue State University Teaching Hospital, (BSUTH), Makurdi, Dr. Andrew Iyaji who described such a place as an eyesore said nobody would want to live in such an environment.
"The place would always have an unpleasant smell because of the odour that comes from there. Any business around there may go down because a lot of people would not want to patronize it especially food because of contamination.
"Another point is it brings out gas. The offensive odour that is being perceived is as a result of the breakdown of some of the organic matters which is giving out hydrogen sulphide gas among others.
"The place would be a breeding ground for rodents such as rats, cockroaches, flies among others and they will carry diseases around.
"Inhaling the gas may have some effects because some of the gasses cause damages to the lungs. The lung is where air is exchanged with the blood. Carbon dioxide is brought out through the lungs and oxygen is inhaled. So, instead of inhaling oxygen that helps the body, you inhale gases like hydrogen sulphide, carbon monoxide, and nitrous oxide. All these can form a sickness in the blood.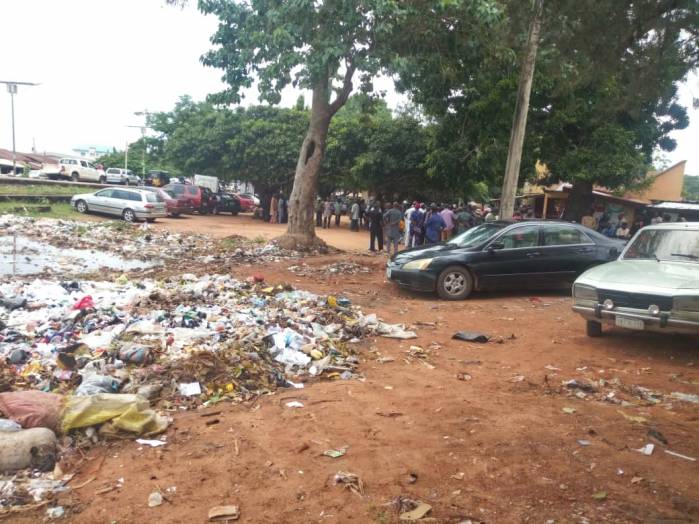 "Carbon monoxide is very competitive with oxygen and that is one of the gases that come from such refuse dumps. It is used for organic energy like gas for cooking, gas that can power light. So if you put oxygen and carbon monoxide side by side, the body will take carbon monoxide faster that it will pick oxygen and it will cause serious health problem for the body."
READ ALSO: WHO Recommendation For World's First Malaria Vaccine Excites Gavi, Others
While maintaining that dumping refuse in public places is a danger to public health, Dr. Iyaji said authorities must rise to their responsibilities and ensure that the environment is safe for all.
Also, a doctor with public Health Initiatives (APIN), Dr. Thomas Usha, said such areas is simply a breeding ground for diseases and should not be allowed to pile.
"Flies carry disease pathogens and contaminate food substances when they perch on them. They transfer bacteria, viruses and parasites to food.
"This can cause diseases like typhoid fever, cholera, dysentery, among others," Usha said.
When contacted, the General Manager of BENSESA, Mr. Solomon Onah simply said "we are handling it before the weekend."