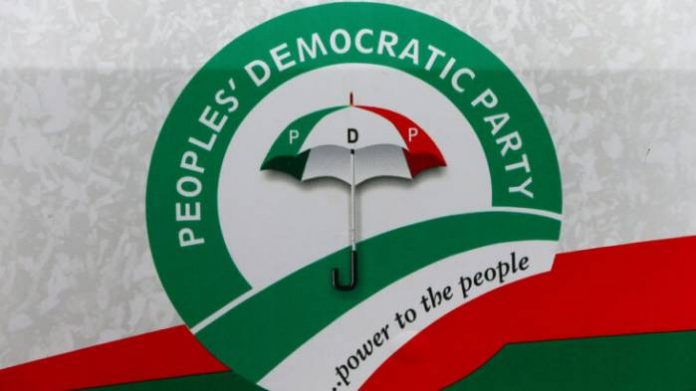 …urges Abia people to Ignore deceptive scaremongers in LP doomed for electoral defeat
The Peoples Democratic Party (PDP) in Abia State has said that the Labour Party (LP) in the state will face thorough defeat on March 18, during the governorship and the state House of Assembly elections.
The PDP in a statement signed by Michael Nwabueze, for its Campaign Council in Abia said that Abia people are already aware that Mr Peter Obi who made a majority of them vote for LP on the 25th of February will not be on the ballot next Saturday and will troop out to vote for PDP.
The PDP Campaign Council berated the LP in Abia for alleging that it (PDP) has concluded plans to violently rig the March 18th governorship election, stressing that the reverse is the case.
"Our attention has been drawn to a purported petition by the desperate gang of former APC members that have hijacked the Labour Party in Abia State titled "Threat by the PDP led Government in Abia State to violently rig the proposed March 18th Governorship Election in Abia State" and we wish to state that it is another act of desperation by deceptive scare mongers doomed for electoral defeat.
"In the good old days, a thief will run even when nobody is pursuing him. Obviously members of the Labour Party In Abia are still living in that era, hence running even when nobody is pursuing them. They are frequently raising false alarms against others while plotting exactly the same thing.
"This has always been the character and tactics of the desperate serial losers that have currently taken over the Labour Party platform in Abia State after failing miserably, sojourning in the APC and APGA," the Campaign Council said.
The PDP Campaign Council equally alleged that some days ago, the LP in Abia rose from a meeting in Asokoro, Abuja, where they plotted and apportioned roles on how to rig the Abia governorship election to release a false flag statement that PDP and APC are planning to do exactly what they agreed in their meeting.
READ ALSO: Ronaldo Suffers First League Defeat As Al Nassr Lose League Leadership
According to the PDP Campaign Council, LP has concluded plans to "use thugs, rogue security agents and INEC officials to rig Abia 2023 governorship election."
The PDP claimed that it is armed with information and details of LP's Asokoro meeting and the follow-up meeting in Okagwe Ohafia and Umuru Umuehim Nvosi Isiala Ngwa South, but has decided to focus on the task of winning the election.
The PDP Campaign Council further alleged that LP agents working in cohorts with sundry security and officials of the Independent National Electoral Commission (INEC) hid behind the expected "Obi wave" in the Presidential and National Assembly polls to write election results in Umuahia North, Ohafia, Arochukwu, Aba South, Aba North and Osisioma Ngwa Local Government Areas, among others.
"Indeed they were the major beneficiaries of the criminally shambolic performance of Abia INEC officials in that election that local and international observers have disclaimed.
"Let it be known that we are aware of multiple rigging plots by Labour Party operatives including recruitment of militants, thugs and sundry characters from neighbouring states and have long alerted security agents to their plot and antics.
"Obviously it is only a tree that will know you want to cut it down and still stand there to wait for you. Members of Abia PDP are not trees.
"Conscious of the fact that any free and fair election in our state will inevitably lead to the expected landslide victory of the biggest party, by hundreds of kilometres in the state, we wish to call on INEC and security agencies to ignore the rants of a party that knows it is impossible for it to win a free and fair election in the state and take all necessary measures to conduct a peaceful, free and fair election in the state as we are determined to resist any attempt to abridge the free choice of Abia voters."
The PDP Campaign Council said that no other candidate contesting in the 2023 governorship election in Abia enjoys the widespread love and acceptance across the state as its Governorship Candidate, Chief Okey Ahaiwe.
"We are equally proud of our entrenched democratic credentials and structure in the state, hence have no need to employ desperate measures to take what is rightly destined to come to us as a result of our great service to Ndi Abia."