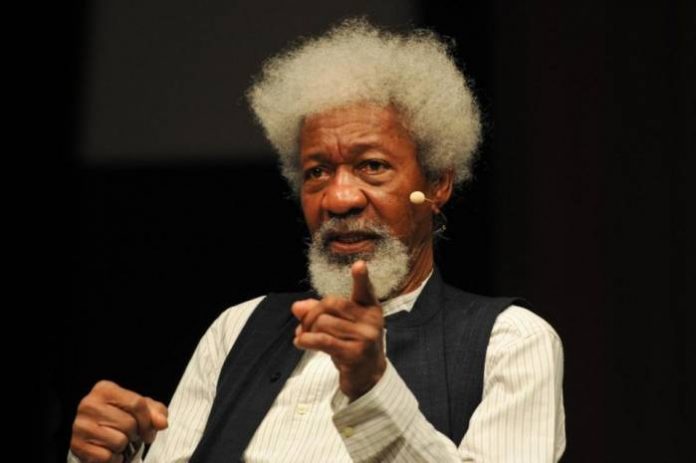 Nobel prize Laureate, Wole Soyinka, has called on the Federal Government to take measures towards tackling the Boko Haram, Herdsmen, banditry and kidnapping menace that have characterised the Nigerian polity.
Soyinka made the call on Tuesday at Government House, Makurdi, during a courtesy visit on Governor Samuel Ortom.
He stated that the security challenges were fast inculcating the culture of violence in the young generation, saying unfortunately, the Government has so far been treating them with kid gloves.
He noted that governments in the country have the rights to make laws for the good governance of the people and wondered why a group would issue threats against the anti open grazing law enacted by the Benue State Government and would not be arrested.
Soyinka, a Professor of Literature, however, acknowledged the relative peace in Benue as against the last time he visited the state but expressed worry that those who fled the attacks were still languishing under dehumanizing conditions at the Internally Displaced People's, IDPs, Camps.
READ ALSO: Stop Using Security Agencies To Intimidate Nigerians, Soyinka Warns FG
Reacting to the recent threat from Miyetti Allah Kauta Hore that all states should create a grazing reserve for them if they want to enjoy peace in their domain, Soyinka said each state should take care of themselves, take their own decision and enforce them as best as they can.
"All I have to say to people who make that kind of threat is that when they come to Ogun state, we will have a suitable response for them. That's all I can say and I think all the state should take the same position."
Speaking on the Association of Nigeria Authors, ANA, National Convention in Enugu where the association failed to elect national officials because the process was disrupted, Soyinka criticised the stakeholders whom he said should be showing politicians the direction to go and called on them to take corrective measures.
Gov. Samuel Ortom had in a speech, commended Wole Soyinka for adding his voice against the attacks on the state by suspected herdsmen, saying it prompted the Federal Government to set up an operation named, Operation Whirl Stroke.
While he noted that the operation has reduce the attacks to near zero level, Ortom said that the Open Grazing Prohibition and Ranches Establishment Law was enacted as a solution to the farmer herder crisis.
He said he will accept any superior policy apart from RUGA and cattle colony.