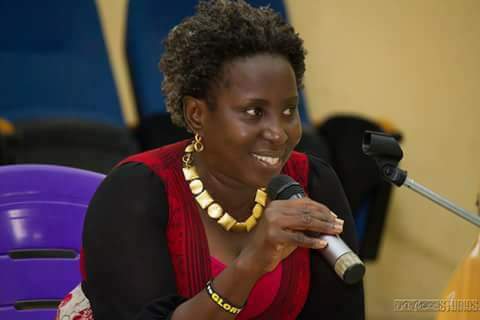 Josephine Habba, is the founder and National Coordinator of Jireh Doo Foundation, JDF, a Non-Governmental Organization. She is also a member and president of the West African Action Network on Small Arms (WAANSA-Nigeria).
In this interview, Habba said her organization, with operational offices in the Federal Capital Territory and five Northern States in Nigeria, has recorded huge successes, touching over 100,000 lives in its 16 years of existence. She also talked about the plight of the African child, child abuse, molestation and her expectations of government to protect the children.
TNE: What is Jireh Doo Foundation all about and what are its achievements so far?
Jireh Doo Foundation, founded in 2003, has been in existence for about 16 years. The organization is a member of several national and international networks and works principally to support women and men, especially single mothers and fathers, with emphasis on protection and support for women and children. We uphold good governance and gender sensitivity.
The greatest challenge facing the country at the time the organisation was founded was HIV/AIDS. When it was difficult for the HIV/AIDS survivors to get treatment because it was very scarce and costly, the foundation intervened by engaging hospitals to get treatment for survivors, mostly women and children. While we were intervening in the areas of health, education and nutrition with the orphans and vulnerable children, we established support groups for women and children living with HIV in Benue and Nasarawa States where single mothers and fathers would come together, share their experiences and chart a way forward.
As we moved on, the challenge of the children became prominent because the issue of HIV/AIDS became top on the agenda and more children became orphans as parents died every day.
Six years ago, we celebrated our 10 years of existence and at that point we had met and touched the lives of over 100,000 persons. We renovated schools, educated children and supported some who finished primary school, some secondary school and some even university when we were just 10 years old. Many people got treatment under our care.
One day, an orphan within JDF response was sweeping her elder brother's room and found a sack of arms and ammunition in the room. Out of fear, she ran to my office, which was close to their house and called me to come and see what she saw in her brother's room. When I got there, I saw for myself.
On interrogation, it was discovered that her brother did not know the stuff was in his room. He accommodated two friends who took advantage of the absence of an adult in the house as both parents had passed on living them in the house all by themselves. They will use the arms for robbery and return home as if they went to work and support some household needs as people who had paid jobs.
It was at this point that Jireh Doo Foundation started wondering what to do, and then, we found West African Action Network on Small Arms (WAANSA-Nigeria). So, we joined WAANSA with the aim to educate children on the dangers of arms. I have worked with the Network for 13 years of my life representing JDF; I served as the Network's treasurer till October 2018 when I emerged as the elected president of the Network.
TNE: What have been the challenges?
There are very many challenges; at first many people didn't see the need for me to do the things I did. Many read different meanings in them, but till today I do them because of the passion I have in seeing people turn from crying to smiling.
Also, training people and having them work with us has been a challenge because we don't have the kind of finances that will enable us support and pay them as other national and international organizations that are better placed. In other countries, organizations like mine get funds from government to support them in the work they are doing. I give shelter, feeding and even education to some. Seeing me on the corridors of government for a very long time, one would think that I was getting some support for my work, but I can tell you that the governor that you see me hanging around did not know what I did, until last year when I was so broke and solicited for funds to run the orphans and vulnerable children camp; JDF has run this camp for 15 years. For the very first time in my 16 years existence, Governor Samuel Ortom donated the sum of one million naira to the camp. It was a huge relief to me. If we had structures that support this kind of organization, I wouldn't have been begging or borrowing to feed and pay children school fees.
We are also challenged by issue of rape. First, I tell people that I am not just working on issues of rape and child molestation or abuse because I see children being abused, but I have been passionate about it because I am a survivor of rape. I have been raped three times in my life with no one to help me or talk to. I was molested and abused and the people went free.
So when God put my life together again, I decided that no perpetrator of child molestation that I get to know of will just walk away like those that abused me did. If I will not do anything to give the survivors justice, I will name and shame the perpetrators. So, doing this is not a job, but a mission that I have embarked on to ensure that a child is not molested and that perpetrators do not go free; it's a mission to ensure that if you are being molested, there is a shoulder that you can cry on; I can share with you and do the best I can do to support you to pick up your life again.
TNE: Besides what your NGO and other organizations are doing in this regard, what role can the government play to promote protection of children in the society?
I will expect government to promote protection intervention by ensuring the implementation of the Child Rights Laws. For example, we have passed a child right law in Benue, but we don't have a family court. So, it is like giving someone yam without a knife. If a child is raped the prosecution is slow and the law that has been domesticated is not implemented.
Benue has been champion in taking the lead with so much. I will expect the Governor of Benue State, Samuel Ortom to seriously frown at the act of child rape in Benue and decide to put up their own laws in addition to the child rights law to bring out the measures that will be so stringent for every perpetrator to know that if you rape anyone, you don't go free. I will expect to see the law prescribe life sentences or implement death penalties. I will also expect that legislation should be in place, good enough so that if you rape a child or abuse anyone, you will not just be taken to the police for you to pay the police to give you bail and let you go to continue your life, but you will face the full wrath of the law.
TNE: What more packages are your organisation planning so as to touch more lives?
On June 15, 2019, precisely, we celebrated the African child, particularly Benue child and while we did that, I decided on child rights first. We made sure that we curtailed the challenges of molestation and abuse of children in the state. We also unveiled a toll free telephone number for victims or survivors of molestation to contact us so as to ensure that the perpetrators are brought to justice.
Also, we unveiled the protection project for both children and women who are abused. We are going to schools to establish speak out clubs where children will have a space to talk to themselves and we will train the teachers and children with better information and reporting capacity. Confidentiality will be promoted so no one is hunted by perpetrators.
We are working on having a transit shelter because most times these things happen to children even in their homes and by their parents. I have seen where a father sexually molested his own child until she was pregnant and delivered the child at age 14. If I am called that a father is molesting a child, I won't allow the child to stay back at the house, even if I take the father away. So I need a transit shelter to pass the child through psychological support until we can send the child back to the parents or relatives where we will continue to monitor.
TNE: What is your advice for the victims, perpetrators and the general public?
Well, for survivors, my advice has always been that, if I have been able to make it in life, everyone can make it. They should put all that might have happened behind them and move on with their lives, find support and much more, forgive. When I say forgive, it does not mean that the perpetrator should not face the wrath of the law, but forgiving yourself and the perpetrator for your own benefit so that your heart will not be pained forever.
For me, life does not end there, it's only when you don't know that you feel life ends there. Never think that all men are the same or feel like committing suicide, or feel that you will not get married. No, don't think so. Do not also feel that you are not good enough or that it is your fault. No, it is not your fault. It's actually the fault of the perpetrator who is mad to do what he did. Government, on the other hand, should prosecute perpetrators to a logical conclusion.