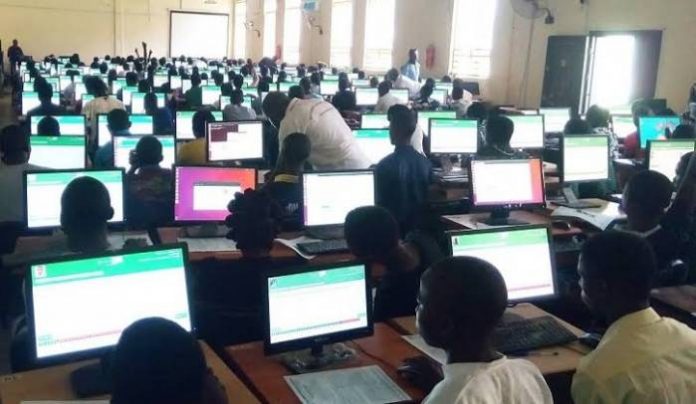 Candidates of the 2021 Joint Admission and Matriculation Board (JAMB) in Imo have expressed satisfaction with the security at the Computer Based Test centers for the Unified Tertiary Matriculation Examination.
The UTME is conducted nationwide from June 19 to July 3.
There was widespread speculation that gunmen would attack some of the centers in Imo, following the recent security unrest in the state.
Although there was heavy security presence in some of the centers visited by NAN, yet the security threat sent wrong signals to both students and parents.
Some of the JAMB centres visited by NAN include Galaxi ICT and Educational Center Ohi Owerri West Local Government Area(LGA), Swintech Computer Institute, Alvan Ikoku Federal College of Education, in Orlu Road, and Spring Tower Computer Institute at Ikeduru LGA.
At Galaxi ICT and Educational Center Ohi, and Alvan Ikoku Federal College of Education there was heavy security presence.
The first set of the exam started at about 7a.m and ended by 11a.m while the second batch started by 11a.m and ended by 1p.m.
Some of the candidates who spoke to NAN after the examination expressed happiness over what they discribed as a hitchfree exercise.
Miss Chinasa Anyawu said the presence of security in the center boosted their morale.
"I am very happy that we finished our exams without any molestation as earlier rumoured.
"We all contemplated to boycott the exam due to fear of the unknown, but for the assurances from the police authorities in Imo," she said.
Another candidate, Mr. Kingsley Ibe, commended organisers of the exam and security agencies for safeguarding them before and after their exams.
One of the exam facilitators, Mr. Emmanuel Agu, said there was no technical issue at his centre Galaxy ICT in the center.
READ ALSO: Candidates, Parents Express Frustration On Conduct Of UTME At CBT Exam Centre In Kogi
He also confirmed that there was no security problem during and after the exam.
Destiny Chinemerem who sat for the exam at Alvan Ikoku Federal College of Education said the exam went smoothly.
He said that the computers worked smoothly and that the exams started promptly.
At Swintech Computer Institute Orlu road, the exam went on well with security presence.
Miss Adaku Ibeleme, whose center was at Spring Tower Computer Institute, said the first batch started a little behind schedule to accommodate candidates coming from distant places.
She said that all the candidates adhered to the guidelines including disallowing usage of cell phones. (NAN)