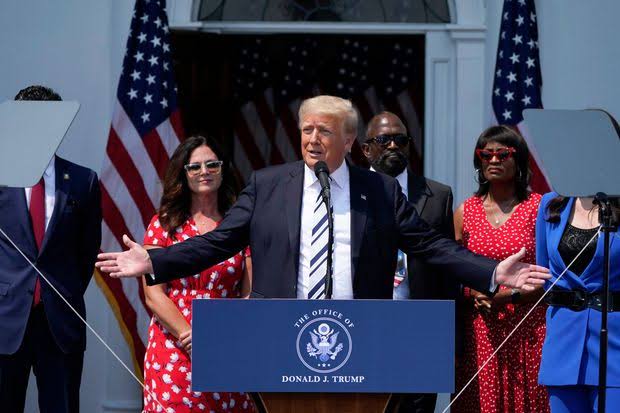 Former US President Donald Trump announced on Wednesday he is filing a class-action lawsuit against Facebook, Twitter and Google, escalating his years-long free speech battle with tech giants who he argues have wrongfully censored him.
READ ALSO: Dollar Videos: Court Fines Ganduje N800k For Withdrawing Suit Against Ja'afar Ja'afar
Trump said he was serving as lead plaintiff in the class-action suits, claiming he has been wrongfully censored by the companies.
Trump told reporters at his golf club in Bedminster, New Jersey: "Today, in conjunction with the America First Policy Institute, I'm filing as the lead class representative, a major class-action lawsuit against the big tech giants including Facebook, Google and Twitter as well as their CEOs, Mark Zuckerberg Sundar Pichai and Jack Dorsey — three real nice guys.
"We're demanding an end to the shadow-banning, a stop to the silencing and a stop to the blacklisting, banishing and canceling that you know so well."
The nation's top tech firms have become the "enforcers of illegal, unconstitutional censorship," added the 75-year-old Republican, who was banned from posting on Facebook and Twitter in the wake of the deadly January 6 siege of the US Capitol by Trump supporters.