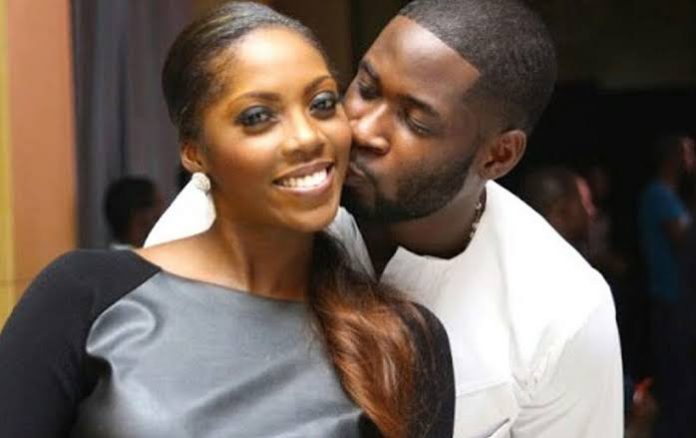 Nigerian music star and celebrity, Tiwa Savage, has spoken about how she met her former manager and husband, TeeBillz, and how the relationship blossomed and finally crashed.
She revealed all of this in a recent interview with Ebuka on BlackBox.
She said there were moves for her to be connected to someone who could help popularize her brand. In the process of getting the connection, someone sent her CV to TeeBillz because she was informed he was good in assisting young artistes and could help in the transition from American A&Rs to the Nigerian music industry.
READ ALSO: Nigeria Receives 2 Unmanned Combat Aerial Vehicles To Fight Terrorists
She said: "So one of the guys was like 'stop going to all these American A&Rs they don't get it, there's this guy they call TeeBillz they have this song called Yebariba with Sauce Kid and they killed it. So I sent him my CV he was like they will call you and he never did. Then Timaya had a concert in L.A and I went."
After sending the CV to him and he never called her, then she had a chance meeting with him in L.A when Timaya had a concert.
Continuing she said: "The guy was like that's the guy TeeBillz and I was like he never called me back. I went up to him and I was like 'why didn't you call me back?' He was like who are you and I said I am Tiwa, I sent you my CV…He called me the next day, and said he liked my vocals and advised I moved back to Nigeria and I was like, yeah, I want to go back to Nigeria."
He called her the next day, said he liked her vocals and advised her to move back to Nigeria.
Tiwa went further to explain how her relationship with him transitioned from being a manager to husband. Then one thing led to another, they ended up getting married in 2013. Unfortunately, the marriage crashed in 2016 after she granted an interview to an online tv blog and spilled all the crises in their home.
Although she regretted going public with the issues, she admitted she did it to clear some people who were roped into it.
According to the music star, she had to clear the air on what was going on because names were mentioned.
She said she did not know it would trend to the level it did, she lost some endorsements because of that and had to work to retain others.