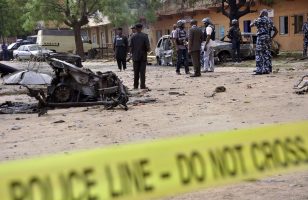 Persons suspected to be Boko Haram members attacked two internally displaced persons, IDP, camps in Maiduguri, Borno State, Sunday night.
PRNigeria reported that the first two suicide bombers, a male, and female, detonated their improvised explosive devices at Dalori 1 IPD Camp at about 11.20 pm.
According to the agency, three internally displaced persons died as a result of the attack while 17 others sustained injuries.
Another explosion occurred at Dalori 2 IDP Camp where a suicide bomber was intercepted while attempting the scale the parameter fencing into the camp.
The third explosion, according to a Civilian JTF, who spoke to Premium Times, occurred when another suicide bomber blew off outside the gates of the Dalori Camp 1.
"The first attacker made it into the camp and blew himself up killing and injuring the IDPs. The second one exploded when the attacker, a female, was attempting to climb the perimeter fence of the second IDP camp known as Dalori 2.

"The third one blew off outside the fence of Dalori 1. We just had the fourth one this (Monday) morning and we are heading there to evacuate the casualties."
The two camps are said to be about 2km from the University of Maiduguri where Boko Haram recently carried out attacks.
The attacks occurred barely a week after the Chief of Army Staff, Tukur Buratai, ordered Theatre commander of the Operation Lafiya Dole, to fish out the Boko Haram leader, Abubakar Shekau, within 40 days.
Despite claims by the Nigerian military that it has defeated Boko Haram, the insurgents have continued to bomb many locations in Borno State, killing scores and wounding others.
The army and the police are yet to issue a statement on the attacks.