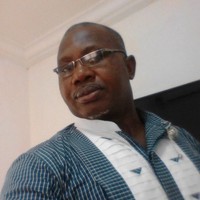 Patriotism smells sweet especially when one is willing to die for the ashes of his forebears. Ejike Onuogu was born in New York some nineteen years ago. He resides in the United States with his parents.
Mother Africa is where Unogu's heart lives. America has offered him opportunities, the young man, a 100 metres Hurdles specialist wants to represent Nigeria at the next Olympic Games if invited by the Athletics Federation.
Arthur Ebunam who won the African Winners Cup with Enugu Rangers in 1977 and shuttles between the United States and Nigeria drew my attention to Unogu and opened communications with the family.
Ebunam knows the power of sports, combined with education and has also been involved in administration as Special Adviser to Sports when Peter Obi was governor of Anambra State.
Unogu is at Hofstra University, New York studying Psychology. His eyes have not departed from home as the 2024 Olympic Games come into focus. He bared his mind.
"I would like to join the Nigerian Track and Field team to the 2004 Olympics. I would like to compete in the 110 meters Hurdles and the 4×100 Relay. I won the Suffolk County Championships when I was in High School," Unogu said.
This earned my admiration. At a time when many have chosen the United States over Nigeria, here is someone who is pleading to be given an opportunity to serve.
Unogu added: "I would represent Nigeria instead of the US because I am of Nigerian descent, like my parents and it would be an honour to bring gold to the town of Ajalli if I ever made the Olympics."
Names like Barbara Nwaba, Jennifer Madu, Keturah Orji and Emerald Egwim are found in Team USA and they are winning medals in global Championships.
Others represented the United States before switching allegiance. Nigeria was not their first love. In this category you have Gloria Asumnu, Regina George, Domenique Duncan, Christy George and Nichole Denby.
The Tokyo 2020 Olympics would have seen Annette Echikunwoke compete for Nigeria. After burning herself preparing for her debut, she was disqualified for no fault of hers. Nigerian officials did not get things right.
READ ALSO : Afenifere's Endorsement Of LP's Rhodes-Vivour, Irrelevant — Lagos APC
Echikunwoke was so upset that she rejected Nigeria and went back to the US to pledge loyalty. She represented the Americans at 2022 World Athletics Championships in Eugene, Oregon.
Onuogu knows this story but is not going to give up on Nigeria. His father, Ejike Onuogu, Senior, a New York based medical doctor, offered support.
Dr. Onuogu said: "I want him to represent his home country, Nigeria because it is a way to lift the image of Africa. I have been in the United States since 1992."
The senior Onuogu is a complete homeboy. He runs the Ejike Onuogu Foundation in Anambra State. The Ajalli, Orumba North Local Government Area man was home in 2020 with palliatives for many during the COVID induced lockdown.
His Toyota Sienna vehicles moved bags of rice, cartons of indomie noodles and tubers of yam round while some politicians were hoarding what was meant for vulnerable Nigerians during that trying period.
The Orumba area gave Nigeria a 400 metres Hurdles champion in 1979. Nathan Obijiofor who also kept goal for the Government Secondary Owerri soccer team flew to the United States shortly after that performance.
Two years earlier, Taiwo Ogunjobi was the national champion. He later joined the Nigeria Army and died in the 1992 Ejigbo crash as a major.
His younger brother, Taiwo Ogunjobi, (In Yoruba land, one home could have more than one Taiwo if blessed with more than a set of twins)played soccer for Shooting Stars and Nigeria. He graduated from Clemson University.
The 110 metres Hurdles event has not been kind to the country globally. This is worrisome for as early as 1948, the duo of C. Ibisi and S. O. Kadiri were at the London Olympics.
They represented Great Britain because Nigeria was still flying the Union Jack. There was also the Long Jumper, Adegboyega Adedoyin an Ijebu Remo prince and a medical student of Queen's University, Belfast. He finished fifth competing for the British.
In 1950, hurdlers competed in the All Nigeria Athletics Championships for the first time. The event was known as 120 yards Hurdles. Kadiri used his Olympic experience to win.
At the First All Africa Games, Brazzaville 1965, Folu Erinle was the 110 meters Hurdles champion. He also finished second in the 100 metres. Eddie Akika won silver in the 110 metres Hurdles and picked the Long Jump gold.
After them came Godwin Obasogie in the 1970s and Henry Amike in the 1980s. Amike was better in the 400 meters Hurdles. Moses Oyiki reigned in the 1990s.
The women have fared better. Glory Alozie dazzled as a junior at the Sydney 1996 World Junior Championships. She lost the gold medal by a whisker at the Sydney 2000 Olympics.
Alozie was well prepared for Sydney until she lost her fiance, Hyginus Anugwom a few days to the opening ceremony. The man was knocked down by a Lebanese teenage driver as he dashed across the road to buy coke in downtown Sydney.
She had won a World Championships medal at Sevilla ' 99. Ukrainian, Olga Shishigina denied her the best in Spain and again in Australia.
Modupe Oshikoya won three gold medals at the Lagos 1973 All Africa Games. One of them was in the 100 metres Hurdles. She also became a Commonwealth Champion.
Maria Usifo became an African legend dominating both the 100 metres and the 400 metres Hurdles in the 1980s. She was All African Games as well African Championships Golden Girl for a long period.
Perhaps, there is something pushing Ejike Onuogu to Nigeria, to raise the name of his gender. His inspiration is Usain Bolt.
"I always look up to Bolt and wonder what it is like to run the way he does. My target is to improve my speed and endurance."
This Hofstra undergraduate will have to contend with the likes of Prosper Ekporere, Oyeniyi Abejoye and Precious Okonye.
Yes, the men have to redeem themselves. They could learn a lesson or two from Oluwatobiloba Amusan, the world women's 400 metres Hurdles champion.
Tobi could have the key to the men's gold. Remember she became world champion and record holder in a town named after a man, Eugene.