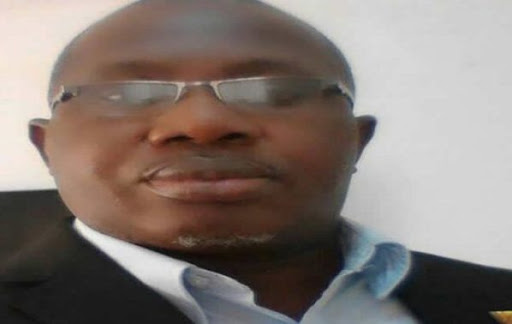 Cheery news this is! The first Nigerian professional footballer and member of the UK Tourists of 1949, Titus Okere, is very much around. He lives in Holland where he retired as a Medical Practitioner. This much was revealed to me by his namesake and nephew, Titus Okere, who also played good soccer.
The senior Okere signed for Swindon Town in 1953 after undergoing trials in 1952. It was big news when he appeared without cleats in training. However, he was unable to break into the first eleven and left at the end of the 1953 season. The Robbins expected so much from a player who was described by Daily Graphics as " worth 15,000 pounds and a row of houses."
The star moved to Europe after the Nigerian national team went on a training tour in 1949. The squad was christened UK Tourists. Captained by Etim Richard Henshaw, other players were Teslim Olawale [Thunder] Balogun, Dan Amobi Anyiam, Peter 'Baby' Anieke, Sokari 'Burma Devil' Dokuboh, Edet Ben, Olisa Chukwura, Hope Lawson, John Dankaro, Okoronkwo Kanno, Mesembe Otu, Justin Onwudiwe, Sam 'Magnet' Ibiam, Isaac Akioye, Goddy Anosike and ATB Ottun.
Okere captained the national team which had become Red Devils in 1951 against the Gold Coast. He played for Dr. Nnamdi Azikiwe's club, Zik Athletic Club [ZAC] Bombers and captained Lagos Railway in 1948. On the way back from Britain, the UK Tourists played a friendly with Sierra Leone in Freetown. It ended 2-0 against the hosts. Okere scored one of the goals.
Okere hails from Ngor Okpala in today's Imo State. He grew up in Port Harcourt when life was so good in Pitakwa and attended St. Cyprian's Primary School. He moved to National College, Kalabari before changing to Okrika Grammar School.
he younger Okere said : "Yes, Titus Okere is my uncle. He is still very much around. He lives in Holland and after soccer he studied medicine. He is retired now and lives a quiet life."
With this confirmation, Okere should be the only surviving member of the UK Tourists team. Goalkeeper Ibiam died in his Afikpo home not too long ago and it was believed that he was the last man standing. Onwudiwe died in the last decade. He was alive when his daughter, Tina Onwudiwe, passed on in a South African hospital. Akioye, the reserve goalie who once headed the National Sports Commission, followed.
The other Titus Okere was not a Green Eagles regular but he was invited to camp in 1989 after playing for Kaduna State, winners of the soccer gold at the National Sports Festival in Lagos.
Like his uncle, he played for big clubs in Nigeria. From P and T Spiders, Owerri, Okere joined Enyimba . After playing in Aba, the next destination was Enugu Rangers. With nothing more alluring in the East, Lagos was the next port of call. Africa Continental Bank [ACB] and First Bank enjoyed his services until he went back to where it all began, P and T.
READ ALSO: SPORTS FLAKES: DAY ISIMA TACKLED ISIMA IN ASABA
Okere Junior was very popular as a school boy player in the 1970s. His school, Holy Ghost College, Owerri ruled the East Central State Academicals. HOGOSCO won the Principal's Cup more than other strong teams like St. Theresa's, Nsukka, Dennis Memorial Grammar School [DMGS] Onitsha, Christ the King College [CKC] Onitsha and Government College, Umuahia.
Among stars produced by the Owerri school which is also known as Arugo are Patrick Ekeji, Okey Isima, Godwin Gbenimacho,, Emma Merenini, Obed Ariri and Johnny Nwadioha. Isima won the African Nations Cup with Green Eagles and Africa Winners Cup with the Flying Antelopes. Merenini who was a college 100 metres champion also lifted the Africa Winners Cup in 1977 with Rangers.
Some of those who played with Okere were the Merenini brothers, Emma and Tony [Takwa]. Jones Harbor was there too. His younger brother, Azuka, was the second Nigerian to play for the United States Senior national soccer team. The first was Ade Coker. After him came Oguchi Onyewu and Maurice Edu. Other Arugo players in the Okere years from 1972 to 1977 included Chimeziri Igoni who later joined Calabar Rovers and Enyimba, Kingsley Ufere, Onyekachi Osuchukwu, Mark Chiedo, Charles Kagha, Paul Nnawuchi, Mathew Onyekachi, Osita Unamba, Gibson Njemanze and Robert Amadi.
There were those with very funny and intimidating names like Bruno Obi, the hard tackling defender who chose the nickname, 'Banquo Bruno' and Adolphus Dike, also known as 'Sukana'. The latter's younger brother is Alphonsus Dike, who played for Vasco Da Gama Enugu, Spartans of Owerri and ended up with a degree in Psychology from the University of Nigeria Nsukka.
Okere's greatet influence remains his coach at Holy Ghost College, Sunny 'Soccer' Aguta. He said :"The person that influenced me most as far as football is concerned is Coach Aguta."
His most memorable match was the final of the Imo State Challenge Cup in 1981 between Spartans of Owerri and Enyimba. The Imo derby was perhaps the hottest in Nigeria because both clubs were founded at the same time in 1976 by the same person, Chief Jerry Enyeazu. Okere won the match for his team, Enyimba. " I scored the two goals", he reminded me.
Okere's children are also following dad"s footsteps. The first, Sam Clinton , who was groomed at Sia One Academy, Abuja plies his trade in Turkey. Another son plays for the Imo State University team.
There is an interesting part of Titus Okere's soccer life. His wife, Rosemary, never knew her husband was a footballer until they got married. It was strange because he met the woman through her elder brother who also played football.
"My wife did not know I was a footballer until we got married. I met her through her brother, Godwin Omachonu who also played football", he added.