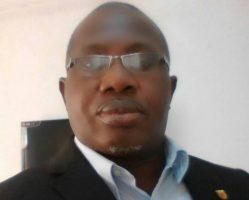 Today she is an Assistant Commissioner of Police [ACP] and remains first Nigerian to win an Olympic gold medal. Chioma Ajunwa was an all rounder in sports, moving from athletics to boxing then to soccer. She also ran from the Nigerian Police before running for the force.
As a kid, Chioma grew up in the midst of boys so she tried to do some of the things they did.
The last in a family of nine children, the lass went into sports right from her village, Umuihiokwu, Ogbe in Ahiazu Local Government Area, Imo State. Even as a student, there was something spectacular about this young woman.
It was not long before she was discovered by the Imo State Sports Council. She was invited to camp and after training and competitions, reward was expected. However, it did not come easy. Some officials did not see why she needed money. And Ajunwa did not stay in Owerri, the state capital. She always traveled to the Dan Anyiam Stadium to collect her allowance which was just 50 Naira.
On a certain day, she left home for Owerri. The paltry allowance was denied her. It was not just an allowance it was like wage which the athlete relied upon to transport herself from Mbaise. Dejected, she began a forlon walk out of the Stadium not knowing exactly how she would get back to her mother and siblings.
As if the day was not bad enough, three security officers emerged from the blues. They turned out to be two male and one female police officers. Without any protocol, she was asked to follow them to the State police Headquarters, near Douglas House, Owerri. Afraid that she was in trouble, Chioma took to her heels. The police pursued her.
It was like Nollywood. The faster she ran, the more determined they were until they caught up with her. Sensing trouble, no more questions came. There was an order to bring her to see superior officers. She followed them.
READ ALSO: SPORT FLAKES: INSURANCE AND THEIR SNAKES
That was not the end. She resisted every attempt to conscript her, baby of the family and mom's special pet. The police trio did not give up. They followed her to Umuihiokwu. At least, if they could not convince Chioma, the mother could. It was even more difficult as Mrs Ajunwa said it was impossible for her baby girl to join the force.
That was how she ran away from home and Imo State to join one of her brothers in Port Harcourt. And because she wanted to be different from the athlete the police knew, Ajunwa switched over to soccer. That ploy did not work. She was under surveillance and soon the law enforcement agents caught up with her.
Chioma had joined Larry Angels Football Club Port Harcourt and was doing well after turning her back on athletics. She even rose to captain the club at a time female soccer was not so popular in the country. The Garden city was lucky to have two powerful personalities who did so much to encourage girls. Larry Eze and Gina Yeseibo put in money to make the game alluring.
There was an away match in Uyo and the Angels of Port Harcourt were on their way to the Akwa Ibom State capital when another batch of policemen ordered her out of the bus. An accompanying uncle did not understand what was going on. He tried to ward them off his niece. That infuriated the intruders.
Ajunwa's uncle was threatened with arrest for obstructing the police from carrying out their lawful duty. The man could not fathom out how abduction passed as obstruction. He was then told that there was signal from Kam Salem House by the Inspector-General of Police, Muhaammadu Gambo Jimeta, to bring Chioma to Lagos.
They took her to the Rivers State Police Headquarters first. After explaining to the uncle that Gambo saw something in his niece and wanted her to join the police, the duo were allowed to go back to their Uyo bound bus. An agreement was reached that the girl must report back to the police after the match. She obeyed.
Chioma was taken straight to the Police College, Ikeja, Lagos, where she trained. And she continued to take part in sports. Fortunately, that was how she was invited to national camp by the Athletics Federation of Nigeria [AFN]. Gambo was dropped as IGP by General Ibrahim Babangida in December 1989. At that time, Ajunwa had taken part in the Long Jump event of the African Athletics Championships in Lagos and represented Africa in the Athletics World Cup in Spain. She won a gold medal in the 4×100 metres relay.
Aliyu Attah succeeded Gambo as IGP and continued from where his predecessor stopped. Chioma was given special privileges and earned rapid promotion. She also did not disappoint. In 1990, she won two bronze medals at the Auckland Commonwealth Games, 1990. In 1999, Ajunwa became African 100 metres champion in Cairo, Egypt.
As she rose, obstacles increased. In 1992, she won the 100 meters at the Mobil Track and Field Championships in Lagos. That competition also served as Barcelona '92 Olympics qualifier. Chioma's time of 10.84 seconds erased Mary Onyali's African record. It also shattered the Commonwealth record of 10.92 seconds set by Angela Taylor.
Three months later in July 1992, she failed drug test and was handed a four-year ban. Four other sprinters were banned. They were Charity Opara, Tina Iheagwam, Innocent Asonze and Clement Chukwu. All five missed the Barcelona '92 Olympic Games.
The Police did not abandon one of their own. Chioma continued to take part in sports and participated in the 1994 Police Games held in Ilorin. That did not go down well with AFN whose President, Smart Akraka, a former national champion warned against fielding the banned star in any sports event. Akraka was married to a Swede and was taunted by some watchers who asked him to bring his daughter to Nigeria instead of allowing her to run for Sweden.
IGP Attah stood solidly behind his officer. He advised Akraka to stay out of Chioma's way as she belonged to the police and was free to compete for the police. Instead of sanctions Attah offered Ajunwa Promotion.
Gambo and Attah did not make any mistakes. Chioma Ajunwa went ahead to win Nigeria's first Olympic gold medal in 1996. She won the Long Jump event. And some of those who were banned with her in 1992, Clement Chukwu, Daniel Asonze and Charity Opara advanced to win Olympic gold and silver medals respectively.