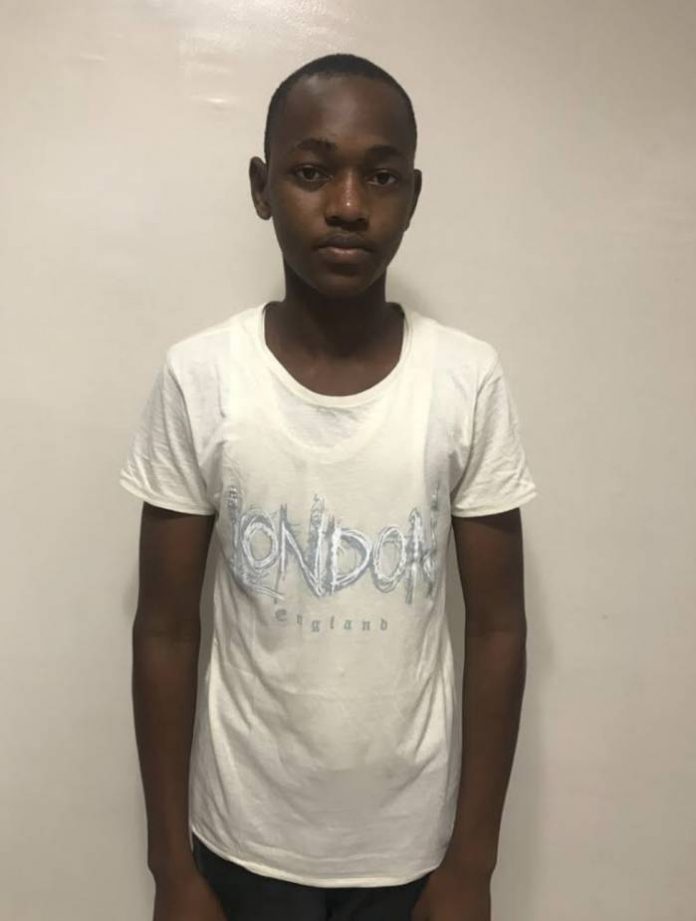 While the world seems to have moved on after the initial shock that greeted the abduction of over 200 schoolgirls from Chibok, Borno State in April 2014, there are still many yet to overcome the trauma.
Abel Pindar, 17, is one of such people.
Five years after the shocking incident and while the world seemed to have moved on, Mr. Pindar has not forgotten how the innocence of his once quiet and peaceful community was violated by the bloodthirsty terrorists.
Mr. Pindar's is a heart-wrenching story of a boy struggling to push forth his dreams in the face of a disturbing past, a grim present and an uncertain future.
Flight from Chibok
He was born in Chibok in 2002, long before the town earned notoriety for the abduction of its innocent school girls.
His parents were able to provide for him and his other siblings with the proceeds from their subsistence farming and life was beautiful.
The people of Chibok lived normal lives and their children went to school without fear or intimidation.
"I didn't have to hustle. Everything was fine. My father gave me everything I needed," he recalled life in Chibok before the Boko Haram's invasion.
But everything changed one fateful day in 2014 as the Islamist extremists marched on the town and shot at everything in sight before escaping with truckloads of innocent school girls.
"They told them (girls) that they were troops from the Nigerian Army who had information that Boko Haram was planning an attack on the school.
"They asked the girls to accompany them to safety. The invaders wore military uniforms and there was no way anyone could have thought they were terrorists.
"It was after they ordered the girls into trailers and started burning the school that the girls realized that they were Boko Haram and they started crying," Mr. Pindar recounted.
With the abduction of the girls, Chibok was thrown into confusion just as it scampered to protect itself from further attack by setting up a vigilante.
In the process, any boy who was old enough to wield a machete or gun was conscripted and made to join the Civilian Joint Task Force (CJTF) to fight the insurgents.
Seeing how young boys were being taken from their parents and forced to go fight a war they never bargained for, Mr. Pindar's father decided to send his mature son away from Chibok.
Drawing from his meagre savings, he gave the young man the sum of N16, 000, took him to the bus station and booked him into a Lagos-bound vehicle.
That was how young Pindar left home at age 12 to start a new life in a place he hardly knew anyone.
Life in Lagos
On his arrival in Lagos, he had only N11, 000 in his pocket, having spent N5, 000 on transportation.
It was not difficult to locate his contact who was a security guard with the Redeemed Christian Church of God in Ribadu, Ikoyi.
After work, the man took him home and that was his first abode in Lagos.
While there, he used what was left of the money his father gave him to feed but when it ran out, he got a job in a hotel with the help of another member of the Chibok community.
He earned N600 daily from his first job. It was in that workplace that he met a young boy who had also fled Chibok to look for fresh opportunity in Nigeria's Centre of Excellence and they became friends.
They shared chores and being from the same area developed a camaraderie spirit.
And he lost his dear friend
In the kitchen where the duo worked, Mr. Pindar said an old freezer was kept by a corner.
Despite that the old freezer occasionally emitted sparks and shocked them, he said their employer allowed them to sit and pound yam or wash plates, on it.
One day, the unthinkable happened.
His comrade had sat down to wash plates on the old freezer when suddenly, the young man started shaking and twisting as electricity currents seared through his lean body.
Mr. Pindar said he knew it would be dangerous to touch his friend but did not know what to do to help him except to shout for help.
Unfortunately, the first responder ignorantly poured water on the boy who was already gummed to the rickety freezer.
"My whole body was weak; I didn't know what to do when he shouted my name," he recalled.
It was later people told me I should have used a stick to try to detach him from the freezer. I just knew I was not supposed to touch him with my hand and I didn't."
By the time the freezer was finally turned off, his friend had slipped into a coma.
"We tried to revive him with milk but it didn't work. We took him to a hospital in Falomo where he was pronounced dead and we buried him in the cemetery in Obalende," Mr. Pindar told our correspondent.
Devastated by the tragic death of his friend, the young Chibok boy could not continue with the job.
Before the sad incident, Mr. Pindar had located his maternal uncle who lived in Ajah and moved over to live with him shortly after the burial of his friend.
That incident happened in 2016, two years after he arrived in Lagos as a refugee.
Moving to Ajah and Ikoyi
In Ajah, he took up a job that paid N18, 000 but that was a far cry from what could pay his bills including getting him a badly needed education.
With a new job that offered very little hope, the young man's frustration only heightened.
He reached out to a member of the Chibok community and sought help to find a job that would be flexible enough for him to go to school.
"I came to Dolphin Estate, Ikoyi to meet my village person who told me about a security job," he recounted.
"I was interviewed and when I passed, they told me to go and bring my things and report for work immediately."
Reunion with a relation
With that, he moved to the highbrow Ikoyi neighbourhood as a gateman but two months into the new job, he got news from his dad to locate a cousin in Ijeh Barracks, Ikoyi.
"As soon as I saw her, I recognized her. She's yellow. I know her mum. She's yellow too. We are all yellow. She saw me too and recognized me instantly and just called out to me, 'Come, come, come," Mr. Pindar recounted the ecstatic moment.
For a 14-year-old boy who was forced to leave home at age 12 seeing a close relative for the first time after two years in a crowded, busy and restless city, the feeling was indescribable.
Mr. Pindar said he went home with his cousin and for the first time, he was well received and fed sumptuously.
Again, for the first time, he was able to speak about his life and his dreams, and why finishing his education was so important.
At once, his dream of becoming a medical doctor seemed real when his cousin got him admission in a school along Osborne Road in Ikoyi.
However, he had to cough out N18, 000 from his savings to pay the school fees and every other requirement of the institution.
But his cousin offered all the comfort and the love he never experienced since his arrival in Lagos.
"I was well-fed and cared for in my cousin's home and I had the opportunity I have always craved for to go to school," Mr. Pindar said.
A major disagreement between the cousin and the husband almost ruined his relationship with the family, a situation which made him move into an uncompleted building nearby.
"My cousin continued supporting me while living in the uncompleted building but not without huge pressure on her marriage," he lamented. .
"She gave me food and ensured that I focused on my education. I will remain ever grateful for the love and care she showed me even when it was not convenient for her."
"The building had no doors and no windows. It was as if I was sleeping in the open. The only luxury I had was a mat and a mosquito net," he recalled.
"Whenever it rained, my roommate and I would wait in a corner so the wind didn't blow water on us. As soon as it stopped raining, we mopped the place and spread our mats to sleep.
"Once I fell so ill it was as if I was going to die and words got to my maternal uncle, who was working in the estate at the time and he came and took me to live with his friend while looking for a job for me," he recalled.
While in his new foster home, his uncle found him another security-guard job and the pay was N20, 000, by far the highest he ever received since he came to Lagos.
With the improved income, he could pay his school fees and take care of his basic needs a bit more comfortable than ever before. But it didn't take long before he got company.
His brother also joined him
Precisely in March 2018, his father sent his eight-year-old brother, John, to come and live with him.
"My father decided to send him because he is younger and cannot run when Boko Haram invade our village.
While the government and security agencies claimed Boko Haram insurgents have been defeated, the Chibok boy insists the insurgents are still unleashing terror on his community.
According to him, almost every parent in his community has sent their able-bodied young men and women to other parts of the country so they are not captured by Boko Haram.
Consistent attacks by terrorists have resulted in many parents deciding which of their children they could send away and the ones to keep close based on their ability to run to safety during insurgents' attacks.
Because of the situation, many young people from Chibok and other North-east communities ravaged by Boko Haram, could be found all over the country doing menial jobs to eke out a living.
Majority of the young people cannot go to school and may not fulfil their dreams.
But Mr. Pindar is bent on fulfilling his dream and has not left anything to chance.
Pindar's ambition to be a medical doctor
Despite his challenges, he has been able to write the school certificate examination and the Joint Admission and Matriculation Board (JAMB) examination with the hope of getting admission to read medicine.
"The reason I want to be a doctor is so I can contribute to the improvement of the life of our people back home," he said.
"A lot of our people are not educated and they can't distinguish between fake and quality drugs.
"They give our people expired drugs and they willingly take them. Most don't know what they are doing. I want to go back home and help."
While Mr. Pindar is so desirous of going to the university to read and become a medical doctor, he is still unsure of how he would raise the needed funds to pay his fees.
His parents cannot pay for his education; neither can the N20, 000 pay from his job as a security guard.
Appeal for help
The Chibok youngster, therefore, appeals for help from well-meaning Nigerians to pursue his dream of going to the university to read and becoming a medical doctor.
"Everything was fine until Boko Haram came to Chibok in 2014. I was going to school. My dad provided for my siblings and me.
"But here in Lagos, I've had to suffer on my own. Unfortunately, all my best effort cannot produce the kind of money needed to pay my way through medical school," he said.
The Chibok refugee says he hasn't gone home or seen his parents since 2014, adding that in a family of nine, three of his siblings have left home to seek a better life outside the war-ravaged area.
The struggle in Chibok continues
He would prefer life in Chibok and always longed for a time the beautiful town would regain its peace.
Currently, he said Boko Haram is still attacking Chibok, a situation that has made residents flee into the bush only to return to their homes after the insurgents might have looted and destroyed their properties.
"Boko Haram is attacking Chibok and neighbouring areas but it is not being reported. Our people run into the forest and sometimes sleep there for days when our communities are attacked and peoples' properties looted.
"Even after abducting so many girls from our community time-after-time, Boko Haram fighters still want to kill our parents."
"I wonder when the fighting will stop. I think someone is sponsoring them and we need to pray for that person to be exposed so that the fights will stop," he said.
And in utter desperation he continued, "I want someone, anyone to tell me why they are still killing us. We are poor. We have nothing, why won't they leave us be?"
Waarga Youth Development Association
In 2002, long before insurgents marched against Chibok in their bloody campaign, indigenes of the area resident in Lagos had formed a body called Warrga Youth Development Association.
The association is made up largely by Lagos residents from Kautikari village, one of the largest communities in Chibok Local Government Area.
The group's Chairman, Paul Chiroma, said they make monetary contributions and send to people back home.
According to him, the money is meant to help those whose houses have been burnt or vandalized rebuild and resettle their families.
"Apart from rebuilding their homes, the funds are also meant to help the vigilante groups responsible for securing the lives and property of our people.
"They use the money to buy things like torchlight, raincoats and so on. Before now, no one was supporting them and that made their work very challenging.
"When we found out, we immediately stepped in to help," Mr. Chiroma said.
Mr. Chiroma also said that his association has opened an account where every well-meaning individual and groups can pay in money to assist Chibok people in Borno State.
"If we all leave the community and abandon the people back home, then we won't have a place to call home and our people would be wiped out," he said.
Mr. Pindar's story is just one of the many that come from Chibok and other areas devastated by the war against the insurgents.
The crisis in Nigeria's North-East has driven many away from their homes and exposed those still living there to poor and unsafe conditions.
Observers have argued that while the government focuses on getting back the Chibok girls still in captivity and rehabilitating the ones who were rescued, it should as a matter of urgency, rebuild the region and empower the people as well.
People like Mr. Pindar should be assisted to pursue and live their dreams.