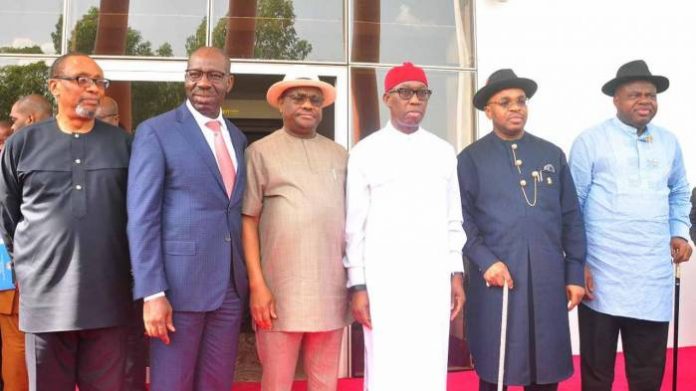 Governors of the six South-South states have agreed to establish a security outfit in the model of Amotekun, the South West security organ.
The planned security outfit according to the Governors, is aimed at securing lives and property in the region.
The South South region, the domain of oil deposits in Nigeria, comprises Edo, Delta, Akwa Ibom, Cross River, Rivers and Bayelsa.
The Chairman, South-South Governors Forum and of Delta State, Ifeanyi Okowa, who made known the governors' pland shortly after a closed-door meeting held on Thursday in Asaba, Delta State, noted that the decision to bring back Bayelsa, Rivers, Akwa Ibom, Cross River, Edo and Delta Commission was reached at the meeting to look critically into the security and economy of the zone.
READ ALSO: Group Calls On South South Govs To Create Security Outfit
"Today, five governors out of six in the zone have taken a far-reaching decision to bring back the BRACED Commission, and we have charged the Chairman of the commission, Ambassador Joel Keshi, to work out the modality and detail for the take-off of the security outfit.
"You are aware that this BRACED Commission had been in existence for the past 10 years but, over five years, it has been dormant and now we decided to revive it, to handle the issue of insecurity and other things in our region."
Okowa noted that the governors would meet with the President, Muhammadu Buhari to discuss how to remove the 13 per cent derivation first from the Federation Account for oil-producing states before sharing to the three tiers of government.
Present at the meeting were Governors Nyesom Wike (Rivers), Godwin Obaseki (Edo), Emmanuel Udom (Akwa Ibom), Douye Diri (Bayelsa), and Okowa. Governor, Prof. Ben Ayade, was absent at the meeting and did not send a representative.