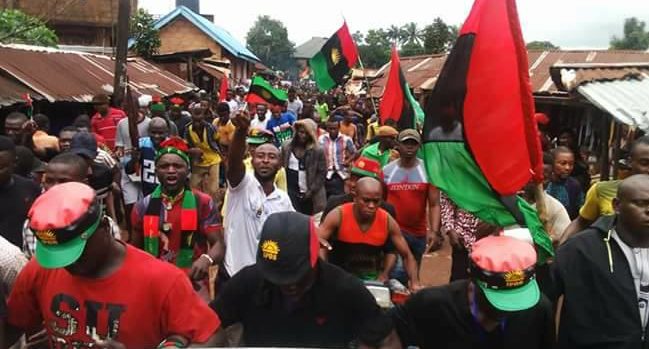 The Department of State Services, DSS, has warned leaders of the pro-Biafra group, the Indigenous People of Biafra, IPOB, that it would not tolerate any break down of law and order for any reason.
The warning came in connection with the group's declaration of a sit-at-home on May 30, to commemorate Biafran fallen heroes and heroines.
The service, declared its readiness to maintain adequate security across the country, saying it would not allow any person or group to obstruct the freedom of law-abiding citizens.
The Punch quoted the spokesperson for the DSS, Peter Afunnaya, as saying: "The service will not condone people taking the law into their hands and obstructing the freedom of others. The constitution is clear on the fundamental human rights of people and no person should deliberately infringe on the rights of anyone outside the laws of the land.
"The service in the line of its mandate will ensure that adequate security is maintained in all parts of the country and people who take the law into their hands or cause the breakdown of law and order should be ready to face the consequences."
READ ALSO: NAF Bombs, Kills ISWAP Fighters in Borno
He explained further that the warning applied to "all subversive elements" operating under any guise.
Recall that the leadership of IPOB had earlier in the month declared Thursday May, 30, sit-at-home in Eastern and Middle Belt states.
The group in a statement by its spokesman, Emma Powerful, said the sit-at-home was in commemoration of Biafra fallen heroes.
He urged churches, mosques, synagogues and temples in Benue, Kaduna, Adamawa and other crisis areas to organise special prayers on the midnight of May 29, in remembrance of all who died as a result of violence and sponsored killings, adding further that special vigil would be held at the homes of select Biafran heroes and heroines who were murdered in cold blood.
The statement read in part: "We the global family of the Indigenous People of Biafra, IPOB, considers it imperative to use this great opportunity provided by the Most High God to announce the sit at home order throughout Biafra land and Nigeria in remembrance of our fallen heroes and heroines whose sacrifice made it possible for this generation to be alive today."