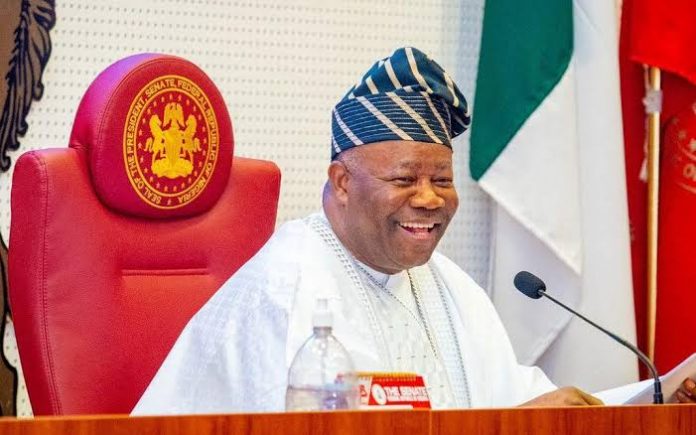 President of the Senate, Godswill Akpabio, has described the current senate under his leadership as stable and harmonious, which cannot be distracted by "innuendo of the merchants of political tar brush by what appears to be a syndicated media attack from outside the precincts of the National Assembly."
Akpabio who spoke on Saturday through his Special Adviser (Media and Publicity), Mr. Eseme Eyiboh, was reacting to what he referred to as "syndicated reports in some weekend newspapers about plots to destabilise the Senate and its leadership."
The Next Edition recall that there were media reports Saturday on plans to unseat Akpabio as the president of the 10th Senate when the Senate reconvenes on September 26, 2023.
The report also alleged that two prominent senators from the North-West and other senators across the national assembly were already meeting and mapping out strategies on how to carry out the plans.
The Senate President dismissed the reports as baseless, unfounded, and complete imaginations of the writers and their sponsors.
Noting that the Senate has since gone past the experience of the keenly contested leadership election, the statement said the plot to drag in Senators who initially did not support the emergence of the present leadership into a conspiracy that does not exist was uncharitable to the senators and a needless umbrage.
READ ALSO: President Tinubu Nominates Ibrahim, Olawande As Youth Ministers
"Senators are presently concluding their holidays in their constituencies and other places they have chosen to spend their time after the rigours of the inauguration and ministerial screening and other constructive engagements.
"All senators are also refreshing themselves ahead of the resumption, therefore, any suggestions that they are presently engaged in other subversive plots against the institution is rather uncharitable. It is mostly uncharitable for those senators who initially did not support the emergence of the leadership but who have all unanimously endorsed the Senator Akpabio-led leadership. Continuing to link these senators with needless conspiracy with barely disguised innuendo is rather unkind.
"We call on the media not to give in to the conspiratorial tales, and not to give damage to the reputations that they have built over time," the statement concluded.