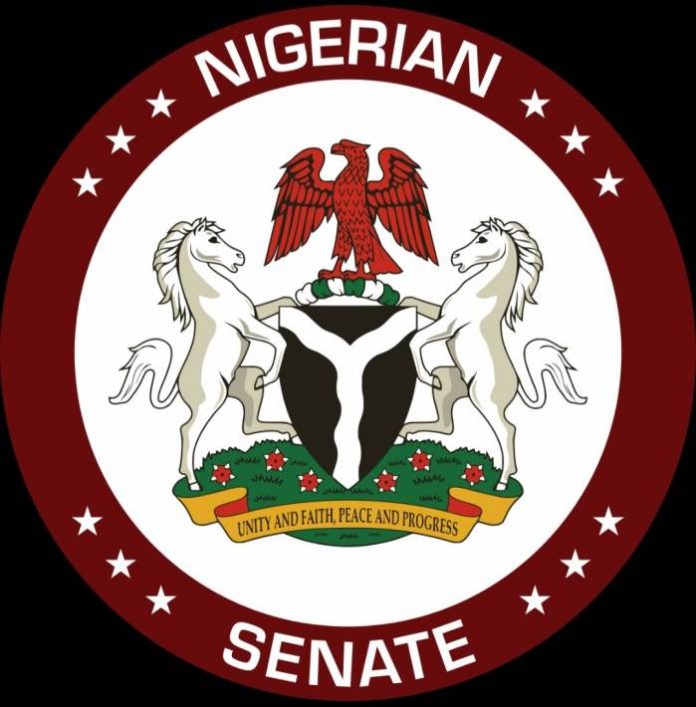 As Senator Godswill Akpabio's chance of becoming the next Senate President is getting brighter and brighter, it has been reliably learned that the incumbent Senate President, Senator Ahmed Lawan, is plotting to work against Akpabio as a payback for Akpabio's support for Asiwaju Bola Ahmed Tinubu during the APC presidential primaries last year.
"The Senate President is peeved that Akpabio did not support him, but had supported Asiwaju Tinubu," a well-placed source confidedin this writer last night.
Lawan, who is holidaying in Saudi Arabia Arabia, was heard boasting to some Senators who were also in the Holy Land, that he would not support Akpabio's bid for the top Senate job because Akpabio did not support him (Lawan) for the Presidency last year.
Recall that Senator Akpabio was an ardent supporter of Asiwaju Tinubu during the primaries, to the extent that Akpabio even stepped down for Tinubu moments before voting started at the APC Convention at Eagle's Square, Abuja, in the night of March 6, 2022.
Although the Presidency was zoned to the South, Senator Lawan, from Yobe State, went on against all expectations and run of play, to contest the primaries.
He, however, performed woefully, taking the fourth place with a miserable 152 votes.
Tinubu won the nomination with 1,271 votes, followed by Rotimi Amaechi (316 votes) and Vice President Yemi Osinbajo who came third with 235 votes.
Lawan's self-inflicted humiliating loss was the reason Asiwaju Tinubu mocked him in his victory speech saying. "The Senate President can now lick his wounds."
But unknown to many in the party, Lawan has been bearing grudges against Akpabio for supporting Asiwaju Tinubu. A well-placed source who is in Saudi Arabia with Lawan confided in this writer that Lawan is even suggesting to other senators that Akpabio has no support from his home state. But that is far from the fact. Truth is that the two PDP Senators in Akwa Ibom State, Dr. Ekong Sampson and Rt. Hon. Aniekan Bassey, are solidly behind Akpabio. Dr. Sampson is a lawyer and former commissioner in the state, while Bassey is the current Speaker of the Akwa Ibom State House of Assembly.
READ ALSO: Enahoro Earned Public Trust For Fearless Writing, Commitment To Truth – Buhari
In a recent interview, Dr. Sampson acknowledged that he has been closely associated with Akpabio even before the dawn of democracy in 1999. In Dr. Sampson's words: ''In the 1990s, I was a magazine publisher in Lagos and Akpabio was the managing Director of a telecoms company. Akpabio supported me a lot then. In 2002, I was Chairman of Mkpat Enin LGA and Akpabio was Commissioner for Local Government & Chieftaincy Matters. That means he was my immediate boss. In 2007, Akpabio was elected governor, and I was elected member of the House of Assembly. So, my career and Akpabio's path have always been intertwined. There is no way I cannot support him to be Senate President." In addition, many PDP politicians from Akwa Ibom, like Rt. Hon. Onofiok Luke, have expressed their support for Akpabio in his bid for the Senate Presidency. Senator Ita Enang, an APC chieftain has also expressed his support for Akpabio in a recent interview.
Political analysts are quick to recall that this same Akpabio had also played a very crucial role in the Senate in 2018 by thwarting plans by the then Senate President, Dr. Bulola Abubarkar Saraki, to rally senators to destabilize the Buhari administration.
Lawan was then the Senate Leader and Akpabio was the Senate Minority Leader. But as Saraki's opposition to President Buhari continued to gather momentum, there were fears that Senator Saraki might be planning to plot an impeachment, or, at the very least, pass an embarrassing vote-of-no-confidence motion against the President. But it was Akpabio who, as a PDP Senator, that rallied some PDP Senators and sympathetic APC Senators to upend Saraki's plans to embarrass President Buhari.
Soon after that, Akpabio decamped to the APC, thus increasing the number of pro-Buhari Senators and helping to water down Saraki's influence in the Senate. In return, the Presidency had pledged to help Akpabio clinch the Senate Presidency in 2019, but alas, he was rigged out of the race in the 2019 elections in his home state of Akwa Ibom. He was, however, appointed Minister of Niger Delta in July that year.
Now, with less than two months to the election of another Senate President, it is important for APC leaders in general and the President-elect in particular to remember that Akpabio has made consequential contributions to the party since he joined in August 2018. By working with other senators to upset Saraki's plans against the Buhari Presidency in 2018; by stepping down for, and supporting Tinubu in the 2022 presidential primaries; by helping to organize a marvelous presidential campaign in Uyo on January 30 for Tinubu and by helping the APC to win about 30% of the votes in the February 25 Presidential election, Akpabio has proved himself as a significant party leader. No amount of chicanery from Senator Lawan will stop Akpabio.
*Abubakar Suleiman is a public affairs analyst based in Abuja.