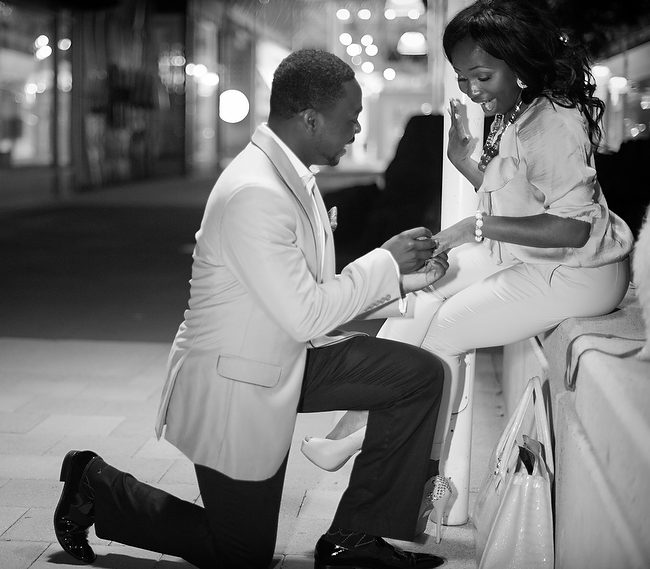 Taking the decision to marry someone is a very important step in anyone's life.
Proposing to the object of your love, even for the most adept public speaker can be very nerve-wracking.
A lot of men have been known to lose their courage just at the verge of popping the all important question, while some practice and memorise what to say for days on end and still miss it when it matters most.
In fact, many confident speakers have been known to turn into a sputtering mess in the process of proposing to the women of their dreams.
Whether you want to have an elaborate proposal or a simple one, it is best to prepare how you want the moment to be and what you will say because you are not just asking a question, you are also creating a lifetime memory, one you will want to remember fondly years down the line.
Below are a few romantic ways you can propose. Whether you want to have a public proposal or a private one, the important thing is to make sure it captures the essence of who you both are as a couple.
PUBLIC PROPOSALS
The first thing to note before you take your proposal public is to be sure you are definitely going to get a yes. A public proposal can go from 'awwww' to awkward real quickly if your girl's answer is anything but a yes. Once you're sure of that, here are some ideas to make your public proposal a special one.
Choose a place that has significant meaning to the two of you. A spot you both loved from a vacation. A park, fountain or even a mountain top that resonates with both of you. Once you're there you can ask someone to take a picture of you and then you get down on one knee and propose.
Recreate your first date or the most memorable one. Plan an elaborate date in a place where you had your first date or the date that brought a 'shift' in your relationship or one that was just especially memorable and propose there.
Have a favorite musician sing or a saxophonist. It's common place to see a saxophonist surprise people with gifts while playing, you can have one play and while she's engrossed in that you get down on one knee. If you can afford to have a musician sing while on your date, that works as well. Even if it's not a musician but have a good singer sing a song that means something to two of you during or before the proposal.
Cinema Proposal. This will work for the movie buffs. Arrange with the cinema staff before hand and if possible test it out. Have the words will you marry me and her name displayed on the screen and then the spotlight comes on you two. This can be done before the movie or after as you don't want to incur the wrath of movie goers by pausing the movie midway. Unless you bought out the theater and everyone inside is in on your plan.
Are you the couple who go out clubbing and dancing a lot? Have the DJ hand you the mic and stop the music mid dance and get down on one knee.
Beach Proposal. Have the words written out on the sand and then walk with her to the designated spot and pop the question.
READ ALSO: Spice Up Your Relationship with a Romantic Night
You can also propose in other ways that are semi public i.e with just friends and family or make it intimate with just the two of you. Here's how.
Turn hers or your birthday party into a proposal. Your family and friends will already be present, so pick a time and call her out and speak from the heart.
Have friends carry cards spelling out your proposal and make plans to meet up and after she sees the cards you show up at the end and propose.
Plan a special breakfast in bed and pop the question while she's eating or after. Just be sure the plates are cleared away.
Take your partner through a relationship memory lane, but writing down small special moments that has happened in your time together. Have her go through the whole write up and wait for her at the end. You can do this by having post its all over your house and ask her to meet you in the room when she's gone through it all.
Destination Proposal. If you can afford a trip outside, a destination proposal will always be memorable to both of you. You can kick start the trip by proposing in the airport before you board or on the flight via the PA system with the cooperation of the hostesses of course.
Tell her you are spending the night in a hotel and have the room prepared for your proposal before you get there. Have rose petals spell out your proposal or lead the way to the ring on the bed. Make sure she goes in first so when she realizes what's happening and turn to you, you get down on your knees.
There are so many other ways you can make your proposal romantic and special, do something that is a testament to who you both are as a couple. If she is the flamboyant kind, then going for something elaborate will definitely be right. Always be sure to speak from the heart and it will define the moment.