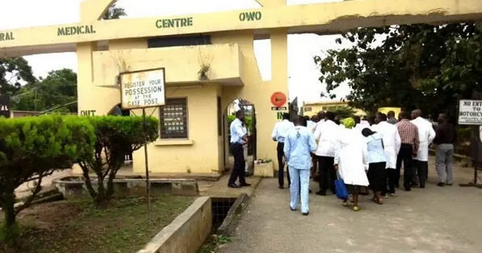 The nurses at the Federal Medical Center, Owo, Ondo State on Monday staged a protest on the premises of the hospital over the alleged beating of their colleagues by some relatives of a dead patient.
It was gathered that the relatives of the dead patient, who was brought to the hospital on Saturday, stormed the ward where the patient died on Sunday, beating the nurses on duty and blaming them for the death of the patient.
The patient was said to have passed away as a result of an ailment suspected to be coronavirus disease.
Expressing their displeasure over the attack on their colleagues, the FMC nurses abandoned their duty posts on Monday to protest, chanting various solidarity songs.
The leader of the protesters, Mr Segun Francis said the protest was to show their grievance on the matter to the management of the federal government-owned hospital.
READ ALSO: Killing Of Fulani: Prove Your Allegation In 48 Hours Or Apologize, Gov. Ortom Tells Gololo
Francis said, "We staged the protest to express our displeasure over the attack on our colleagues on duty yesterday. When the patient died, the relatives came to the ward and started beating the nurses on duty. They were being dragged on the floor. Two of the nurses were seriously injured. They have been admitted at the hospital now.
"What we want is for the management to take action on the culprit to serve as a deterrent to others. What happened to our colleagues can happen to any other staff in the future."
The Medical Director of the hospital, Dr Liasu Ahmed confirmed the incident and said an investigation has commenced into the matter.
He said, "It is true that some of our nurses were attacked by the patient's relatives. We are currently investigating the matter. We will ensure that our staff are well protected."
The Punch