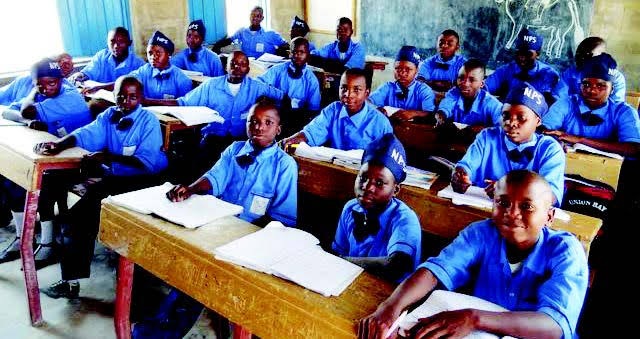 As exit classes in primary and post primary schools in Abia State resumed tutorials on Monday, the state government has warned proprietors and teachers of the private schools against flouting the COVID-19 protocols on reopening of schools.
This came as teachers in public and private schools began their first school attendance after four months of staying at home as a result of the outbreak of the COVID-19.
Our correspondent who monitored the exercise, said teachers and students were seen wearing facemasks as they conduct their daily routine.
Meanwhile, over 70,000 facemasks, hand sanitisers and infrared thermometers were distributed on Sunday by the State Commissioner for Education, Dr. Kanaelechi Nwangwa, to all public schools.
Fielding questions from journalists in Umuahia, the Education Commissioner disclosed that the reopening of schools for exit classes started with fumigation of all schools last week, adding that school heads and proprietors of private schools had been told to comply with COVID-19 guidelines or be sanctioned.
The personal protection equipment (PPE) were handed over to the 17 Education Secretaries of Local Government Education Authority in the state.
READ ALSO: Schools Reopening: Wike Distributes Protective Kits To 257 Schools
According to Nwangwa, 100ml hand sanitisers would be distributed to all students, while 200mls sanitisers would be given to schools as face masks were given to teachers.
He revealed that a compulsory COVID-19 testing had been ongoing for the exit classes for now, stressing that any teacher who did not make himself or herself available for testing would not be allowed to teach.
He said the government had also provided palliatives to schools such as washing hand buckets and soaps, pointing out that the state government would monitor schools closely and ensure that any school that did not comply with the COVID-19 protocols would be sanctioned.
According to him, the ministry was also in discussion with private schools, saying that a checklist had been prepared and given to them to ensure compliance.
The schools, which fulfilled the requirements of boarding school, he opined, would be allowed to open its boarding facility.
Nwangwa maintained that the lockdown and closure of schools did not in any way reduce the quality of education, saying that the School-On-Air programme introduced by the state government kept teachers and pupils/students busy during the period.