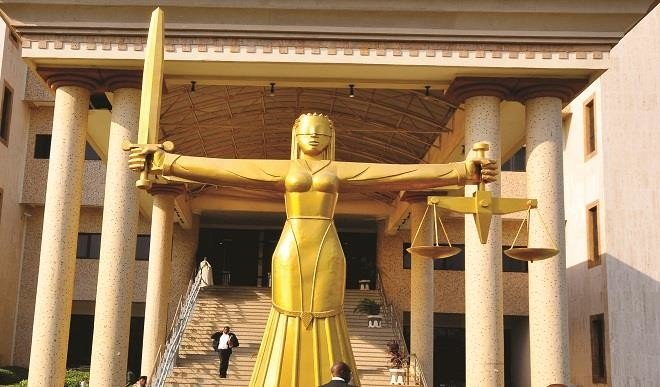 A Lagos High Court sitting at Tafawa Balewa Square, on Monday fixed April 3 for ruling in a no-case submission filed by a police officer, Drambi Vandi, charged with the murder of a Lagos-based lawyer.
Vandi is standing trial on a one-count charge of shooting the Lagos lawyer, Mrs Omobolanle Raheem, to death on Dec. 25, 2022, at Ajah area of Lagos.
The defendant had on arraignment pleaded not guilty to the charge preferred against him by the Lagos State government.
At the resumed hearing on Monday, counsel to the defendant, Mr. Adetokunbo Odutola, adopted his final written address in a no-case submission filed on Feb. 28.
Odutola in the address urged the court to dismiss the suit and discharge the defendant.
He claimed that the prosecution was not able to establish any prima facie case against the defendant.
Odutola argued that the ballistic report revealed that the gun did not match with the bullet that was shot.
READ ALSO: March 11 Polls: INEC To Seek Court Permission To Reconfigure BVAS
He also argued that the pathologist who testified mentioned that the bullet penetrated from the left through the armpit while the prosecution had stated that the deceased was shot in the chest.
The defence concluded that with the instances mentioned and many others, the prosecution could not establish any case against the defendant.
In his submission, however, Lagos State Attorney-General, Mr. Moyosore Onigbanjo, leading the prosecution, prayed the court to dismiss the defendant's argument.
He argued among other things that the prosecution witnesses were able to establish that the defendant was the person who shot and killed the deceased.
Onigbanjo said that the pathologist made it clear that the explosive force of a bullet discharged from an AK-47 rifle, was of the magnitude of thousands of fire hoses.
It would penetrate into the body, whether the individual shot at was standing or sitting.
After listening to the arguments, presiding Justice Ibironke Harrison adjourned the case until April 3 for ruling. (NAN)